Celebrating 50 Years of Waytek
Posted on Mar 17, 2020 by Steve Green
Celebrating 50 years at Waytek! Take a journey down memory lane with us and read about Waytek's evolution from a one-man operation in 1970 to a thriving electrical components distributor.
Founding of the Company
In 1970, Waytek founder Wayne Larson put the "Way" in Waytek, a manufacturer's rep company for electronic instrumentation. "I didn't go to the bank with a business plan because the plan only existed between my ears and was pretty simple," said Wayne. "I have to sell something because I want to eat."
A Partnership was Formed
Business picked up. When Wayne mentioned his need to hire help to his brother, Norm said, "Why not me?" Wayne agreed and the family partnership was sealed. The brother aligned on values and their vision of continuous growth by steadily investing in the business. They built a culture people wanted to be a part of by working side-by-side in the trenches with their employees.
Becoming a Wire Harness Manufacturer
Visiting a client, Wayne noticed their wire harnesses lacked durability and offered advice. Asked if he could produce such harnesses, he thought of his handy 16-year-old neighbor, Bob Lamoreaux, who ultimately ended up making the improved harnesses, working from Wayne's basement. From those humble beginnings, Bob would go on to retire 44 years later as Waytek's President.
The First Catalog is Published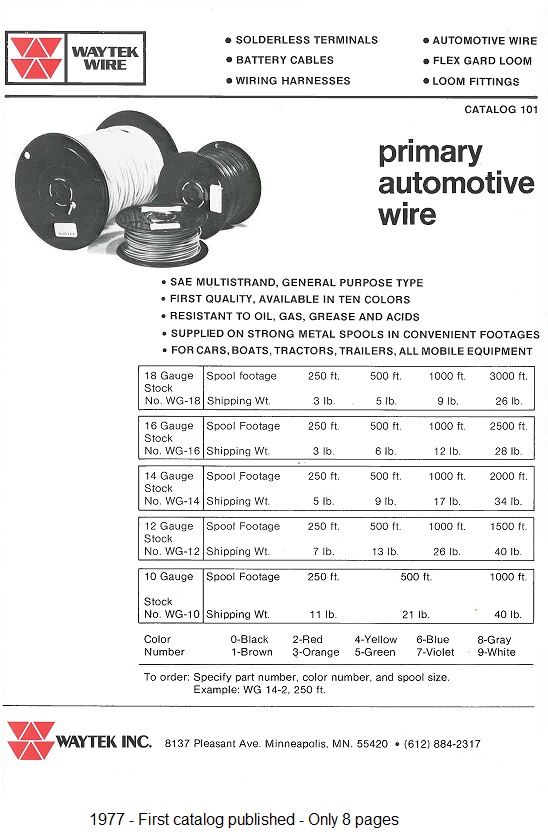 1978 brought a turning point – the publication of Waytek's first catalog, just eight pages. We bought mailing lists of potential customers, walked Machinery Hill at the Minnesota State Fair to drum up prospects, sent the catalog to every prospective customer we knew, and hoped. Rather than wait for the phone to ring, Wayne and Bob went out west for a ski trip. When they called Norm to check in, he said "Get back here! The phone won't stop ringing." The catalog worked, as did he while his colleagues raced down the Rockies, then back home.
The Shift to a Components Distributor
Over time, we'd come to focus more on our customers' needs for a growing number of component parts and came to the decision to stop producing wire harnesses and maximize our effectiveness as a distributor. We gave our customers a six-month notice that we'd stop producing while helping them find harnesses elsewhere. Customers stuck with us for sourcing harness components, and much more.
Family Owned with Family Values
Waytek remains family-owned, now led by CEO Charlie Kanan and the four sons of Wayne and Norm. John, Mark, Mike and Pete grew up seeing how to run a business by delighting customers while treating staff like family. "We made a point to carry on the mentality to make sure our employees have everything they need, and they will take care of the customer," said Wayne.
The Larson sons have adhered to their fathers' values – profit is important but not without ethics and morals.
"You need to do the right thing," said John. "Treat people fairly and honestly and always keep true to your word."
Weathering the Recessions
Throughout fifty years Waytek encountered multiple recessions – the worst in 2008. Many companies laid off employees. Waytek's business dropped by one-third. The Larson sons had been the new co-owners for a few years but hadn't faced a crisis like this near depression. Waytek had never laid of employees, and that remains true to this day. "Employees are an extension of family; it's our obligation to take care of the people that work here," said Pete. "We wanted them to know, 'You got us to where we are, and we appreciate that.'"
Leadership told employees their families would remain taken care of. To solve the morale problem of skilled workers without enough work to do, we gave staff the option of spending their workdays serving the nonprofit, Feed My Starving Children. We paid our people just the same, while their efforts helped others in need. "We still gave everyone bonuses, although one employee tried giving his back," said Pete. Waytek prevailed by preserving our greatest resource: our people, many of whom have been with us for 20, 30 and even 40 years.
Partnering in the Community
For nearly a decade, Waytek has employed people with disabilities through our relationship with Managed Resource Connections, Inc (MRCI), a nonprofit dedicated to developing the talents of individuals with physical and mental disabilities. "We don't look at disability so much as we look at ability," said Tim Mark, Warehouse Manager leading our MRCI initiative. Our MRCI counterparts make positive impact here every day. They fit our culture well and are equal importance in making sure the customer orders get out the door. Waytek was recognized for our community support as recipient of the 2018 Connections of Excellence Award from MRCI.
We're glad to be able to further give back to our community by supporting organizations such as Open Hands Foundation, Rotary Club, National Child Safety Council, Bountiful Basket Food Shelf, DWB Memorial Foundation, Pauls' Pals, Tonka Turkey Trot, Lions Club, Chanhassen High School, Southwest Christian High School, and Chaska High School.
Commitment to the Customer
Waytek continues to focus on our mission set forth by our founder – providing an exceptional customer
experience. "It seems weird that someone's vision 50 years ago is even stronger today, but that vision is still to take care of the customer and they'll take care of you," said Tim Mark, Warehouse Manager.
Personal Touch
We remain committed to greeting each phone call with a human voice and a professional service rep empowered to err on the side of the customer, versus the automated phone tree. "Each of us is valued and empowered to make a difference," said Joan Bixler, who supports about a hundred key accounts.
"We've gone out of our way to get customers what they need, even if that means buying from someone else – or jumping in your car to make it happen," said Travis Dhein, Key Account Manager.
Here's to the Next 50 Years
We're proud of our 50-years of service, and while we're bullish on our next 50 years we're far more focused on just being better for our next customer. "We want Waytek to be know for a great customer experience," said Mike, Waytek's Chief Operating Officer. "If we do that, everything else will take care of itself."