Waytek Presents Exceptional Service Award to Markeena Hutchins at Blue Sea Systems
Posted on Jun 7, 2023 by Steve Green
The award recognizes Blue Sea Systems employee Markeena Hutchins for exceptional service to Waytek and its customers.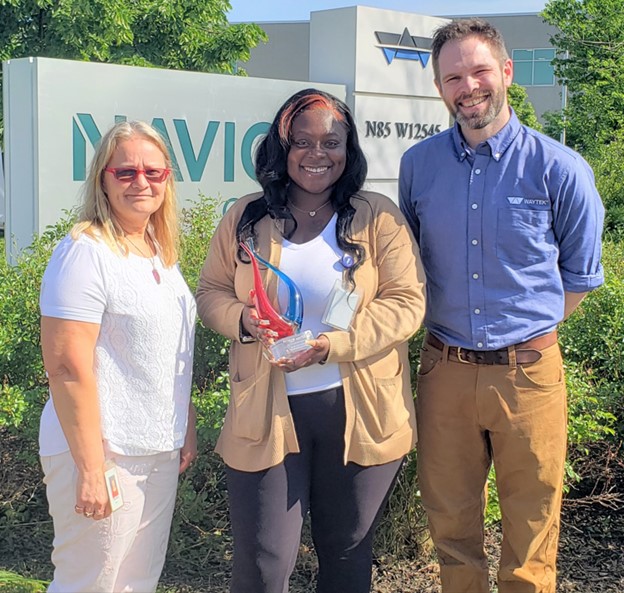 Left to right: Renee Baye, Customer Service Supervisor, Navico Group, Markeena Hutchins, Customer Service Representative, Blue Sea Systems, and Rob Iversrud, Product and Category Manager, Waytek.
CHANHASSEN, MN, June 7, 2023 – Electrical components distributor Waytek, Inc. has honored Markeena Hutchins, Customer Service Representative at Blue Sea Systems, a Navico Group brand, with Waytek's 2022 Exceptional Service Award. 
The Exceptional Service Award honors the employee at a partner organization who has done the most to go "above and beyond" in collaborating with Waytek to deliver exceptional service to Waytek customers.
"It is a privilege for our team to work with Blue Sea Systems and employees such as Markeena Hutchins," said Kevin Pung, Chief Customer Officer at Waytek. "Her exceptional service, advocacy and dedication have earned Markeena this award, and she has made a major contribution to our goal of being the distributor of choice to our customers." 
Hutchins was chosen for the Exceptional Service Award based on exceptional performance in several areas including responsiveness and proactive service, industry expertise, forging relationships with Waytek employees, and helping the two companies work together at a strategic level. 
"We are thrilled that Markeena has received Waytek's 2022 Exceptional Service Award," said Sean Hatherley, Vice President of Sales, Americas at Navico Group. "This recognition is a testament to her abilities and our team's dedication to excellence. Blue Sea Systems, and Navico Group as a whole, is committed to building strong partnerships with our distributors and customers and we thank Markeena for her helping us do that."
Hutchins has demonstrated exceptional success in fostering a collaborative relationship with Waytek, helping ensure seamless communication and actively engaging Waytek employees to better understand and address their needs. By serving as a dedicated advocate, she has helped Blue Sea Systems align its internal resources to meet Waytek's requirements and better serve its customers.
Waytek distributes a variety of Blue Sea Systems products—such as fuse blocks, power distribution modules, and battery chargers—which have a long-standing reputation for quality, reliability, and the ability to withstand harsh environments. Blue Sea Systems' dedication to finding cost-effective solutions and implementing efficient processes has resulted in increased acceptance of its products being introduced to newer markets through Waytek.
For more information about Blue Sea Systems products distributed by Waytek, go to https://www.waytekwire.com/manf/07/Blue-Sea-Systems/.
About Waytek
Waytek, Inc. is a customer-driven distributor of automotive wire and DC electrical components serving OEMs (original equipment manufacturers), wire harness manufacturers, and upfitters across North America. A family-owned business founded in 1970, Waytek commits to providing exceptional service to our customers, shipping more than 99.5 percent of in-stock orders the same day.* We partner with product manufacturers known for premier quality and take pride in creating a consistent sense of purpose and unity for our employees. With a mission to provide an exceptional customer experience, we do our part so our customers can do theirs.
About Blue Sea Systems
Blue Sea Systems is a part of Navico Group, a division of Brunswick Corporation, (NYSE: BC), and is dedicated to creating innovative, high quality marine electrical products that improve and simplify the boating experience. Blue Sea Systems employees are avid boaters who apply their passion to designing, developing, and building products that enhance time on the water. For more information, visit www.bluesea.com. 
*Orders entered by 3:30 p.m. Central Time