Waytek Presents Outstanding Growth Award to Egis Mobile Electric
Posted on Aug 25, 2023 by Steve Green
The award recognizes Egis Mobile Electric as an outstanding supplier whose products have experienced exceptional growth in sales at Waytek.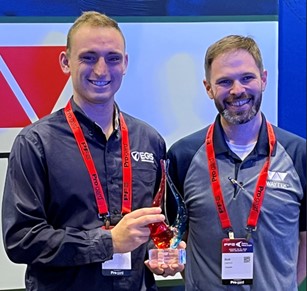 Left: Jake Albert, Manufacturing Engineer, Egis Mobile Electric. Right: Rob Iversrud, Product and Category Manager, Waytek.
CHANHASSEN, MN, August 25, 2023 – Electrical components distributor Waytek, Inc. has presented Egis Mobile Electric with Waytek's Outstanding Growth Award for 2022.
The Outstanding Growth Award recognizes the Waytek partner whose commitment to quality and service has been reflected by exceptional growth in product sales to Waytek customers. 
Egis Mobile Electric's products provide reliable electrical system switching and protection solutions for vehicle applications subject to wide temperature ranges, vibration, and high moisture conditions. The company began supplying products to Waytek in 2020 and has continually expanded its product offering every year since.
"Egis Mobile Electric continuously innovates, fills product gaps in the marketplace, and collaborates with Waytek to meet customer needs," said Kevin Pung, Chief Customer Officer, Waytek. "As a result, we've seen a rapid upswing in the number of their products purchased by our customers. We are pleased to present Egis Mobile Electric with our Outstanding Growth Award for 2022." 
"We consistently strive to deliver maximum value to our end users," said Eric Graham, President of Egis Mobile Electric. "This award is a welcome validation of our efforts. We are excited that our products have found consistent acceptance by Waytek customers and look forward to a rewarding partnership with Waytek for many years to come." 
Examples of Egis Mobile Electric products that are experiencing growing demand among Waytek customers include power relays, hermetically sealed contactors, and the XD Series of battery disconnects.
For more information about Egis Mobile Electric or to browse and order their products, please visit their supplier page on the Waytek website.
About Waytek
Waytek, Inc. is a customer-driven distributor of automotive wire and DC electrical components serving OEMs (original equipment manufacturers), wire harness manufacturers, and upfitters across North America. A family-owned business founded in 1970, Waytek commits to providing exceptional service to our customers, shipping more than 99.5 percent of in-stock orders the same day.* We partner with product manufacturers known for premier quality and take pride in creating a consistent sense of purpose and unity for our employees. With a mission to provide an exceptional customer experience, we do our part so our customers can do theirs.
About Egis Mobile Electric
Egis Mobile Electric has been dedicated to providing the highest quality motor vehicle electrical products and customer support for over 25 years. The company develops and manufactures products designed to provide safe, dependable electrical power and battery protection technology for marine applications, emergency and municipality fleet vehicles, and other specialty vehicles. Product solutions include low and high amp timer disconnects, fuse and ground distribution blocks with screw and connector output options, and whole vehicle system solutions. Custom solutions are also offered on a case-by-case basis. For more information, please visit www.egismobile.com.
*Orders entered by 3:30 p.m. Central Time.