Waytek Presents Product of the Year Award to Amphenol Sine Systems for its A Series Family of Connectors
Posted on Jul 18, 2023 by Steve Green
The award recognizes Amphenol Sine Systems for its outstanding partnership as an innovative supplier and in providing an exceptional experience for Waytek customers.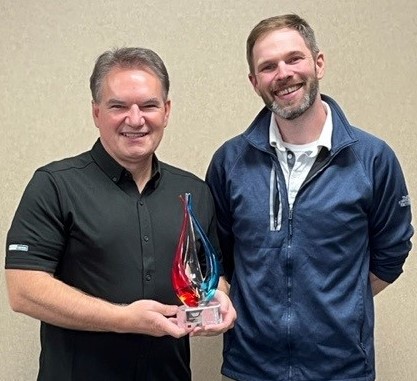 Left: Wayne Spence, Director of Sales and Marketing, Amphenol Sine Systems. Right: Rob Iversrud, Product and Category Manager, Waytek.
CHANHASSEN, MN, July 18, 2023 – Electrical components distributor Waytek, Inc. has presented Amphenol Sine Systems with Waytek's Product of the Year Award for 2022 for the A Series™ Family of electrical connectors. 
The Product of the Year Award recognizes the supplier that has distinguished itself with an innovative product that delivers outstanding value to customers and by demonstrating a strong commitment to excellence and collaboration with Waytek. The A Series Family was selected for the award for its high quality, utility, and quick acceptance by Waytek customers. 
"A Series connectors are among the most reliable and innovative connectors on the market today," said Kevin Pung, Chief Customer Officer, Waytek. "We are privileged to work with Amphenol Sine Systems, who consistently partner with us to bring needed solutions to our customers and increase the product set available at Waytek." 
The A Series™ Family of sealed heavy-duty, multi-pin plastic and metal connectors include a wide range of high-performance, cost-effective solutions for use with heavy equipment, agricultural, automotive, military, and other demanding interconnect architectures. New releases at Waytek in 2022 included the HYPERBUSS™ AT Series with built-in bus bars and DuraMate™ AHDM and AHDP circular connectors featuring an economical quick-connect bayonet locking system.
"We are honored to receive the Product of the Year award from Waytek, a leading distribution partner who matches our passion for high-quality products, service, and reliability," said Amphenol Sine's Director of Sales & Marketing, Wayne Spence. "Our employees deserve accolades for their innovation and customer focus—they are the true recipients of this award. We look forward to bringing many more innovative connector solutions to Waytek customers in the years ahead." 
A decisive factor in the Product of the Year Award was Amphenol Sine's collaborative approach in designing its A Series connectors to meet the anticipated needs of Waytek's customers. Other principal factors included on-time product delivery and consistently positive product performance feedback from Waytek's customers.  
Learn more about A Series connectors from Amphenol Sine Systems at https://www.waytekwire.com/brands/amphenol-sine-systems  
About Waytek
Waytek, Inc. is a customer-driven distributor of automotive wire and DC electrical components serving OEMs (original equipment manufacturers), wire harness manufacturers, and upfitters across North America. A family-owned business founded in 1970, Waytek commits to providing exceptional service to our customers, shipping more than 99.5 percent of in-stock orders the same day.* We partner with product manufacturers known for premier quality and take pride in creating a consistent sense of purpose and unity for our employees. With a mission to provide an exceptional customer experience, we do our part so our customers can do theirs.
About Amphenol Sine Systems
Amphenol Sine Systems, founded in 1967, is a subsidiary of the Amphenol Corporation and is a leader in industrial interconnect products. The company designs, manufacturers and supplies high-performance interconnect systems for a broad range of industrial applications including factory automation, motion control, heavy equipment, alternative energy, rail mass transportation and advanced technology solutions for hybrid-electric vehicles. The company's headquarters are located in Clinton Township, Michigan with global manufacturing, engineering, sales, and service operations.
*Orders entered by 3:30 p.m. Central Time