Waytek Presents Supplier of the Year Award to Littelfuse
Posted on Aug 1, 2023 by Steve Green
The award recognizes Littelfuse for its outstanding long-term partnership as a supplier to Waytek and its customers.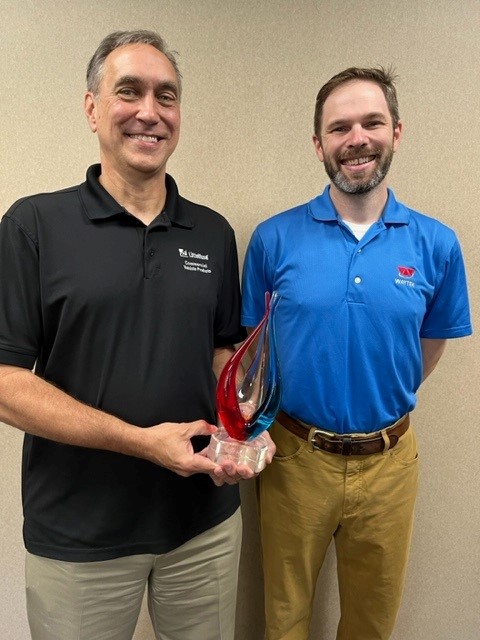 Left: Tom Konicek, Distribution Sales Manager, Commercial Vehicle Products, Littelfuse. Right: Rob Iversrud, Product and Category Manager, Waytek.
CHANHASSEN, MN, August 1, 2023 – Electrical components distributor Waytek, Inc. has presented Littelfuse with Waytek's Supplier of the Year Award for 2022.
The Supplier of the Year Award recognizes the long-time Waytek partner that has distinguished itself through an ongoing commitment to excellence, collaboration, quality performance improvement, and outstanding service to Waytek customers. 
Littelfuse has long been a leader among Waytek's suppliers, providing high-quality power distribution modules, fuses and fuse holders, electrical switching devices, and other circuit protection and battery management products to Waytek customers. This is the second time that Littelfuse has received Waytek's Supplier of the Year Award; the first was awarded in 2020.
"Littelfuse has proven once again that they are a leader in consistently delivering quality and best-in-class service," said Kevin Pung, Chief Customer Officer, Waytek. "They have shown unflagging commitment to providing an exceptional customer experience. As a result, we've seen growing demand from our customers who choose Littelfuse products to meet their automotive electrical needs. We have consistently experienced double-digit growth in overall sales of Littelfuse products, year after year."
"We are honored to receive the Supplier of the Year award from Waytek, an outstanding distribution partner to our commercial vehicle business," said Dave Heinzmann, Littelfuse President and Chief Executive Officer. "This award is a testament to the hard work and commitment of our global teams as they deliver the highest level of quality and service. We look forward to many more years of collaboration, innovation, and excellence on behalf of Waytek and our mutual customers." 
Littelfuse was selected for the Supplier of the Year Award by demonstrating high performance in areas such as innovation, quality, on-time delivery, and a long-term approach to the Waytek partnership.
For more information about Littelfuse products distributed by Waytek, go to https://www.waytekwire.com/brands/littelfuse.
About Waytek
Waytek, Inc. is a customer-driven distributor of automotive wire and DC electrical components serving OEMs (original equipment manufacturers), wire harness manufacturers, and upfitters across North America. A family-owned business founded in 1970, Waytek commits to providing exceptional service to our customers, shipping more than 99.5 percent of in-stock orders the same day.* We partner with product manufacturers known for premier quality and take pride in creating a consistent sense of purpose and unity for our employees. With a mission to provide an exceptional customer experience, we do our part so our customers can do theirs.
About Littelfuse
Littelfuse (NASDAQ: LFUS) is an industrial technology manufacturing company empowering a sustainable, connected, and safer world. Across more than 20 countries, and with 18,000 global associates, Littelfuse partners with customers to design and deliver innovative, reliable solutions. Serving over 100,000 end customers, the company's products are found in a variety of industrial, transportation, and electronics end markets — everywhere, every day. Learn more at Littelfuse.com.
*Orders entered by 3:30 p.m. Central Time.