Waytek Presents its 2020 New Supplier of the Year Award to Egis Mobile Electric
Posted on Sep 14, 2021 by Steve Green
Award recognizes Egis Mobile Electric for its outstanding partnership as a new supplier to Waytek and in providing an exceptional experience for Waytek customers.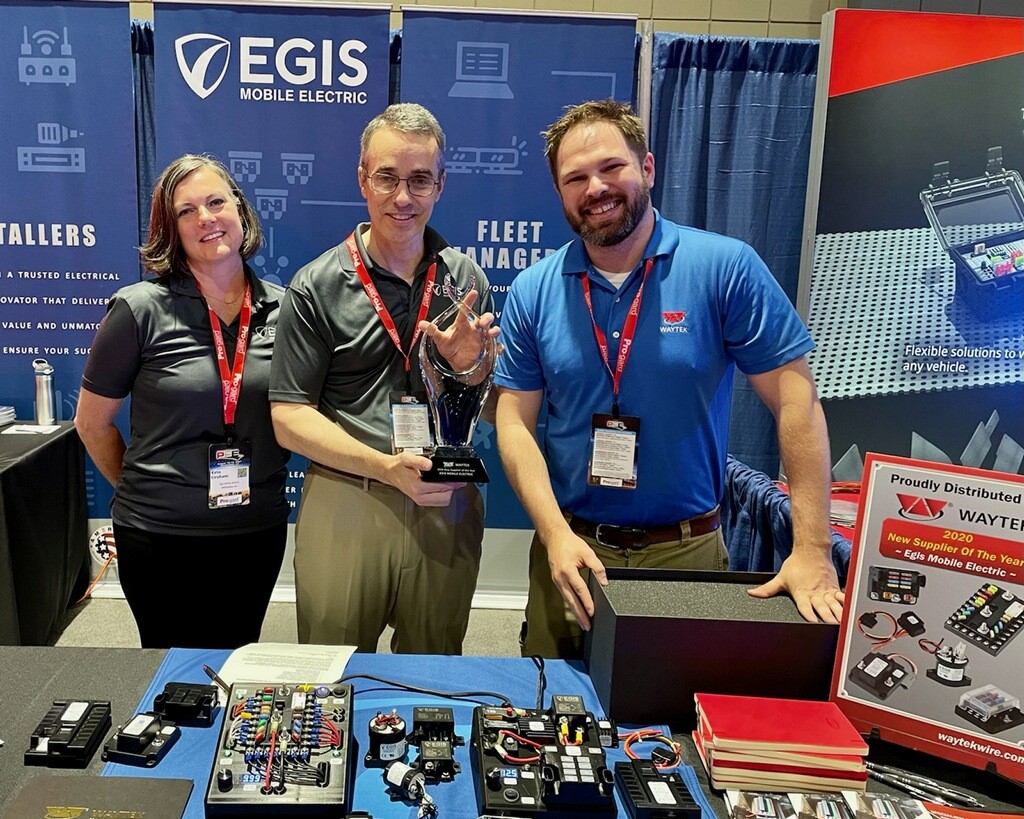 Photo: Waytek presents its New Supplier of the Year Award to Egis Mobile Electric at the Police Fleet Expo. Left: Erin Graham, Director of Operations at Egis. Center: Egis President Eric Graham. Right: Rob Iversrud, Waytek Product and Category Manager.
CHANHASSEN, MN, Sept 14, 2021 – Electrical components distributor Waytek, Inc. has presented Egis Mobile Electric with Waytek's New Supplier of the Year Award for 2020.
Waytek presented the award to Egis Mobile Electric at the Police Fleet Expo in Richmond, Virginia. The award recognizes the new Waytek supplier that has distinguished itself by partnering to deliver innovative vehicle electrical solutions and value to Waytek customers.
Egis Mobile Electric, which signed a distribution agreement for its fuse blocks, time-delay cut-off relays, and bus bars with Waytek in 2019, quickly became an emerging leader among Waytek's product lines.
"Waytek is fortunate to work with a supplier like Egis Mobile Electric who is committed to fostering a strong relationship with us and providing our customers with valuable solutions," said Charlie Kanan, Waytek CEO. "I'd like to thank the entire Egis team for consistently delivering quality and best-in-class service."
"Egis Mobile Electric consistently strives to deliver maximum value to customers," said Eric Graham, President of Egis Mobile Electric. "We are excited that Waytek, known for its high quality and service standards, has honored us with this award."
Egis Mobile Electric was selected for the award by demonstrating stellar performance in the following areas:
Providing an exceptional customer experience

Innovation and unique product introductions

Growing contribution to Waytek's revenue

Commitment to a long-term relationship

Support of Waytek's long-term initiatives

Exceptional product quality

On-time delivery of products
For more information about Egis Mobile Electric or to browse and order their products, please visit their supplier page on the Waytek website: www.waytek.com/egis. 
About Waytek
In 2020, Waytek marked 50 years as a company. Waytek is fiercely dedicated to quickly getting our customers in the specialty vehicle and equipment industries the quality electrical parts they need, when they need them, shipping more than 99 percent of in-stock orders the same day.* Waytek is a family-owned business supplying electrical parts to manufacturers and upfitters specializing in wire harnesses and mobile equipment including trucks, trailers, ag equipment, construction equipment, emergency vehicles, boats and more. With a mission to provide an exceptional customer experience, Waytek is committed to making it easy for customers to source electrical parts.
About Egis Mobile Electric
Egis Mobile Electric has been dedicated to providing the highest quality motor vehicle electrical products and customer support for over 25 years. Egis develops and manufacture products designed to provide safe, dependable electrical power and battery protection technology for marine applications, emergency and municipality fleet vehicles, and other specialty vehicles. The company's product solutions include low and high amp timer disconnects, fuse and ground distribution blocks with screw and connector output options, and whole vehicle system solutions. Egis also offers custom solutions on a case-by-case basis. For more information, please visit www.egismobile.com.
*Orders entered by 3:00 p.m. EST.