Waytek Presents Supplier of the Year Award to Amphenol Sine Systems
Posted on Oct 4, 2022 by Steve Green
The award recognizes Amphenol Sine Systems for its outstanding long-term partnership as a supplier to Waytek and its customers.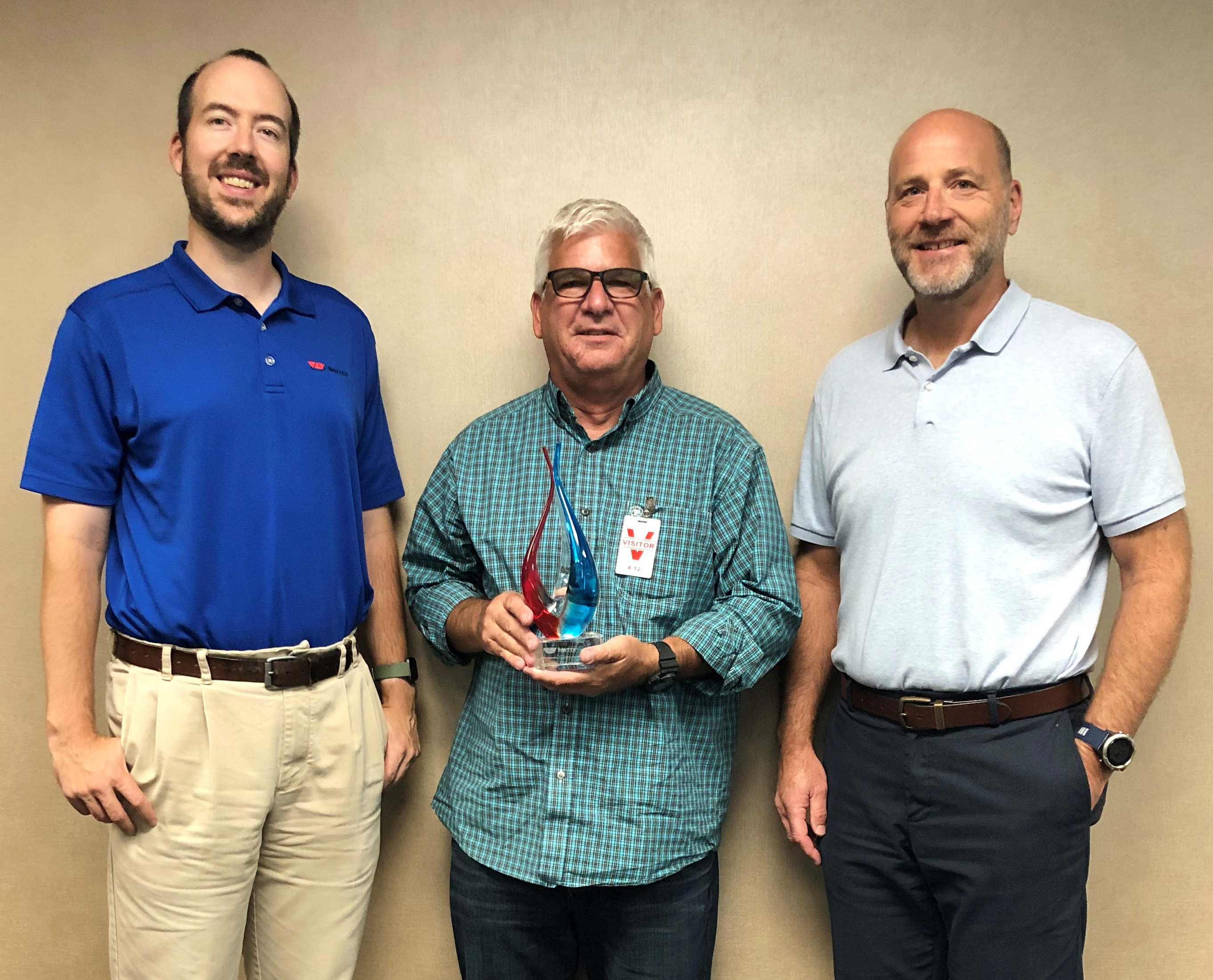 Above: John Larson, Co-Owner of Waytek, Mitchell Clark, Business Development Manager, Amphenol Sine Systems, and Kevin Pung, Chief Customer Officer, Waytek.
__________________________________________________________________________________
CHANHASSEN, MN, October 4, 2022 – Electrical components distributor Waytek, Inc. has presented Amphenol Sine Systems with Waytek's Supplier of the Year Award for 2021.
The Supplier of the Year Award recognizes the long-time Waytek partner that has distinguished itself through ongoing commitment to excellence, collaboration, quality performance improvement, and outstanding service to Waytek customers.
Amphenol Sine Systems has demonstrated superior leadership among Waytek's suppliers, providing high-quality connectors and terminals to Waytek customers. Amphenol Sine has ensured a steady supply of inventory despite worldwide supply chain challenges, while providing a high level of engagement with Waytek and its customers.
"Amphenol Sine Systems is a worthy recipient of our 2021 Supplier of the Year Award," said Kevin Pung, Chief Customer Officer, Waytek. "They have shown exceptional commitment to providing high quality, service, and innovation throughout the year. As a result, we've seen a growing demand from our customers who are choosing Amphenol Sine as their primary source for multi-pin connectors."
"It is an honor to receive the Supplier of the Year award from Waytek, a leading distribution partner who matches our passion for high-quality products, service, and reliability," said Amphenol Sine's Director of Sales & Marketing, Wayne Spence. "Through our strong relationship and collaboration, Waytek and Amphenol Sine are well-positioned to build upon our responsiveness to the market and meet the needs of our mutual customers now and in the future."
Amphenol Sine Systems has been a leading manufacturer of industrial interconnect products since 1967 and has built a reputation for stringent quality standards and continuous innovation. The company was selected for Waytek's Supplier of the Year Award by demonstrating high performance in areas such as innovation, quality, product availability, on-time delivery, and a long-term approach to Waytek's strategy.
For more information about Amphenol Sine Systems products distributed by Waytek, go to www.waytekwire.com/amphenol.
About Waytek
Waytek, Inc. is a customer-driven distributor of automotive wire and DC electrical components serving OEMs (original equipment manufacturers), wire harness manufacturers, and upfitters across North America. A family-owned business, Waytek commits to providing exceptional service to our customers, shipping more than 99 percent of in-stock orders the same day.* We partner with product manufacturers known for premier quality, and take pride in creating a consistent sense of purpose and unity for our employees. In 2020, Waytek marked 50 years as a company. With a mission to provide an exceptional customer experience, we do our part so our customers can do theirs.  
Amphenol Sine Systems, founded in 1967, is a subsidiary of the Amphenol Corporation and is a leader in industrial interconnect products. The company designs, manufacturers and supplies high-performance interconnect systems for a broad range of industrial applications including factory automation, motion control, heavy equipment, alternative energy, rail mass transportation and advanced technology solutions for hybrid-electric vehicles. The company's headquarters are located in Clinton Township, Michigan with global manufacturing, engineering, sales and service operations.
*Orders entered by 3:00 p.m. EST.