How to Choose the Right Power Distribution Module
Posted on Nov 13, 2020 by Robert Iversrud
Power distribution modules, or PDMs, have been called by many different names: Power distribution centers or units, electrical centers, and even electrical boxes. In any case, it boils down to this: PDMs are circuits in an enclosure, distributing power from a central power source to many smaller circuits around a vehicle or equipment.
In this article we'll explore the basics of PDMs and guide you to more resources for understanding them in depth.
---
Why use a PDM?
PDMs typically incorporate power busing, control circuitry, relays and circuit protection. Their two main advantages are reliability an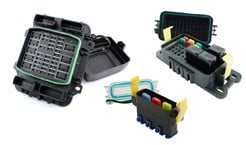 d centralization.
PDMs are easier and more reliable to set up than discrete wiring with a series of small fuse holders. PDMs enable you to accomplish your goals with fewer, higher-quality connections. And they are much easier to maintain than a series of fuses and relays.
The main types of PDMs are:
Full custom: The most flexible and expensive option, as the name implies, requiring time-consuming development and engineering. For more information,

contact Waytek

.

Configurable

:

Off the shelf, semi-custom PDMs with fuses and/or relays, which are excellent quick-turn solutions for a variety of uses.

Hard wired boxes:

PDMs with limited or no busing, making connection to devices via a direct connection to terminals in the wiring harness.
Hard wired boxes represent the latest generation of power distribution modules, providing advanced protection against environmental elements, a small footprint and easy installation. See more about hard wired boxes in the article Simplifying Circuit Protection and Power Distribution.
Shown below: Examples of hard-wired boxes from Littelfuse.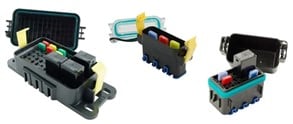 Things to keep in mind when considering a PDM
When evaluating PDMs, be cognizant of the space available, literally the height, width and length of the area where you will mount the PDM. Make sure you have enough room to access the PDM for maintenance, and that your wiring harness has enough clearance—especially if it's being run through a firewall or bulkhead—to reach the PDM.
Also take environmental factors into consideration, including ingress protection from solid and liquid immersion, and ratings for shock and vibration. If your PDM isn't built to meet the conditions in which it will be used, it could be damaged, undergo failure or even cause damage to other components.
Finally, make sure your PDM can meet the total voltage requirements of the systems and components it supports. Most PDMs work within the 12 to 24V DC range. However, with the emergence of electric vehicles, voltage requirements could go much higher.
More resources
For a more in-depth discussion of these topics and other PDM essentials—such as amperage, busing options, I/O, connection considerations, circuit protection, relays, and "smart" PDMs - see the Littelfuse webinar recording: PDM selection: What You Should Think About.
We also invite you to explore the wide selection of Littelfuse power distribution modules in stock and ready to ship at Waytek.
Subscribe Now
Subscribe and be the first to know when new articles are published.