Contactors for Higher-Voltage Automotive Switching
Posted on Mar 28, 2023 by Robert Iversrud
Contactors have long been a go-to switching solution for vehicles with multiple batteries or auxiliary equipment drawing substantial electrical loads. As transportation and work vehicles grow more complex and EV applications increase in prevalence, contactors are evolving to meet higher voltage requirements.
A Track Record for Demanding Applications
In a previous article, we discussed the various switching capabilities of relays, solenoids, and contactors. Although all these components are used for switching, contactors are especially designed for situations where heavier electrical current is in use. Traditional applications include control of electric motors that drive emergency vehicle accessories, forklifts, bus accessories, utility winches, lawn and garden equipment, and control of ladders, conveyors, and other moving parts.
Electromechanical contactors for such applications have long been available from leading manufacturers such as Gigavac, Littelfuse, Trombetta, White-Rodgers Emerson, and Egis Mobile Electric. Typically, these contactors are available in the 12- to 24-volt range and come in many varieties, sizes, and ratings depending on the application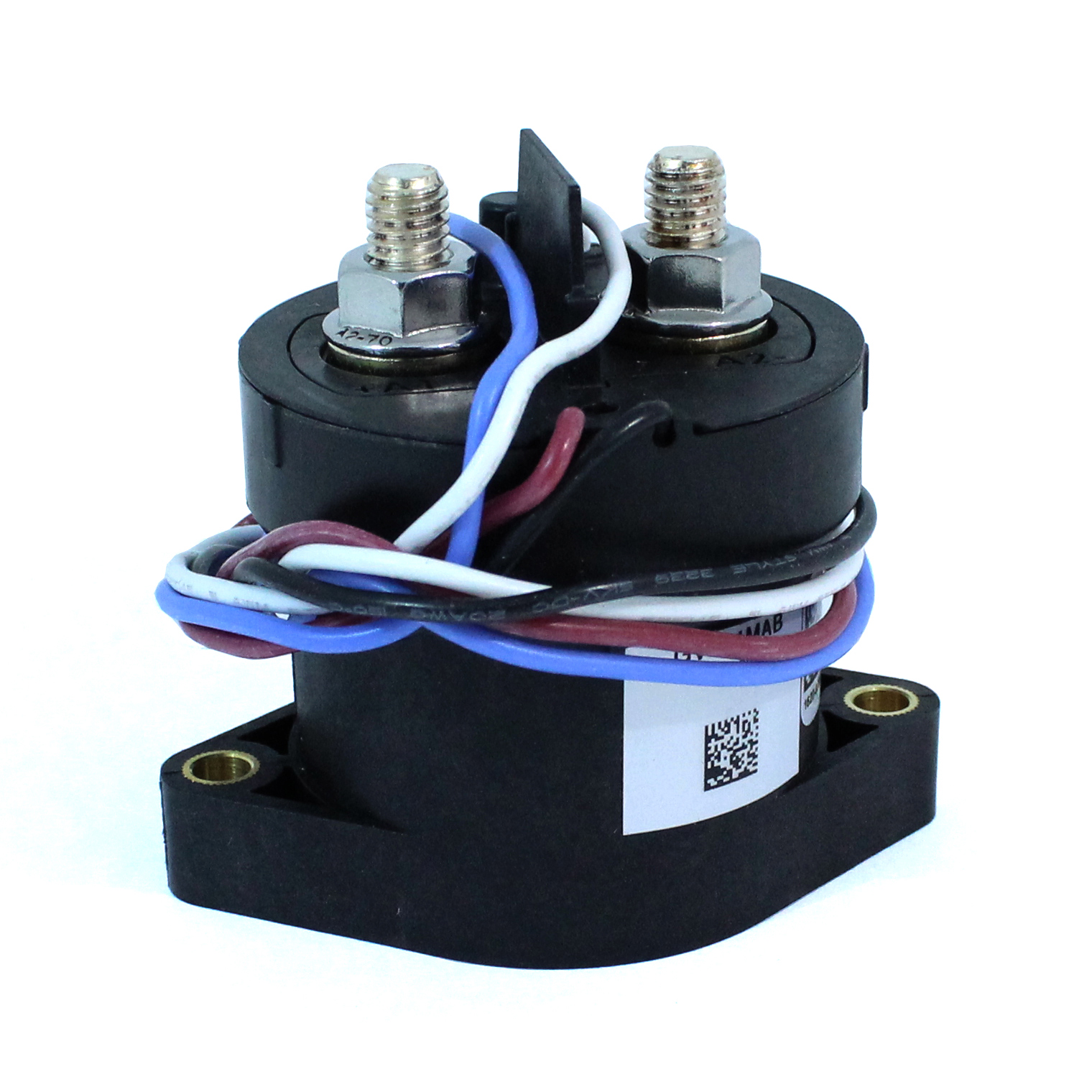 intended.
Shown at right: A 24-volt, 400 amp Sealed Dual Coil Contactor from Gigavac, one of the leading contactors for auxiliary applications that have too much current to be switched by relays or solenoids.
A newer entry to the contactor field is solid-state contactors, which are now comparable in cost to most electromechanical contactors. Solid state contactors such as the InPower SSC line have a small installation footprint, are extremely resistant to high temperatures, and can handle a wide range of switching applications including battery disconnect switching, air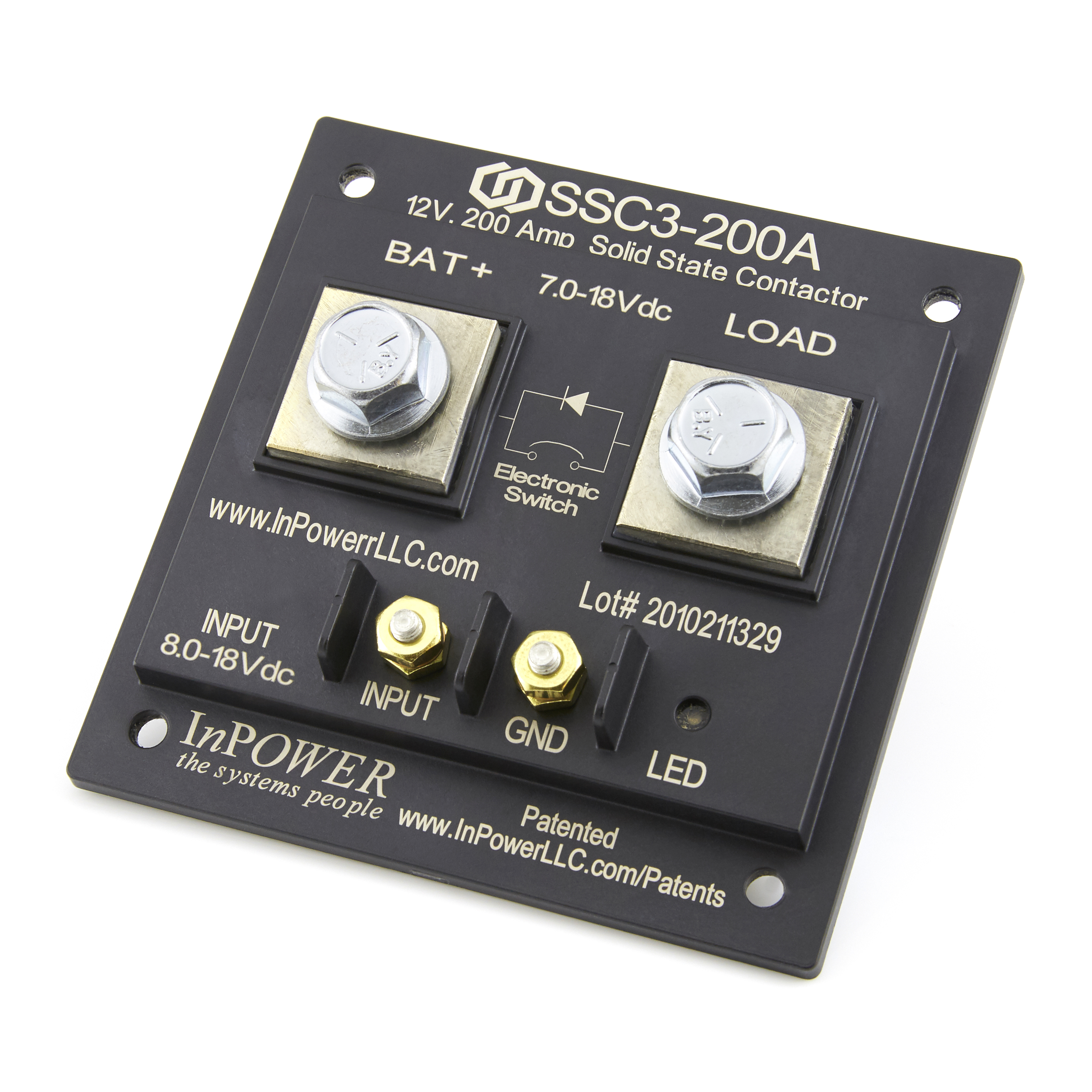 conditioners, lights, and hydraulic motors.
Shown at right: A 20-volt, 200 amp solid state DC contactor from InPower. Because of its electronic, solid state design, it has no moving parts that can wear out.
Contactors for Higher Voltages
Today's vehicle electrical systems use current that sometimes exceeds the switching capabilities of 12- or 24-volt contactors—especially when it comes to EVs and energy storage, emergency equipment, and agricultural and construction vehicles. Rather than wiring multiple contactors together in parallel depending on the application and requirements, it would be safer and more efficient to use a single higher-voltage contactor.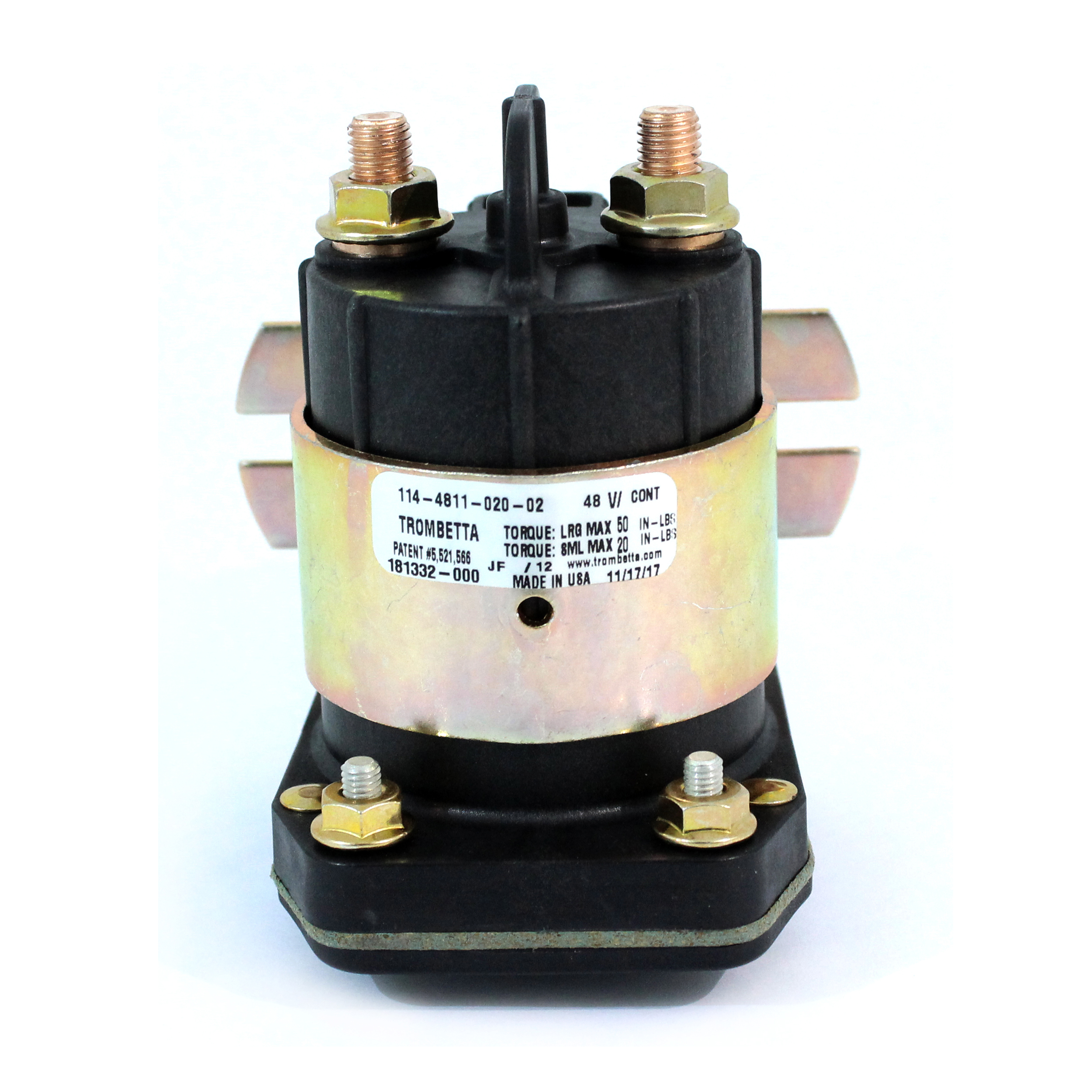 The industry is stepping up to meet the challenge. One example is the "Bear" Series 48VDC Contactor from Trombetta (shown at right). This heavy-duty contactor is designed for battery management and emergency starting applications for large machinery, transportation, and vehicles with multi-battery systems. It is designed for continuous duty and can handle peak inrushes up to 600 amps.
Another excellent higher-voltage automotive contactor is the 48-volt DC contactor from Littelfuse (shown below). This contactor relay is ideal for EV applications such as charging stations, battery power supply, motor control, circuit protection, and other switch controls. It can also be used in uninterruptable power supply and industrial machinery.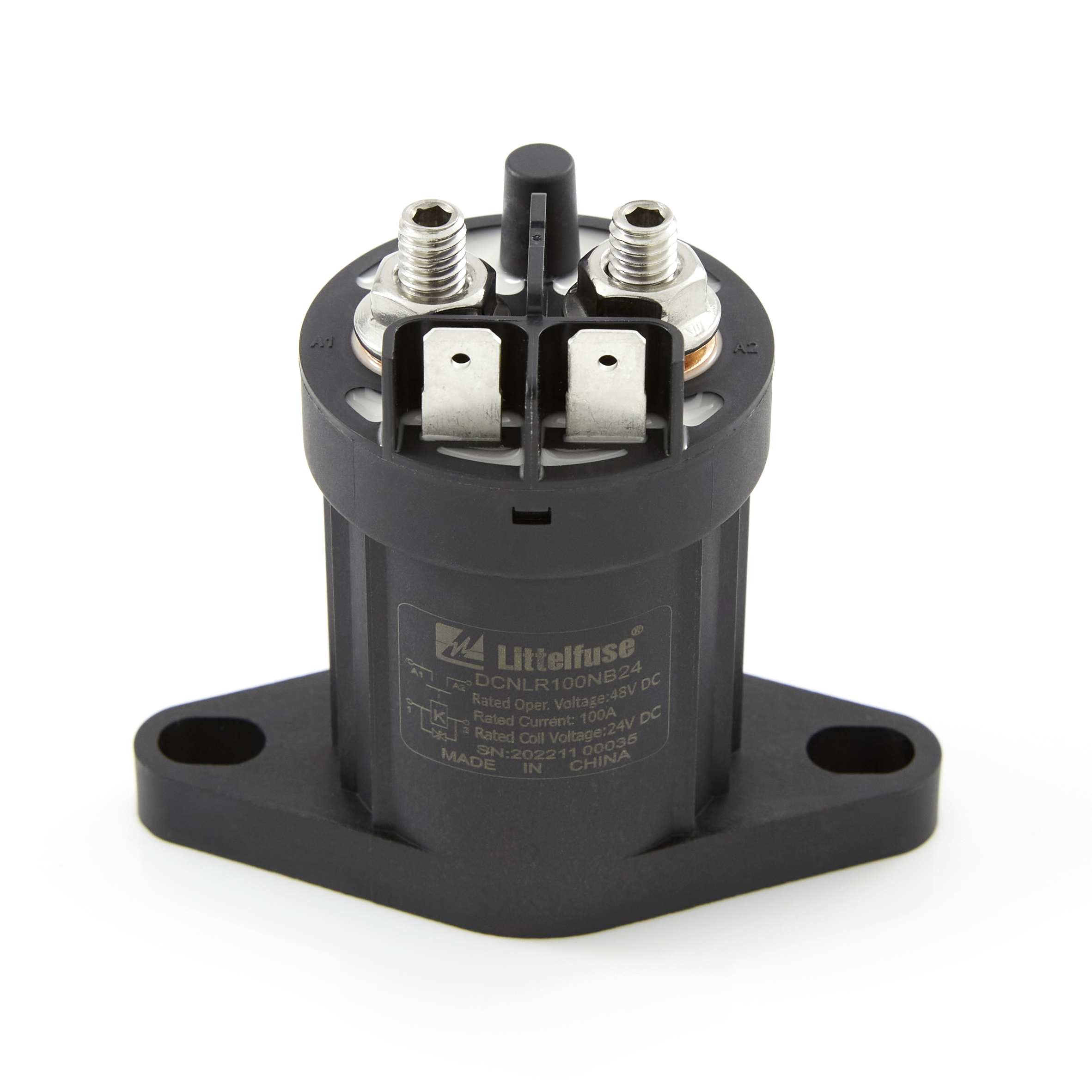 Constructed for High Heat and Tough Environments
Contactors in the 48-volt category are especially robust and feature sealed housing made of highly engineered plastic or ceramic materials that can endure high-temperature conditions found near engine compartments. They have high continuous current and inrush capabilities, as well as ingress protection ratings higher than many relays and solenoids. Be sure to check for UL or any other industry ratings required for the safety of your application.
More to Come
As EVs and higher voltage auxiliary applications continue to grow and develop, more options for higher-voltage contactors are sure to enter the marketplace. Developments in vehicle electrification, energy storage systems, and increasing demand for battery usage will drive the need for higher-voltage switching capability. Waytek will continue to provide updates on 48-volt contactors as they become available to us.
To learn about selecting high-voltage contactors for automotive use, see the Littelfuse white paper Selecting High Voltage DC Contactor Relays.
Also available is the Littelfuse report on Contactors for High Voltage Electric Vehicles.
To learn more about the three basic switch types for automotive use, including contactors, see the Waytek article How to Choose Between a Relay, Solenoid, and Contactor.
Subscribe Now
Subscribe and be the first to know when new articles are published.
style
content