8 Electrical Supply Tips for Work Truck Fleets
Posted on Jun 21, 2023 by Robert Iversrud
The growing complexity of work vehicles brings greater risk of electrical problems as wiring and components age. In this article, we will examine the common electrical points of failure in work trucks and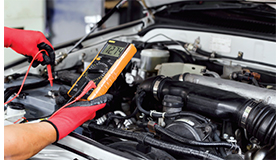 the key electrical parts to have on hand so your work trucks stay up and running.
Key focus areas include:
Battery maintenance and protection
Wire considerations
Electrical connectors
Lights and flashers
Electrical accessories
Circuit protection
And more.
Electrical system maintenance, when planned and performed properly, will pay off by keeping your work vehicles on the road longer and reducing the downtime associated with electrical repairs.
Subscribe Now
Subscribe and be the first to know when new articles are published.
style
content