8 Insights about Electric Off-Road Equipment and What They Mean for the Future
Posted on Jan 21, 2020 by Robert Iversrud
Electric-powered off-road equipment has been a long-awaited arrival. The last 10 years have brought significant advancements in battery power and storage, but we have yet to see electric equipment become commonplace on the jobsite.
Waytek surveyed more than 300 professionals in a variety of industrial companies to gauge gut reactions around the potential and future of electrification.
These eight insights from survey respondents provide a snapshot into the range of opinions on electrification and the tangible challenges industry members face on the path to exploring how battery-powered off-highway equipment could play a role in their business.
What Industry Members are Saying about Electric Off-Road Equipment
For companies that are directly affected by the trend of electrification, employees are seeing an increase in

customer requests for projects that incorporate electric power; projects that in the past wouldn't have been considered for electric power applications.
Lithium-iron battery sales are also a good predictor of the trends around electric-powered equipment. The increase in battery sales has been significant, and it doesn't show signs of slowing down—at least not anytime soon.

Our survey showed uncertainty around the exploration of electric equipment for a variety of reasons, including unclear ROI, vague applicability to businesses, and people's affinity for the status quo. Although these challenges are pervasive, some companies have worked through their hesitations when it makes sense for their business.

Some companies have realized a need to start researching electrification to stay relevant to their customers and to their requests.
However, everyone facing the trend of electrification can relate to the lingering challenges against it, such as sufficient battery power and storage, as well as reliable recharging. These issues are going to have to be addressed before many see the benefits of making the change to electric off-road vehicles.
These challenges are inescapable, and the only way to tackle them is head on. Read more about challenges against electric off-highway equipment on our resources page.
All in all, the majority of industry members believe the exploration of electric-powered equipment is just getting started. It may face monumental challenges, but engineers are still evaluating how to make a move profitably.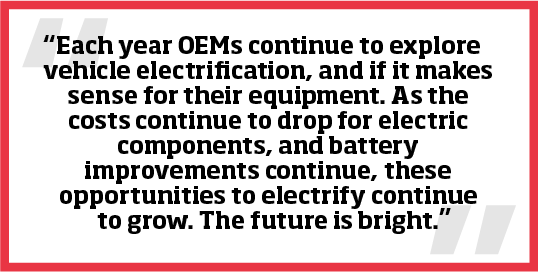 While electric equipment faces tangible challenges, especially with battery technology, it's clear that sentiment around incorporating electric systems is changing. As customers continue to request futuristic projects and companies continue to meet the challenges of an evolving marketplace, electric equipment that once seemed monumental will set a new standard on the jobsite.
Subscribe Now
Subscribe and be the first to know when new articles are published.