Alternatives to Hard-to-Find Deutsch Connectors
Posted on Jun 29, 2021 by Robert Iversrud
Deutsch connectors are in high demand and can be difficult to source due to extended manufacturer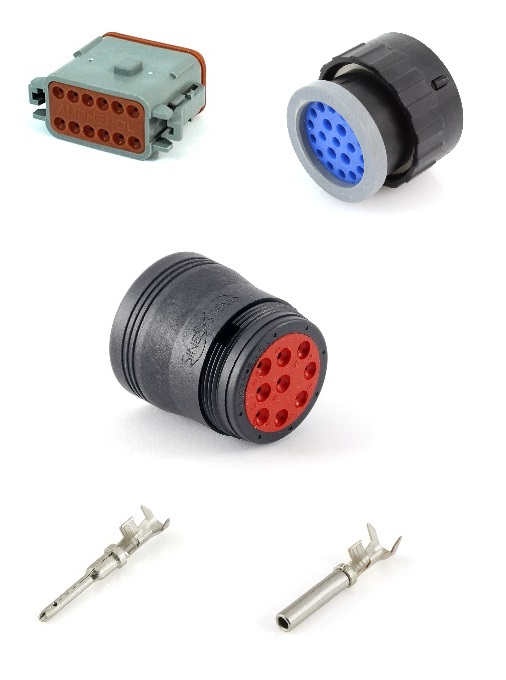 lead times. Widely in use in trucks, construction equipment, agricultural equipment, and many types of mobile equipment, Deutsch connectors have become integral to many production lines.
Waytek has partnered with Amphenol Sine Systems and Aptiv to identify several Deutsch-compatible  connectors and keep them in stock and ready to ship with reduced lead times. Our partners have thoroughly tested and continuously improved these Deutsch-compatible connectors to ensure they are reliable replacements.
---
Deutsch DT compatible: Amphenol AT Connectors
Amphenol Sine Systems AT Connectors are a high-performance, cost-effective system with wedge locks, durable thermoplastic housings and nickel-plated contacts to ensure reliable electrical connections while withstanding harsh environments. They are known for their industry-leading seal retention capabilities.
See available AT series products. 
Deutsch HD Compatible: Amphenol AHD Connectors
Amphenol Sine Systems AHD Connectors are rugged connection systems offered in either a smooth diagnostic grade housing for non-sealed controlled applications, or military style housing with a silicone elastomer seal and threaded constructions for protection against environmental ingress.
Deutsch HDP Compatible: Aptiv HES Connectors
Aptiv HES Connectors (i.e. Harsh Environment Series) come wih a rugged construction and IP67 rating. These connectors provide a high current capability, improved sealing, and higher terminal retention with significant cost advantages compared to standard pin-and-sleeve systems.
These Deutsch-compatible connector offerings could help ease your way through the latest component sourcing challenges. Please contact us if you have any questions about selecting or ordering our Deutsch-compatible connectors.
Subscribe Now
Subscribe and be the first to know when new articles are published.
style
content