Important Things to Know about Terminal Blocks
Posted on Mar 25, 2021 by Steve Green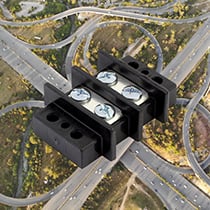 Terminal blocks or terminal connectors are a simple, useful, cost-effective, and often crucial component in transportation applications. Connecting different circuits can be a time-consuming task, often made easier with terminal blocks. There are several important things to keep in mind to know if these unique connectivity solutions are the right choice for your wiring design.
Terminal blocks—also called screw terminals or barrier strips—are often used in vehicle control panels and behind vehicle dashboards.  Designed for quick and simple connections, terminal blocks protect and insulate exposed wire and cable ends and also serve as a clamping system, attaching wiring to the interior body of a vehicle or equipment.
In this article, we'll discuss the advantages and disadvantages of terminal blocks, the different ways to safely and securely attach them, and typical situations in which they make the most sense to use rather than products such as busbars, junction blocks, and power splitters.
Click here to read our "Terminal Blocks for Heavy Duty Applications" article at ConnectorSupplier.com


Subscribe Now
Subscribe and be the first to know when new articles are published.