The Dos and Don'ts of Choosing Wire Terminals and Connectors
Posted on Dec 27, 2015 by Robert Iversrud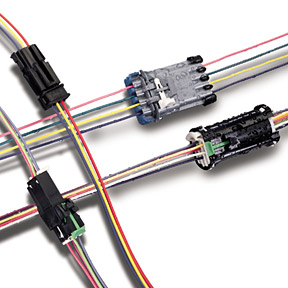 It's one thing to have the wires you need to get your automotive electrical project up and running, but those wires need somewhere to terminate, or you might as well leave them on the spool. Here are some dos and don'ts for ensuring every wire has the connection it needs.
Do: Check The Rating Of Each Connector
Wire terminals and connectors generally have a rating in amps. This is crucial information for choosing the right terminal, as a mismatch between amps in wire and terminal can ruin a repair, damage the vehicle it's been made in, and in some cases even put your customers and employees in severe danger from fires and electrocution. So, look at the rating closely; your customers and your team will thank you.
Don't: Get Tied Up In Jargon
There are plenty of ways a company can hype up their product, ranging from labeling a common design with a fancy marketing-department approved name to making claims about its efficiency that matter less to you than the price. The problem is that sometimes amid all that jargon is actually useful information. So flip past the marketing and look at the technical specifications.
Do: Look Carefully At Your Options
It can be fairly easy to assume that aside from brand names and housing colors, all connectors and terminals are the same. But that can be a trap for purchasing departments; sure, they may do the same job, but they might not be built to the same quality standards, and it's a hard-learned lesson for many of us that flash and sizzle tend to drive up the price, not the build quality. So once you know what type you need, look carefully at your distribution options; you might be pleasantly surprised by what turns up.
Don't: Leave Your Shop Out Of The Process
If there's a disconnect between purchasing and the shop they're supplying, there's going to be a problem quickly. True, you don't need to talk brand names or the nuances of purchasing, but nobody knows the components you use better than the guys who use them, every day. Often the shop team has valuable feedback about which connectors and terminals work best and which they'd rather not use, the information you won't be able to get out of a catalog. Sometimes you'll need to compromise -- especially if you need to switch brands to find a better price or find more efficiency -- but make sure they're in the loop, so you don't find yourself becoming the returns department.
Do: Work With A Smart Distributor
Too often, when buying wire terminals and connectors, people leave the supply chain out of the equation. That can be an enormous mistake, and not just because a good distributor can find you deals on any connector you're considering. A good distributor will know what connectors you use and why, and will be able to guide you towards suitable alternatives if a part suddenly becomes unavailable or you need a rush order of something that's low on stock. Especially if you find yourself in need to turn around an order of a specific part quickly, having a good distributor in your corner is crucial.
If you need the best automotive electrical components, take a look at our terminals and connectors. We'll find you the best parts, at the best price, every time.
Subscribe Now
Subscribe and be the first to know when new articles are published.