Enjoy Time Off
Paid Time Off (PTO)
It is important at Waytek to ensure that employees have time to rest and relax away from the office. The Paid Time Off (PTO) benefit is based on your length of service and below is the full-time employee accrual rate: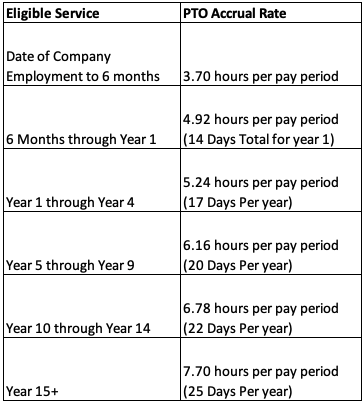 Note: Employees classified as regular part-time and working over 20 hours per week are eligible for a modified PTO accrual rate.
Holidays
Waytek observes the following standing holidays: New Year's Day, Memorial Day, Independence Day, Labor Day, Thanksgiving Day, Day after Thanksgiving, Christmas Day, Full or Half Christmas Eve*, and Full or Half Day New Year's Eve*.
* Depending on calendar and management discretion