High-Amp Circuit Protection: The Benefits of Battery-Mounted Fusing
Posted on Apr 4, 2020 by Robert Iversrud
Combine the Fuse Holder & Power Source for Simpler, Safer Solutions
We're all familiar with the traditional fuse box layout for motor vehicles: A fuse holder wired into the wire harness, usually far from the battery that powers the system. It's one of those established systems that people don't tend to question. The fuse box goes here, connected to the main wire harness, and that's just how it is, right? It doesn't seem like a system that's particularly ripe for innovation.
The problem is, adding a circuit or two to a traditional fuse box is tricky. You can add inline holders by splicing into the wire harness, but that can void the vehicle's warranty, introduce a new point of failure, and more.
Fortunately, the folks at Littelfuse are bringing a fresh approach to the problem. Few brands are as synonymous with their product offering as Littelfuse is with Circuit Protection. When they create a new solution, it's well worth your attention.
Littelfuse isn't just redesigning fuse holders to have something new to sell: Their solution actually has significant advantages over an inline holder, making it easier and safer to add circuits to a fuse system.
What Is a Stud Mount Fuse Holder?
Littelfuse's new offering is the SMZ stud mount fuse holder. It allows you to mount fusing directly to an M8 or M10 on batteries, alternators, battery switches or relays:
The holder is secured to a stud using a standard M8 or M10 nut, so it's easy to repair and replace fuses. Each fuse holder is protected by the red plastic cover you can see in the illustration above. That reduces the risk of accidental contact to the fuse or terminal.
Benefits of Battery-Mounted Fusing
The big idea here is moving the fusing closer to the power source, but without introducing the need for special hardware. This application has a few key advantages over inline bolt-down fusing:
Smaller Footprint
The SMZ fuse holder is a compact, space-saving design. There's no need for an additional fuse holder or power distribution module.
Greater Simplicity
Every wired connection in an electrical system is a potential point of failure. This solution reduces the number of connections and the number of parts involved for a more robust system. 
Location of fusing at the power source reduces hardware, installation time, while simplifying replacement and repair for operators. 
Enhanced Safety
Fusing directly at the battery or power source eliminates unprotected supply cables and the need to splice into your wire harness and allows for the location of larger power distribution modules to be outside of the engine compartment.

Even better, since you don't need to modify the starter cable or wire harness for installation, you can install the SMZ holder without voiding your vehicle's warranty.
Lower Overall Cost
At first glance, this solution seems more costly than bolt-down style MEGA® fuses. It's true that ZCASE fuses are more expensive, but you have to consider the entire system. If you look at fuses and fuse holder together, the SMZ system costs less.
A New Standard for High-Amp Fusing
Littelfuse is one of the true leaders in Circuit Protection, and their SMZ series is well worth a look. For safety, security and simplicity, this system gets our stamp of approval. 
Use the SMZ Application Guide below to explore the possible configurations with the SMZ series, and visit www.waytekwire.com today to learn more, view stock, check pricing, or place your next order.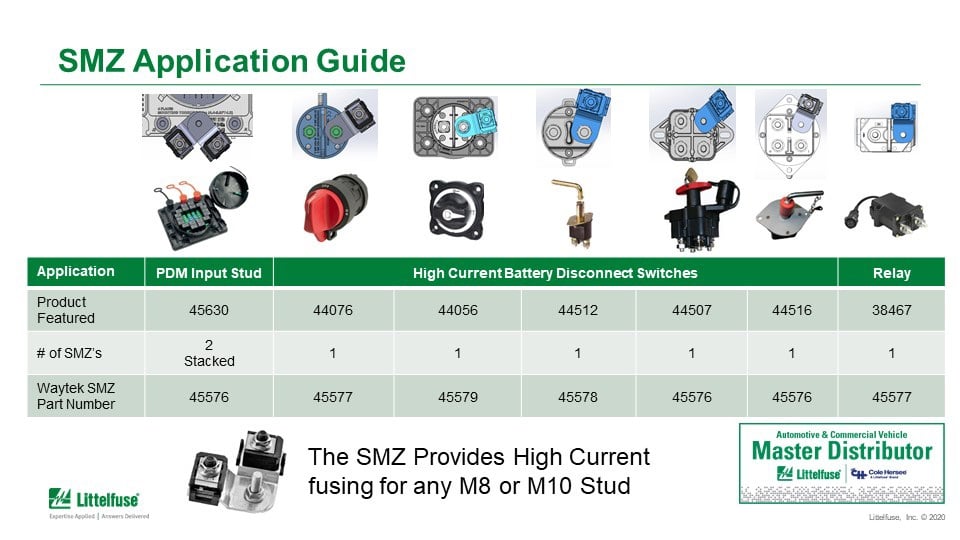 Subscribe Now
Subscribe and be the first to know when new articles are published.