Fuse Holders 101
Posted on Nov 29, 2022 by Robert Iversrud
Fuse holders are important accessories that are needed since most automotive fuses can't be dropped directly into conductive paths due to their shape and size. When it comes to fuses and fuse holders—like the old song says—you can't have one without the other.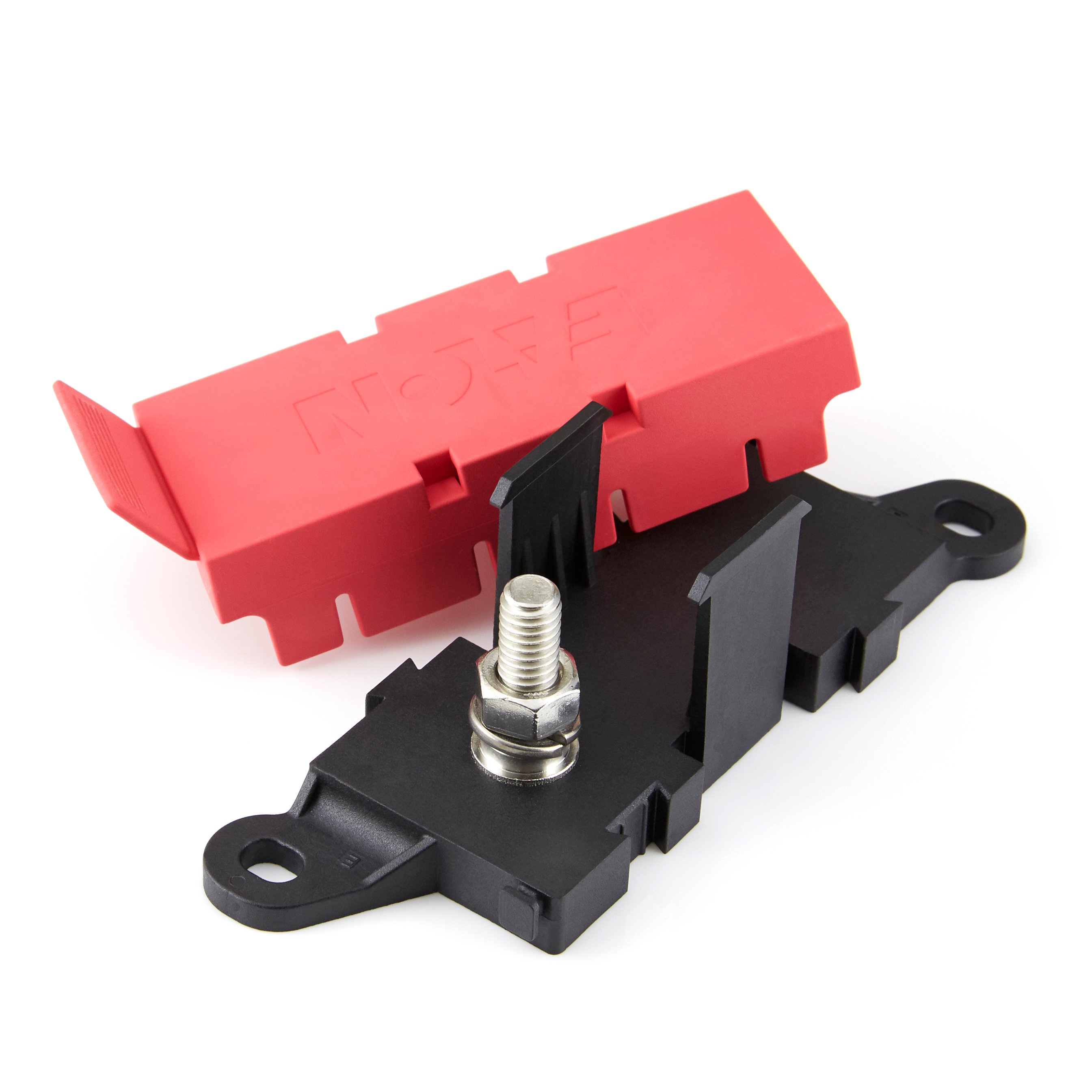 Here are a few key things to know when choosing automotive fuse holders.
The Functions of a Fuse Holder
Fuse holders, despite their seemingly simple name, perform essential functions:
They are used to mount a fuse or multiple fuses in a convenient location, whether during electrical system assembly or for easy access when fuses need to be replaced.

They must integrate their associated fuses safely in the electrical circuitry, providing a reliable current path that doesn't allow voltage to creep to other components.

They must protect fuses and related wiring against damage from environmental elements, ranging from safeguarding against dust or debris to complete waterproof and dustproof protection.
In-Line Fuse Holders
In-line fuse holders are a flexible, quick option for positioning blade-type fuses (such as Micro, Mini, and ATO/ATC fuses) in tight spaces. In-line fuse holders are often used when adding overflow circuits or accessory circuits for low-current applications ranging from automotive electronics and panel displays to blower motors, air conditioners, and lighting.
In-line fuse holders are a simple wire-in/wire out, line-and-load type of fuse holder. Think of them as self-enclosed wire harnesses that are easy to install and access later.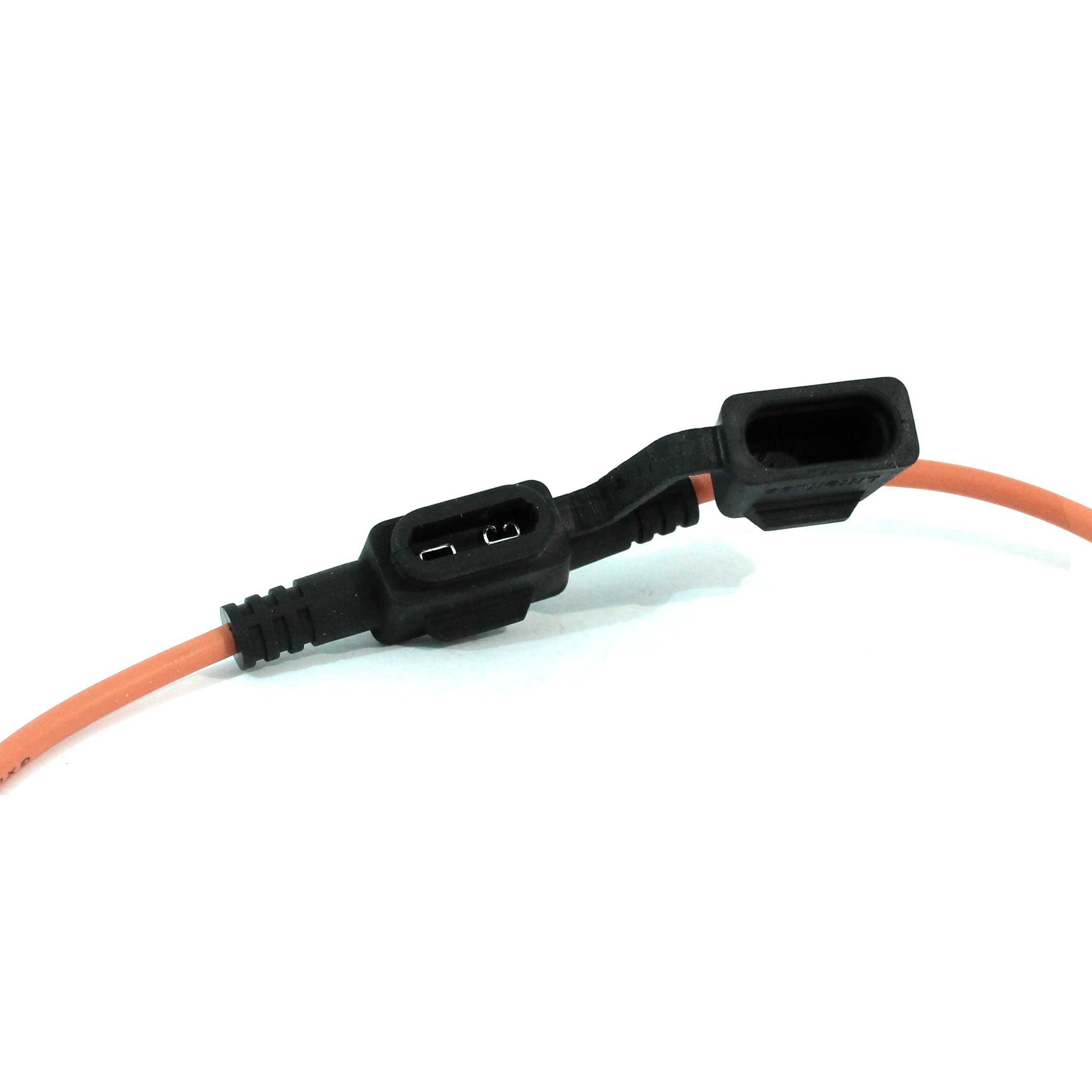 Today's higher-quality in-line fuse holders have covers to protect against the elements, as well as built-in strain relief features to protect wires from fraying and breakage. 
Shown at right: a Littelfuse MINI® In-Line Fuse Holder, which includes a snap-on cover and built-in strain relief to protect the wiring at both points of entry.
Bolt-Down Fuse Holders
For higher-current applications such as battery and alternator connections and starter fusing, bolt-down fuses are typically used and require their own corresponding fuse holders. Bolt down fuse holders are typically designed to withstand harsh conditions and often come with high waterproof ratings. Many are ignition protected, a characteristic that can be essential for marine and high-temperature environments (see the related article Ignition Protection: Why it Matters).
Many bolt-down fuse holders are designed with dovetailed housing enabling multiple fuse holders to be latched together as a block. Others offer flexible covers that enable wiring to be brought in from any angle.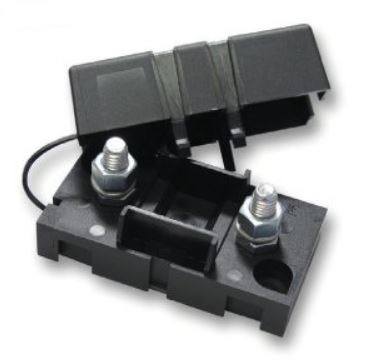 Right: A Littelfuse MIDI® High Amp Fuse Holder, with molded dovetailing on the housing that enables multiple holders to be joined together.
Below: A Littelfuse Flex-MEGA® bolt down fuse holder, with a flexible cover allowing wire entry from multiple angles.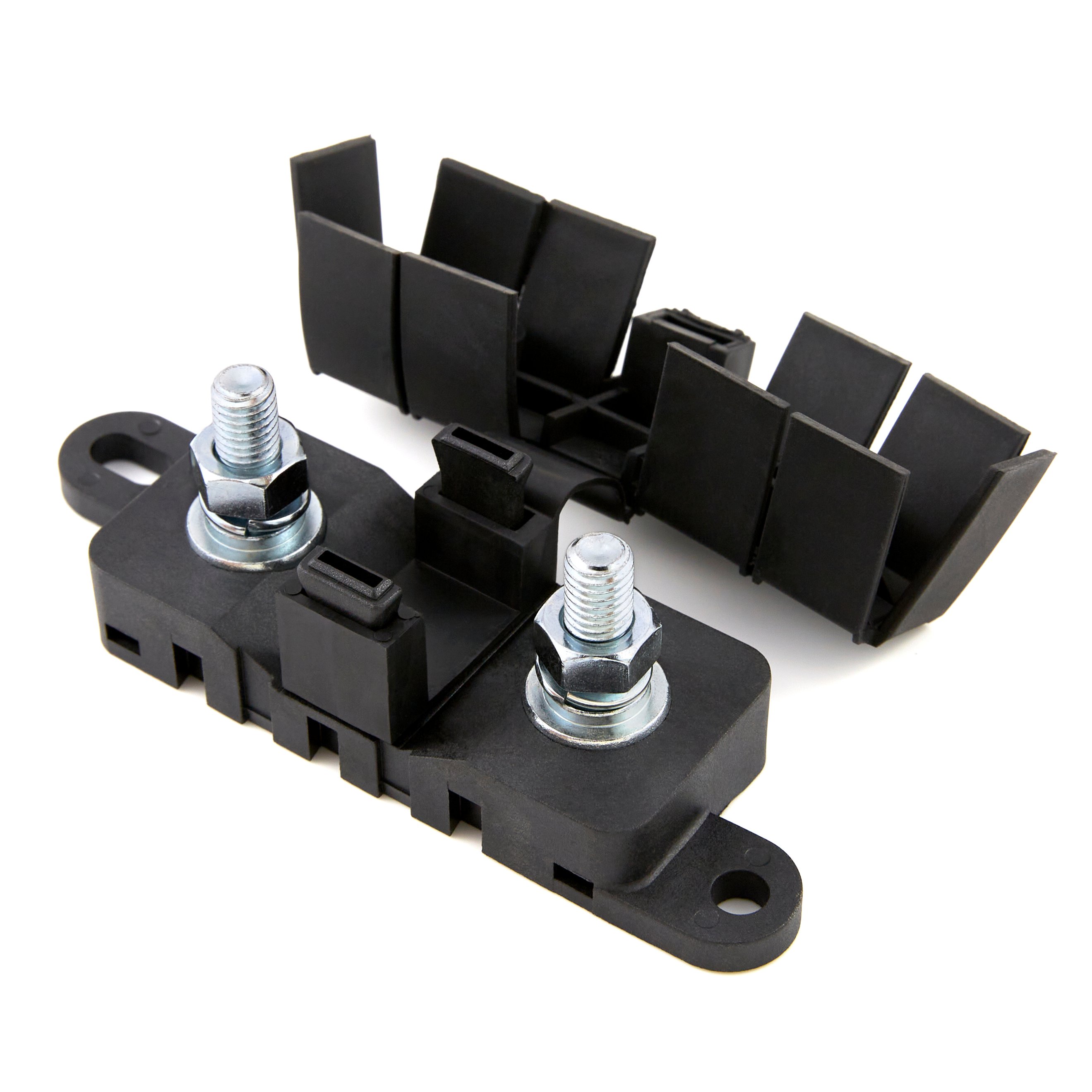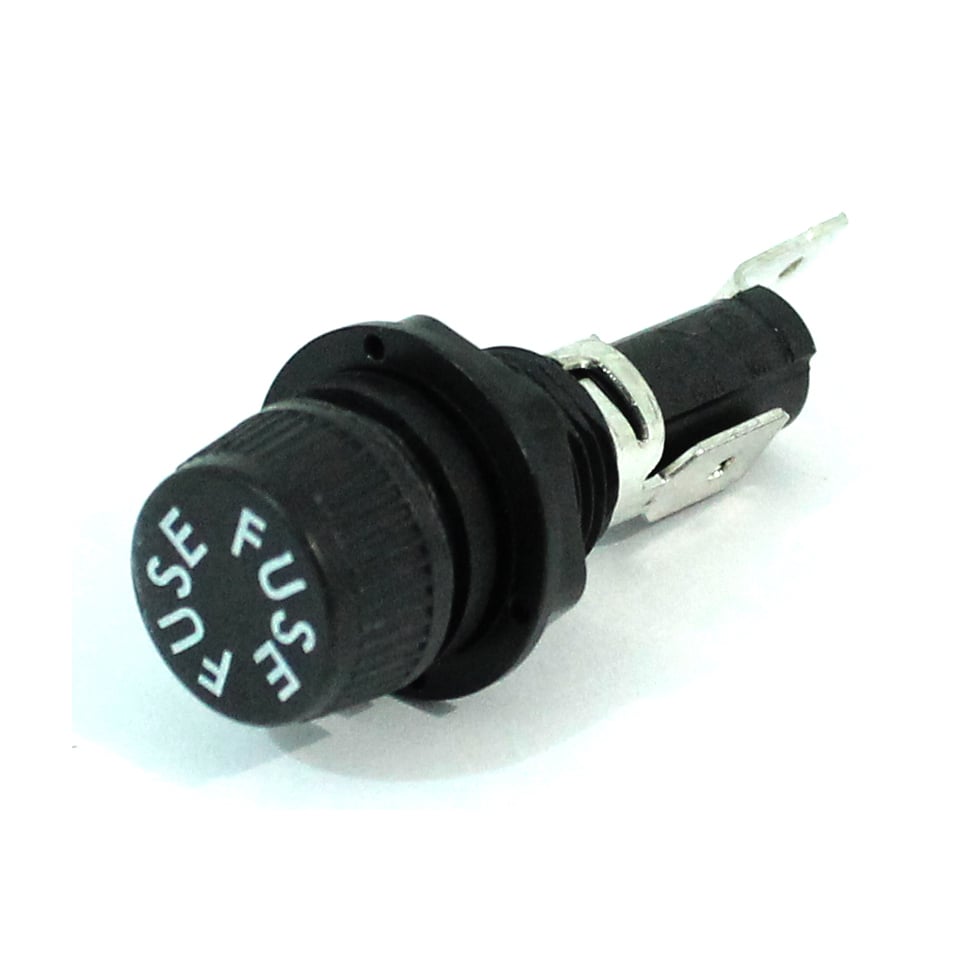 Panel Mount Fuse Holders 
Panel mount fuse holders are another type of automotive fuse holder. They are designed to be mounted through an enclosure in a board or panel. Shown at right: An Eaton panel mount fuse holder made for AGC type fuses.
Fuse Blocks and Boxes
A single fuse can be handled by a fuse holder. For multiple fuses, there are many fuse blocks and fuse boxes available for both high and low-amperage fuses, enabling efficient multi-fuse installation and power distribution. Fuse blocks and boxes are ideal when working with complex electrical circuits in work trucks, emergency equipment, small electric vehicles, marine craft, and drilling equipment.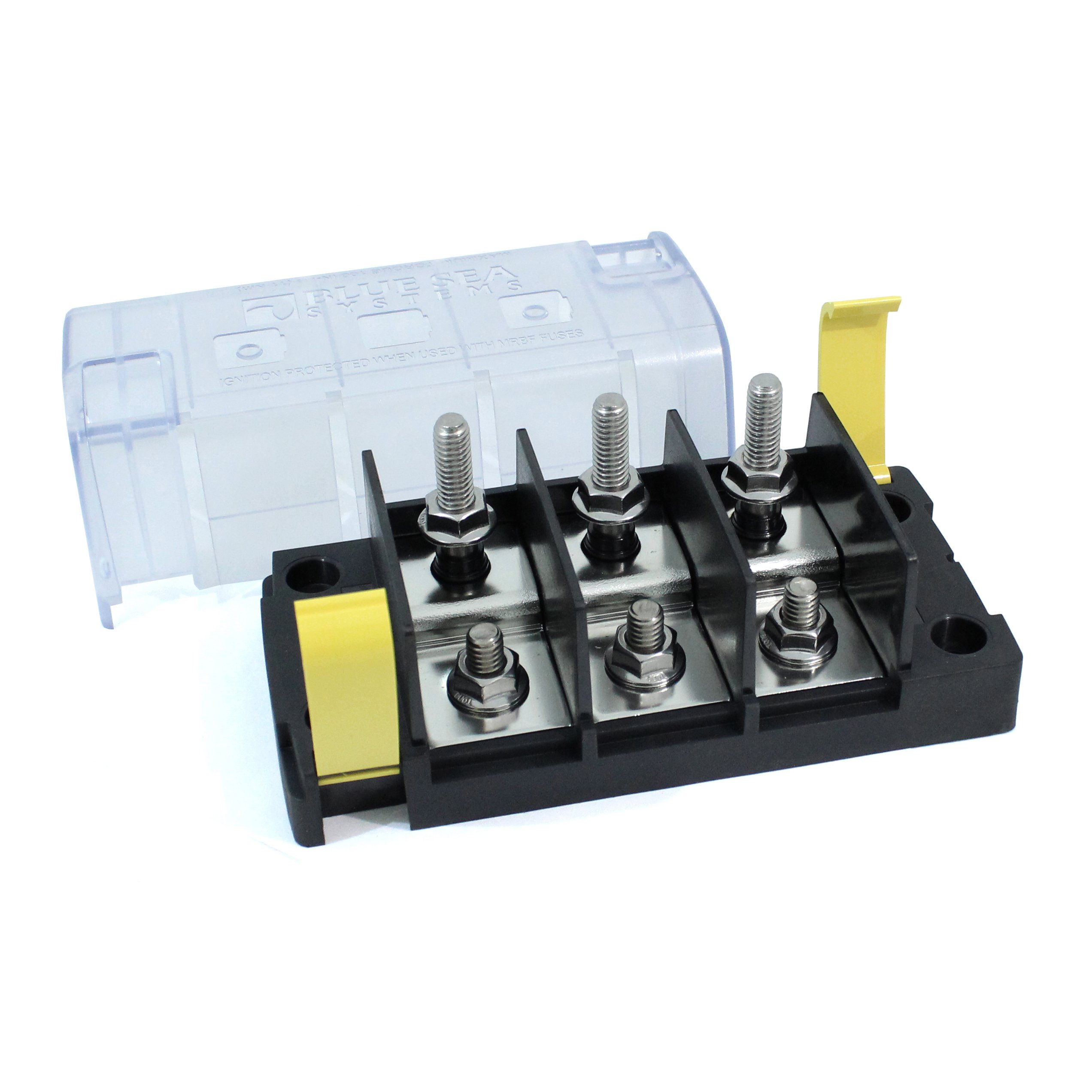 Right: An MRBF Surface Mount Fuse Block from Blue Sea Systems, ideal for marine use and designed to meet J1171 ignition protection requirements when the cover is securely latched.
Below: An HWB12 Series 12-Way Mini Power Distribution Center from Littelfuse, which accepts a combination of MINI® fuses, MINI® circuit breakers, and diodes.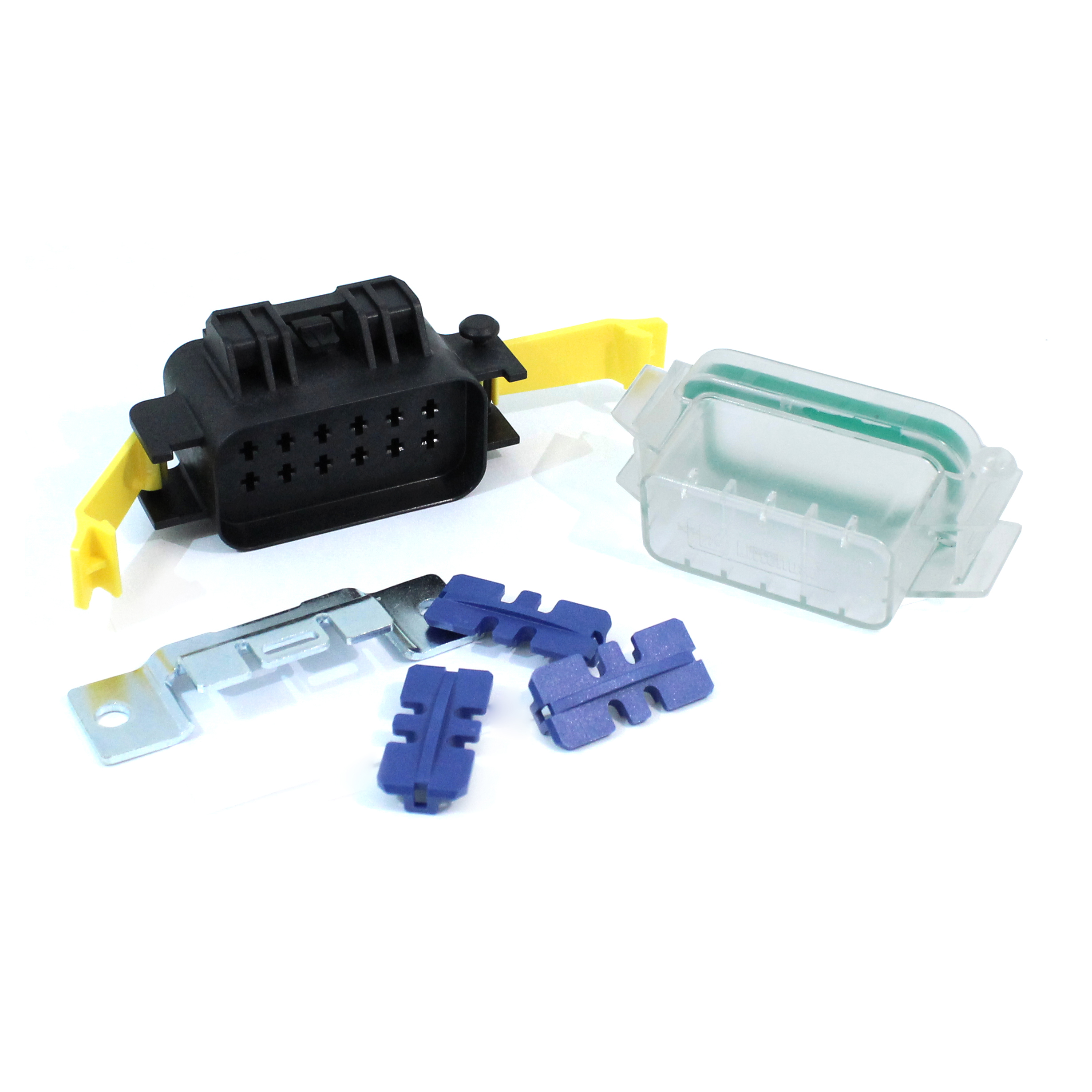 Ratings Considerations
Most fuse holders have manufacturer specifications about the fuse types they were built to hold. However, take care to examine the fuse holder's electrical ratings, such as maximum voltage and maximum current, to make sure it can support the fuse you intend to place in it.
Although we typically think of fuses (not fuse holders) as the devices providing circuit protection, fuse holders nevertheless play an important role. When chosen properly, a fuse holder supports the fuse in doing its job safely and efficiently.
You can see a complete selection of automotive fuse block terminals and fuse holders on the Waytek website. To learn more about automotive fuses, see Fuses 101: What You Need to Know.
Subscribe Now
Subscribe and be the first to know when new articles are published.