Simplifying Circuit Protection and Power Distribution
Posted on Jul 28, 2020 by Robert Iversrud
Next-generation power distribution models, called hard-wired boxes, streamline circuit protection and power distribution with features that support easier installation and maintenance as well as protect against premature failure.
---
For a while now, industrial vehicle makers been moving toward replacing hydraulics with electric-powered equipment. The benefits are clear: electrical systems are smaller and lighter, making them more fuel- and space-efficient. All good, right?
But these systems posed significant engineering challenges. Somehow designers had to fit in lots of accessory and overflow circuits that the primary power distribution model (PDM) couldn't handle. Each bundle of wire required its own inline fuse holder, plus isolated relays and circuit breakers. That's a lot of parts where things can go wrong--and they also make it difficult to diagnose a problem.
In recent years, engineers refined these systems to become smaller PDMs that consolidate the components for power as well as circuit protection and power distribution into one box. But because they tended to be offered as modules that snapped together, they were vulnerable to the elements and contaminants during use due to a lack of efficient sealing, resulting in malfunctions and premature failure.
Luckily for us, Littelfuse has created the next generation of PDMs--hard-wired boxes, or HWBs.
What is a HWB?
Littelfuse's HWBs are sealed, compact systems that are small and simple enough to quickly install almost anywhere on a vehicle or piece of equipment where you need to protect or control the flow of electrical power. Compared to earlier versions, HWBs are easier to assemble, install, and maintain and typically come with a smaller footprint. Offered in a range of sizes, there's an option for almost any need on a vehicle or piece of equipment you might run into.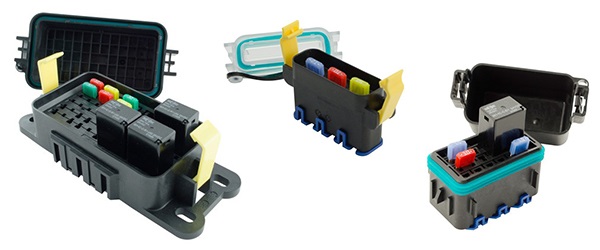 HWBs can accommodate various circuit protection components, including mini fuses, circuit breakers, and relays, or you can use direct wire-to-component connections to customize the circuitry to your needs. Certain models have modular capabilities, allowing them to be connected together to increase circuit protection.
So that all sounds good, but what are the particular advantages of Littelfuse's HWBs?
Benefits of HWBs
HWBs not only offer an improvement in design and durability over previous iterations of small PDMs, they also incorporate features that set them apart from competing products.
Range of Sizes
Choose from an array of sizes according to your vehicle needs and specifications. Models come as small as 70.9 mm × 64.3 mm × 36.4 mm and can accommodate up to 60 mini plug-in circuit protection components.
Adaptability
These HWBs can fit almost anywhere on a vehicle's body or chassis, making them ideal for a wide range of vehicles and equipment as well as for custom designs. Universal brackets hold the units in place either straight or at a 30-degree angle for easier viewing and access during equipment checks and maintenance.
Industry-Leading Sealing
Because they're designed for use in industrial vehicles and equipment, Littelfuse's HWBs use best-in-class sealing to stop penetration and corrosion from water, sand, salt spray, toxic chemicals, and other contaminants, preventing damage and early failure from rugged use. This helps reduce the need for maintenance--crucial for industrial vehicles and equipment used in challenging or hostile environments.
All sizes have an Ingress Protection rating of IP67 (total protection from dust and protected from temporary submersion in liquids) and IP69K (proven to resist high temperature and pressure wash).
In addition, most units include two positive-sealing latches that, combined with gasket-sealed UL covers, provide additional layers of protection. Some models come with the option of a clear UL cover for easy viewing and troubleshooting of the unit's interior.
Integrated Locking Devices
The HWBs include terminal position assurance (TPA) locks that protect wire leads from accidentally being pulled out of position, even under heavy vibration or the impact of rough terrain.
In short, HWB's durability, simplicity, and accessibility make them ideal for all types of vehicles and equipment in a variety of industries. Work trucks, emergency equipment, small electric vehicles, marine craft, and drilling equipment are just a few examples where Littelfuse's HWBs can support easier maintenance and longer service life.
A Better Solution for Circuit Protection and Power Distribution
Littlefuse is a true pioneer in compact PDMs that combine streamlined, reliable, and safe design with high standards for rugged, high-volume vehicle use. We offer their products with confidence.
Use the HWB Selection Guide below to find the right model for your needs. You can even download a 3D model to incorporate into your projects. Make sure to continue to visit waytekWire.com to learn more, view products, check pricing, or make your next purchase.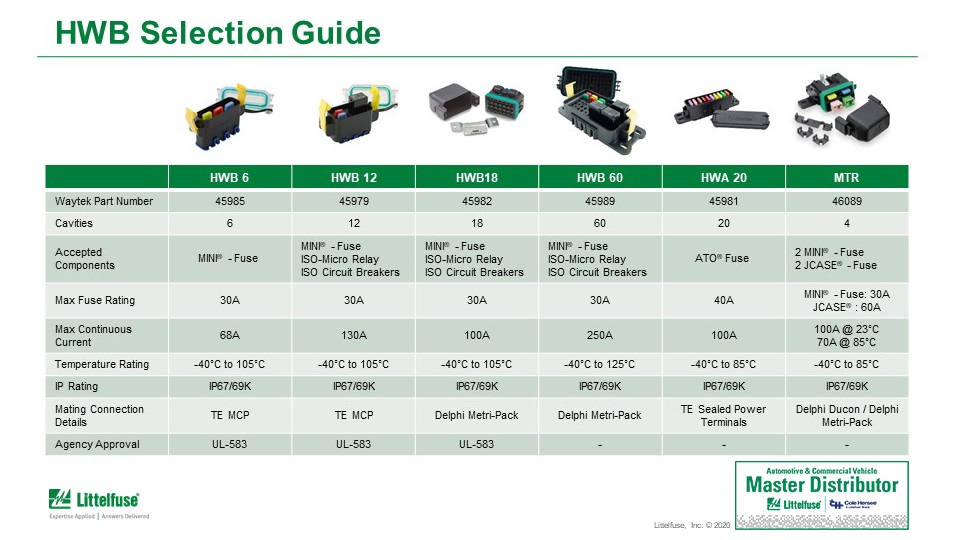 Subscribe Now
Subscribe and be the first to know when new articles are published.