Industry Standards Explained: What They Are and Why They Matter
Posted on Jun 16, 2020 by Robert Iversrud
Anyone who works with electrical systems has seen their fair share of acronyms related to industry standards, from ABYC to UL/CSA. In this article, we'll take a look at some of the most common standards you're likely to encounter in the Waytek catalog, and why they make a difference for the parts you purchase.
_______________________________________________________________________________________
In the classic comedy Good Morning, Vietnam, Robin Williams effortlessly skewers the alphabet soup of military jargon:
"Seeing as how the VP is such a VIP, shouldn't we keep the PC on the QT? Because if it leaks to the VC, he could end up MIA, and we'd all be put on KP."
The armed forces have a truly impressive collection of initialisms and acronyms. But anyone who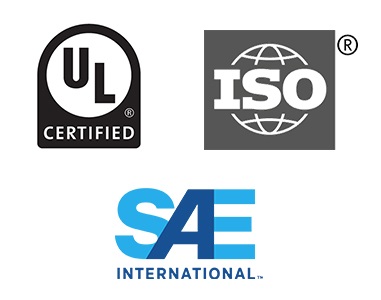 works with electrical systems has seen their fair share of unpronounceable capital letters, too. From ABYC to UL/CSA, there's a truly daunting number of standards and governing bodies to contend with.
Let's take a look at some of the most common standards you're likely to encounter in our catalog, and why they make a difference for the parts you purchase.
Why Do Standards Matter?
At the base level, standards are all about predictability, confidence, and safety. You can be sure, for example, that "Ignition Protected" electrical parts will not overheat and cause sparks that could blow up your boat. On the milder side, you can be sure that your 12V battery will reliably put out 12 volts, rather than 6 to underpower accessories or 24 to fry them.
Over time, industry organizations have developed an extensive library of standards that keep consumers protected from shoddy workmanship, defective products, unethically sourced materials, and more.
These standards also ensure compatibility of parts from different vendors in the same system. Imagine if every manufacturer's 12V battery had its own proprietary terminals, or every manufacturer had their own color scheme for positive, negative, and neutral wires. It's easy to see why that uniformity matters.
Laws that govern electrical systems frequently require that electrical components meet these industry standards. So, while you might be able to purchase an uncertified component from a country with more lax requirements, it would be illegal (not to mention unsafe) to use it in the U.S.
Compliance Versus Certification
When you're looking at whether a component meets industry standards, it's important to distinguish between standard "compliant" and standard "certified."
"Certified" means that an agency or association has completed a review process and officially determined that the component meets the standard.
"Compliant" means that the component has been tested by the manufacturer, and they have documentation to prove that it meets the requirements of certification. However, the part has not gone through the formal review process to be certified.
The difference between the two is whether the testing has been carried out by the manufacturer internally, or by an independent review board. In general, "certified" carries greater consumer assurance and protection than a "compliant" designation.
Common Standards Explained
A full list of every industry association and their standards would take hours to compile and even longer to read. So in this post, we'll focus on the standards you are most likely to see when dealing with automotive and other vehicular electrical systems.
SAE Standards
SAE was founded as the Society of Automotive Engineers. As their mission has expanded beyond the automobile, they've dropped the full name in favor of just SAE. They're a global organization with over 127,000 members, dedicated to education and standard bearing for multiple industries.
SAE hosts a database of over 37,000 standards, aimed at ensuring quality, performance, safety, cost optimization and predictable product lifestyles.
Here are the SAE standards you may encounter in our catalog:
SAE J1171 covers external ignition protection for all electrical devices that will be used in marine engine compartments and fuel tank spaces
SAE J1128 covers low voltage cables in surface electrical systems, making sure that such cables carry voltage as intended in normal conditions
SAE J1127 covers low voltage battery cables in surface electrical systems, under normal conditions
SAE J1939 specifies how electrical components in vehicles should communicate with each other and with diagnostic equipment
ISO Certifications
The International Organization for Standardization has over 164 standards organizations in its membership. The organization creates standards for quality assurance, environmental management, and more.
The ISO sets the standards but isn't responsible for determining if a product or process meets the standards. Independent certification bodies, approved by the ISO, do the testing and certification.
There are two ISO certifications you're likely to encounter in our catalog:
ISO 8846 describes test methods and requirements for electrical devices on small crafts, so they may be operated in an explosive atmosphere without ignition
ISO 9001 is a quality management standard that applies to organizations, rather than products. It certifies that an organization has a strong customer focus, continual improvement, and more.
UL Certifications
The Underwriters Laboratories is an organization devoted to promoting safety, performance and sustainability in everything from appliances to building materials. UL Listed products are certified to meet the groups' standards for quality and dependability.
Here are a few UL standards you'll encounter on electrical components:
UL 1500 covers test methods to determine if an electrical component is ignition protected
UL 1007/1569 Are frequently found together, and cover round or flat metal-clad cables
UL 1408/1316 cover wires with a single conductor, extruded insulation and a non-integral covering
UL 1452 also covers single conductor cables with a non-integral jacket
UL 558 covers fire safety aspects of industrial trucks with internal-combustion engines
UL 583 covers electric battery-powered industrial trucks
You may also encounter a C-UL certification mark, which means the product conforms to standards set by the Canadian Standards Association (CSA). UL/CSA certified products are cross-certified in both the US and Canada.
Other Association Certifications
In addition to the broader governing bodies listed above, there are smaller industry groups that offer training and certification. There are two you're likely to see mentioned in our catalog:
Rules and Regulation Certification and Compliance
National and international regulations govern what components may be safely sold to consumers. In our catalog you may find the following:
P65 Compliant refers to California's Proposition 65, which requires warning labels on products that contain chemicals known to the state of California to cause cancer
RoHS Certification means the product meets the standards for European Union Directive 2002/05/EC - Restriction of use of Hazardous Substances
REACH Compliant refers to EU regulation #1907/2006 regarding the Registration, Evaluation, Authorization and Restriction of Chemicals
USCG 33CFR 183.410 Compliant refers to the United States Coast Guard regulation on ignition protection in marine vehicles
Conflict Minerals Certification assures that the minerals used in the creation of the components were ethically sourced
Set Your Standards High
Industry standards are more than a string of letters and numbers. Each one represents an assurance that the components you are buying come from reliable sources, are manufactured to function correctly, and can be used safely for their intended purposes. We're committed to making sure the components we distribute meet every applicable standard.
Download the Waytek Catalog to see our full collection of electrical components.
Subscribe Now
Subscribe and be the first to know when new articles are published.