How to Order
These three simple steps make online orders from Waytek easier than ever.
1. Create an account
Your customer portal is the fastest way for registered account users to place orders online, with quick shipping and the ability to save lists for future purchases. There is no handling charge for orders of $35.00 or more; orders under $35.00 incur a $5 handling charge.
You'll have more shipping options such as same-day, overnight, and two-day air. Waytek even links up to your corporate shipping account to make billing a breeze.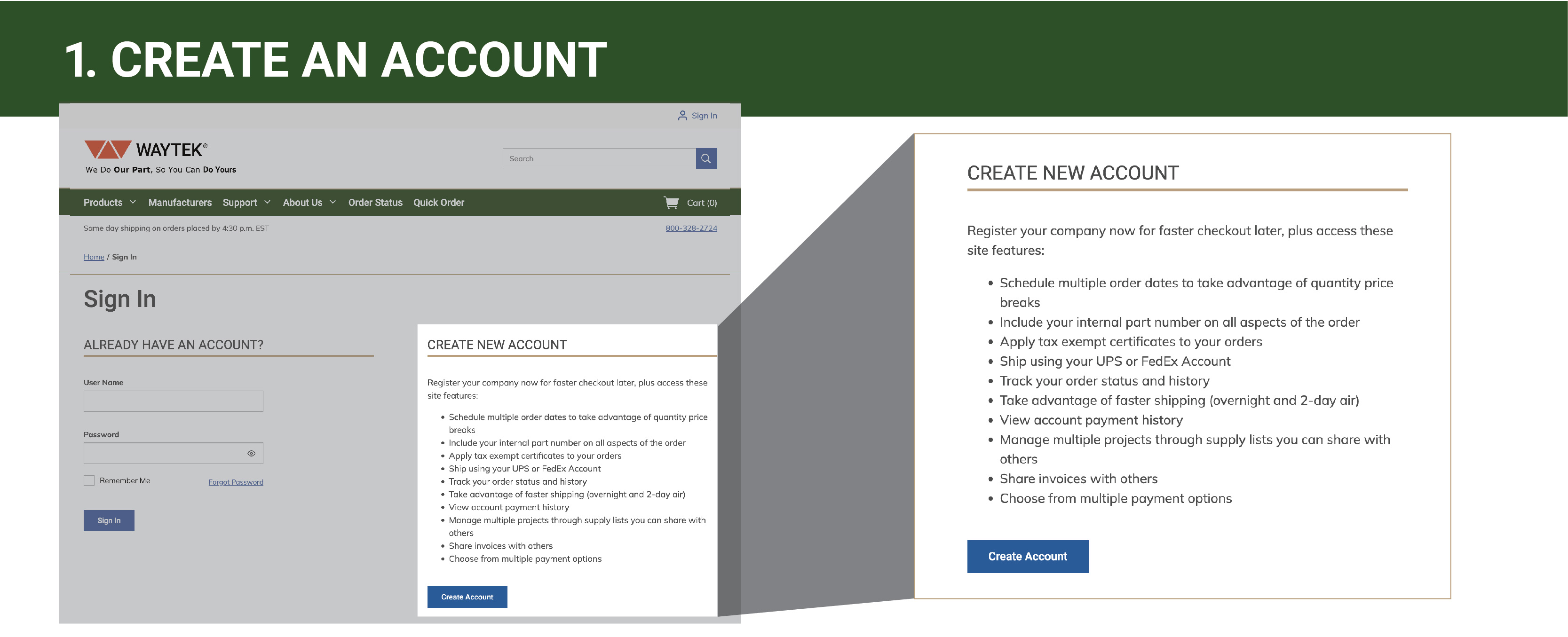 2. Add items to your cart
Registered customers have two ways to add items to their carts:
Re-orders. With a registered account, you can re-order parts from historical purchases to save time.
New orders. To fill your cart with new products, simply click the products tab and browse our inventory, or type the product number, brand name or keywords into the search bar to find specific parts.
When you're logged in, there's no need to do all of your shopping at once. We'll save your cart with your parts for when you're ready to checkout. In addition, you can create supply lists of desired parts for future purchases.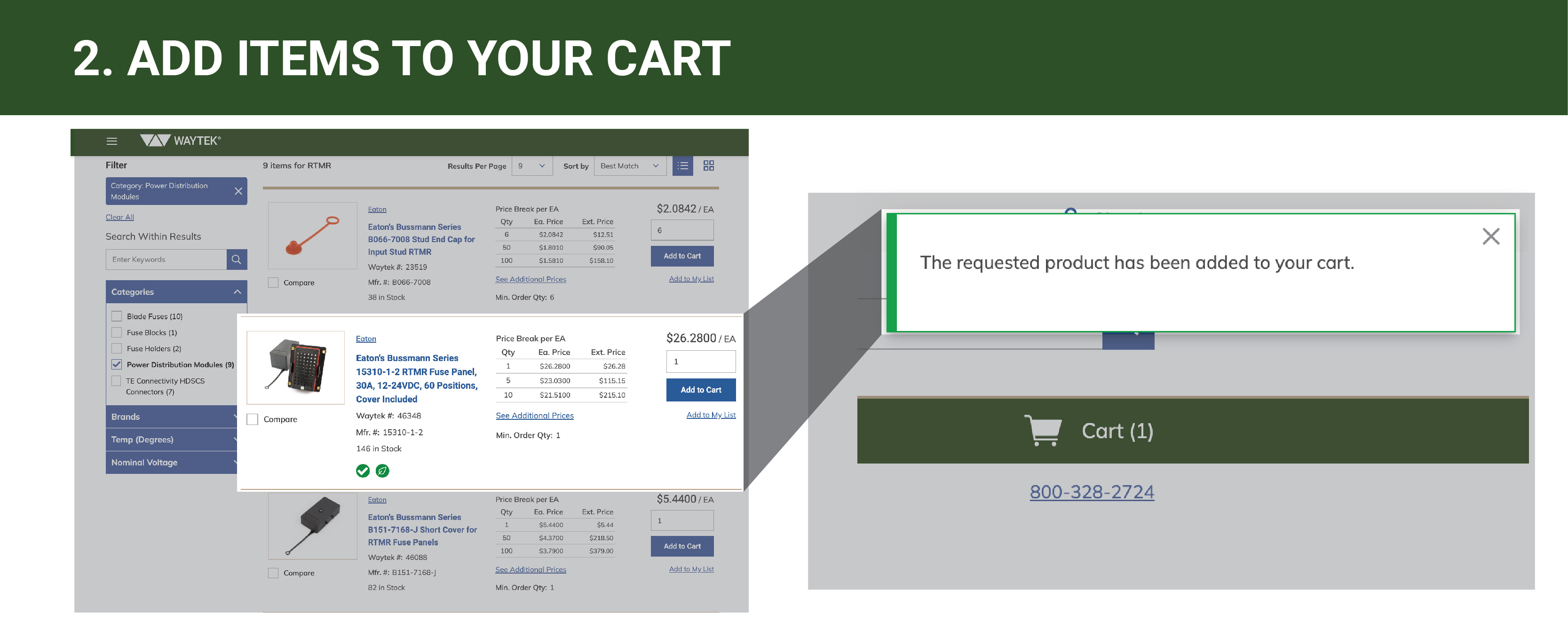 How to Use the Quick Order Tool
Use the Quick Order tool to quickly submit your purchase orders by entering Waytek item numbers and quantities. 
The Quick Order tool is located on the upper right side of the home page. If you have more than five line items, click the cart button, which links to a larger view with 20 line item entries.
Type in the quantity and Waytek item number in the space provided.
Once you're finished entering your line items, click the "Add To Current Order" button.
Click on the cart icon in the top right of the screen, and follow the steps to proceed with checking out.
3. Place your order
When you're ready to check out, click the cart button in the corner and follow the prompts. Please note that your actual freight costs will be charged at the time of shipment. We've set up your account so you only have to enter billing & shipping information once because it is saved in your profile.
When you see the order confirmation page, you're good to go! You'll also receive an email order confirmation for quick reference.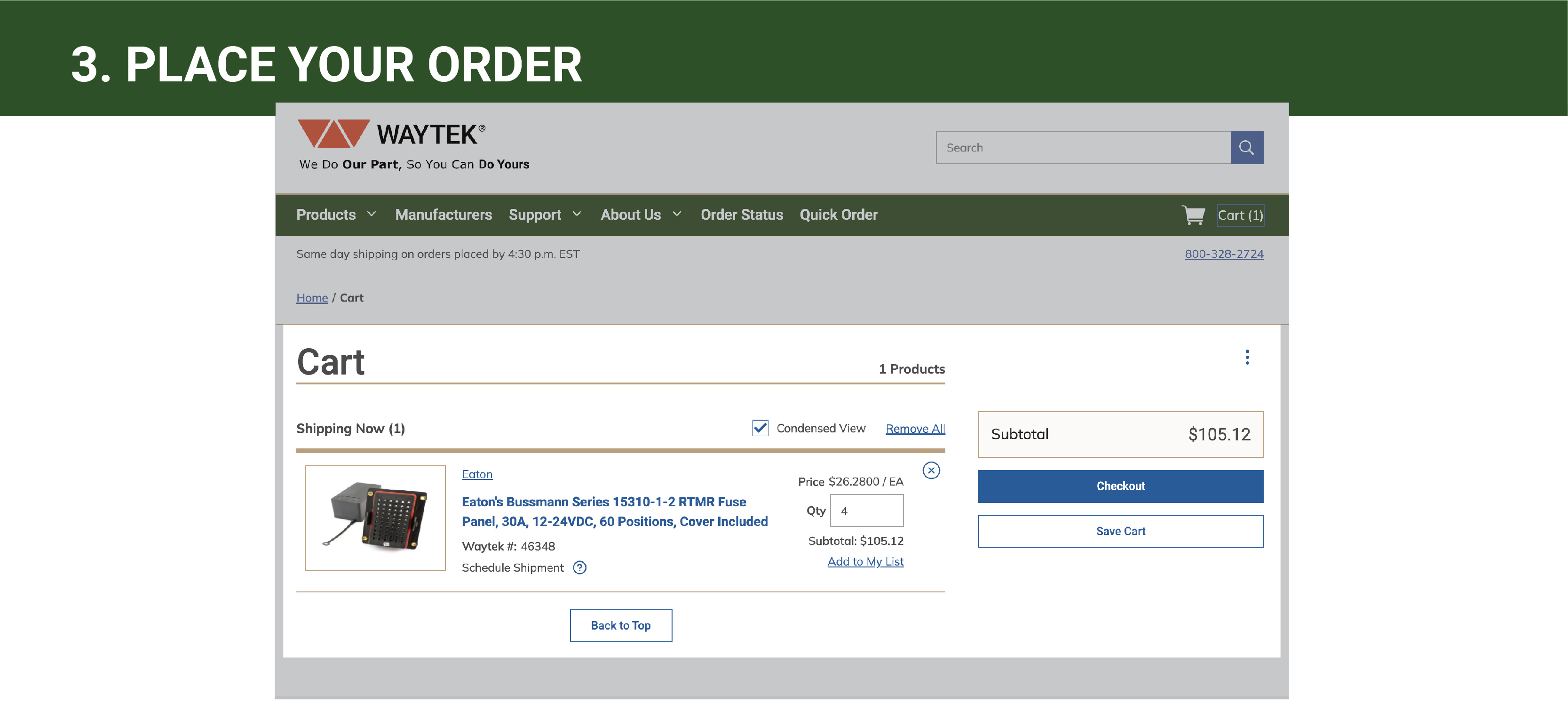 Ready to get started on your next order? Browse our products online and be sure to register for an account before you check out for easy ordering and fast shipping.
Our customer support team is here to help make online orders quick and easy, so reach out if we can help at [email protected] or 800-328-2724.