How To Choose the Right Electrical Connectors
Posted on Jan 21, 2022 by Robert Iversrud

Choosing the right electrical connector for your application is important for the design of your vehicle or mobile equipment. The appropriate wire connectors can provide a reliable means to modularize, reduce space usage, or improve manufacturability and field maintenance. In this article we'll cover key criteria to consider when selecting electrical interconnect components.
Current Rating
Current rating is a measure of the amount of current (stated in amps) that can be passed through a mated terminal. Be sure that your connector's current rating matches the current-carrying capabilities of the individual terminals being connected.
Note that the current rating assumes all circuits of the housing are carrying the rated maximum current. The current rating also assumes that the maximum wire gauge for that connector family is used. For example, if a standard connector family has a maximum current rating of 12 amps/circuit, the use of 14 AWG wire is assumed. If a smaller wire is used, the maximum current carrying capacity should be derated by 1.0 to 1.5 amps/circuit for each AWG gauge range less than the maximum.
Connector Size and Circuit Density
Electrical connector size is increasingly driven by the trend to reduce equipment footprint without losing current capacity. Keep in mind the space your electrical terminals and connectors will need. Connections in vehicles, trucks and mobile equipment are often made in small compartments where space is tight.
Circuit density is a measure of the number of circuits an electrical connector can accommodate per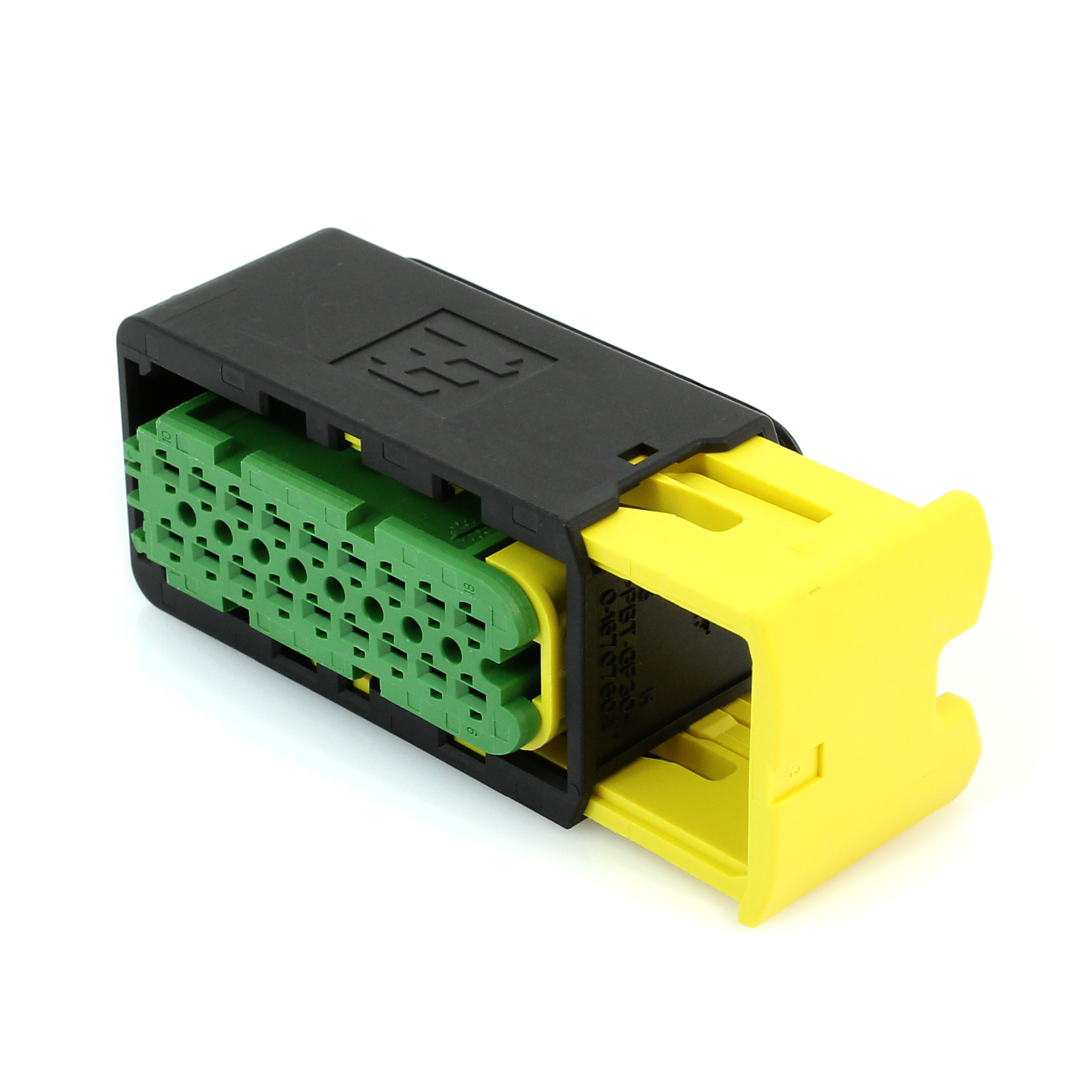 square inch. A connector with high circuit density can eliminate the need for multiple connectors while maximizing space and efficiency. Aptiv HES (Harsh Environment Series) connectors, for example, offer high current capability and high circuit density (up to 47 circuits) with small housings.
High circuit density: An 18-Position Sealed Connector manufactured by TE Connectivity.
On the other hand, there may be situations where you prefer to use a 2- or 3-circuit connector for simplicity and ease of identification. Also note that high circuit density comes with a tradeoff: a potential loss in current rating due to the greater amount of heat generated by multiple terminals inside the housing. For example, a connector that can carry up to 12 amps/circuit on a 2- or 3-circuit housing would only carry 7.5 amps/circuit on a 12- or 15-circuit housing.
Housing and Terminal Materials and Platings
Most electrical connectors are made from a nylon plastic with flammability ratings of UL94V-2 of 94V-0. The higher 94V-0 rating indicates that the nylon will extinguish itself (in case of fire) more rapidly than the 94V-2 nylon. A 94V-0 rating does not infer a higher operating temperature rating, but rather a higher resistance to flame continuance. For most applications, the 94V-2 material is adequate.
Standard terminal plating options for most connectors are tin, tin/lead and gold. Tin and tin/lead are appropriate for most applications where currents are above 0.5A per circuit. Gold-plated terminals, such as the terminals offered in the Deutsch DTP compatible Amphenol ATP Series™ Connector line, should generally be specified in signal or low-current harsh environment applications.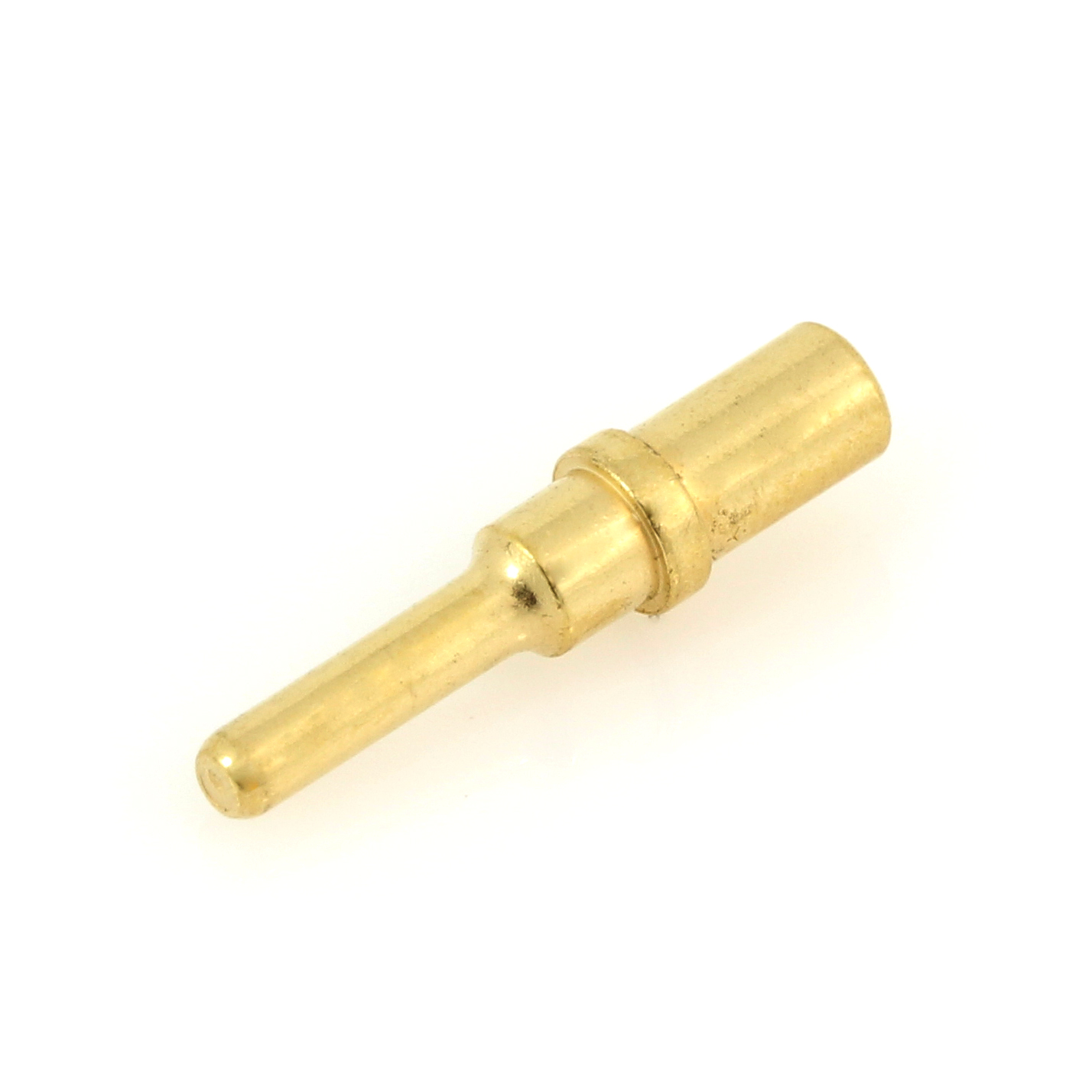 Terminal base materials are either brass or phosphor bronze. Brass is the standard material and affords an excellent combination of strength and current-carrying capabilities. Phosphor bronze is recommended where a thinner base material is needed to obtain a lower engagement force, high engagement/disengagement cycles (>100 cycles) are likely, or where prolonged exposure to high ambient temperature (>85°F/29°C) are likely. 
Right: A gold-plated AT series™ terminal from Amphenol Sine Systems, ideal for signal or low-current applications.
Engagement Force
Engagement force refers to the effort required to connect, mate, or engage the two populated electrical connector halves. In high circuit count applications, total engagement forces for some connector families can be 50 pounds or higher, a force which may be considered excessive for some assembly operators or in applications where the electrical connectors are difficult to reach. Conversely, in heavy-duty applications, a high engagement force may be preferred so that the connection can withstand repeated jostling and vibrations in the field.

Right: This 12-Way ATM Series™ Connector from Amphenol Sine Systems can handle an engagement force up to 89 lbs.
Housing Lock Type
Connectors come with either a positive or passive type of locking. Choosing one type over the other depends on the degree of stress to which the mated electrical connectors will be subjected. A connector with a positive lock requires the operator to deactivate a locking device before the connector halves can be separated, whereas a passive locking system will allow the connector halves to disengage by simply pulling the two halves apart with a moderate force. In high-vibration applications or where the wire or cable is subjected to axial loads, positive locking connectors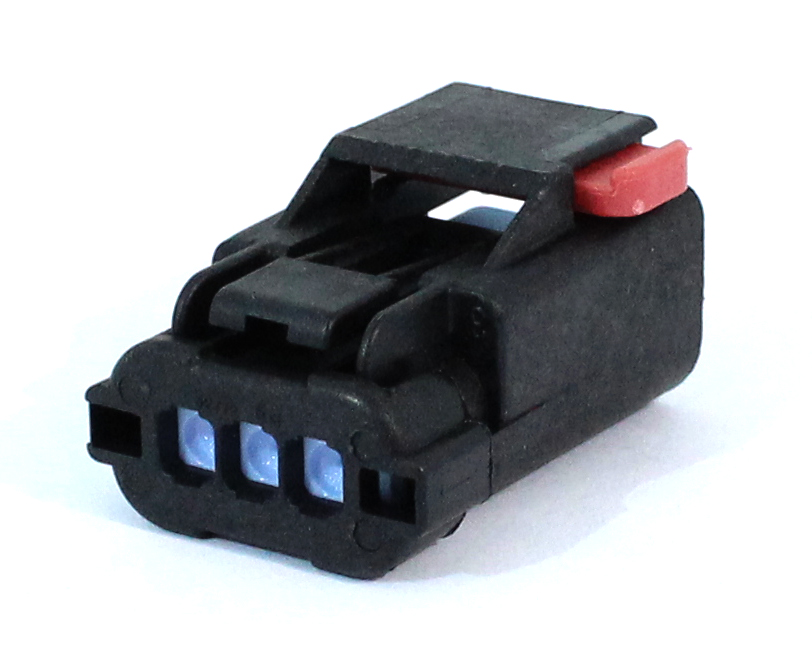 should be specified.
Shown here: An Aptiv Apex Sealed Connector housing with a positive-locking connector position assurance tab visible at upper right (in red). When mating the connector, the red tab is pushed in to help ensure the connection.
Wire Size
Wire size is important when choosing connectors, especially in applications where the current rating required is near the maximum for the chosen connector family, or where mechanical strength in the wire is required. In both cases, a heavier wire gauge should be chosen. Most electrical connectors will accommodate automotive wire gauges of 16 to 22 AWG. For help in choosing wiring size and length, refer to our convenient wire sizing chart.
Operating Voltage
Most automotive DC applications range from 12 to 48 volts, while AC applications can range from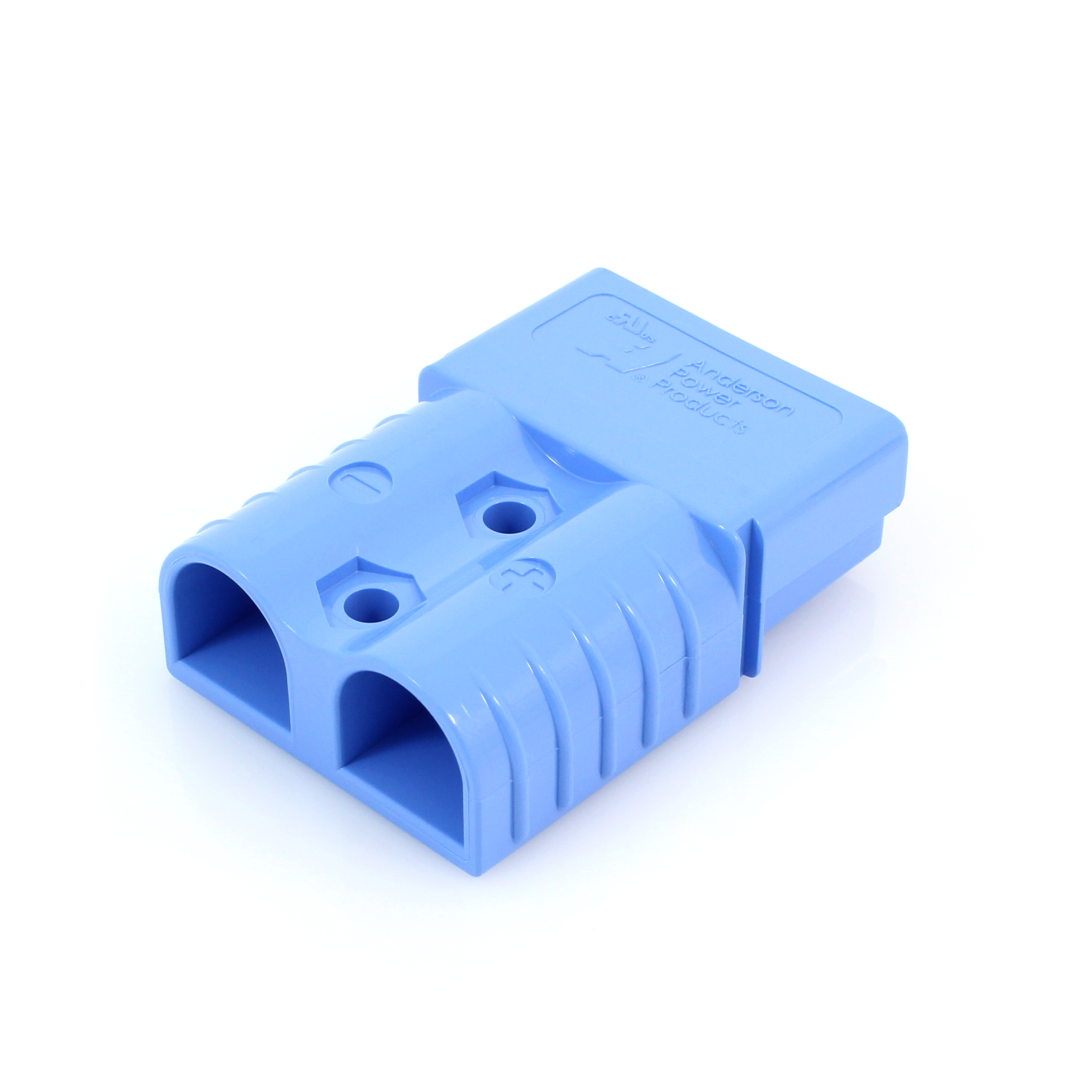 600 to 1000 volts. Higher-voltage applications will typically require larger connectors that are able to contain the voltage and related heat generated during use.  
Right: An SB® 120 Series Connector from Anderson Power Products, rated for 600 volts and often used in forklifts and materials handling equipment.
Agency approvals or Listings
Assure that the electrical connector system has been tested to a consistent specification with respect to other connector systems. Most connectors meet the requirements of UL, Society of Automotive Engineers (SAE), and CSA agencies. IP (ingress protection) ratings and salt spray tests are indicators of the connector's resistance to moisture and contaminants. For more information, see our Guide to IP Codes for Vehicle Electrical Components.
Environmental Factors
Consider the environment in which the vehicle or equipment will be used or stored when making your electrical terminal or connector choice. If the environment is susceptible to extreme high and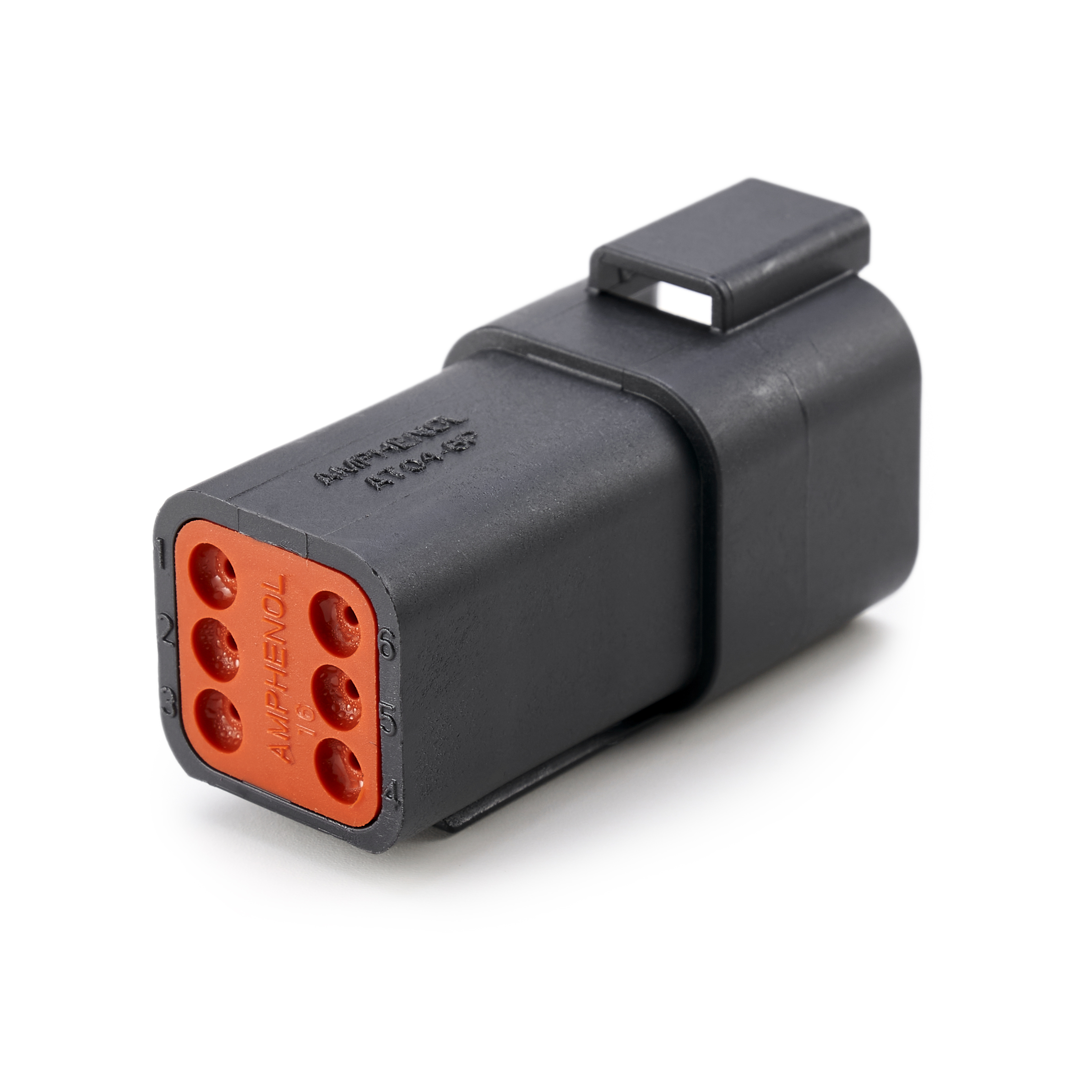 low temperatures, or excessive moisture and debris, such as construction or marine equipment, you will want to choose a sealed connector system such as the Amphenol AT Series™.
Shown at right: An environmentally sealed 6-Way ATO Series Connector from Amphenol Sine Systems, with an IP rating of IP69K.
Strain Relief
Many heavy-duty connectors come with built-in strain relief in the form of extended housing, as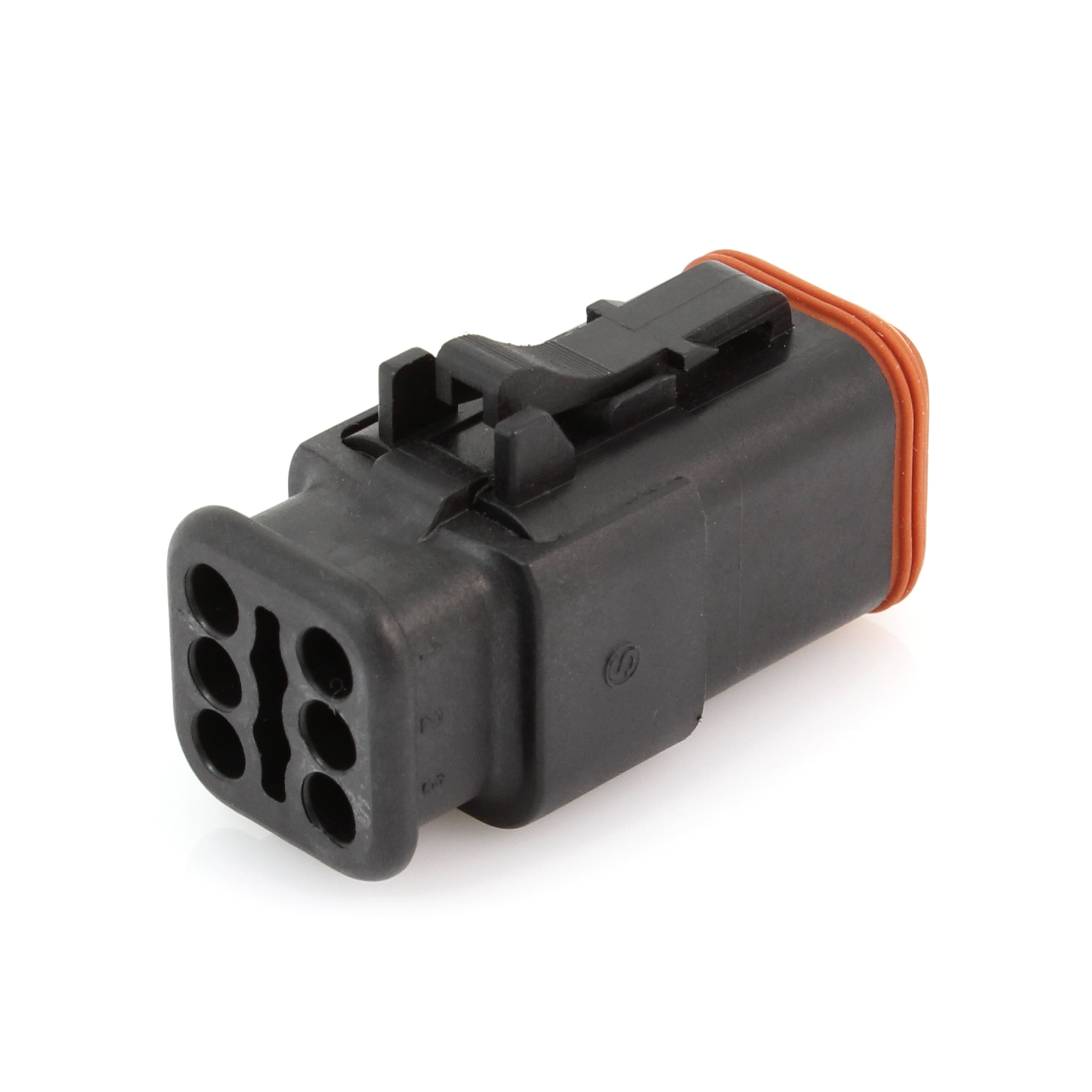 shown in the Amphenol ATO6 Series 6-Way connector plug (below right). Strain relief provides an extra degree of protection for your connector system, keeping wires enclosed and preventing them from bending where they meet the terminals.
Conclusion/
Making a sound electrical connection is essential to ensuring your electrical system runs smoothly. Taking the time to assess the factors discussed in this article will help you choose a connector that will serve you well for years to come. To find a part that meets your requirements, look to a distributor with a wide selection of terminals and connectors.
Note that off-highway vehicles used in construction, mining and agriculture require connectors that are more rugged than those used in consumer vehicles. For more information, see What to Look for in a Heavy-Duty Connector.
See the wide range of automotive connectors available and in stock at Waytek.
Subscribe Now
Subscribe and be the first to know when new articles are published.
style
content