Splice Connectors 101
Posted on Apr 21, 2021 by Robert Iversrud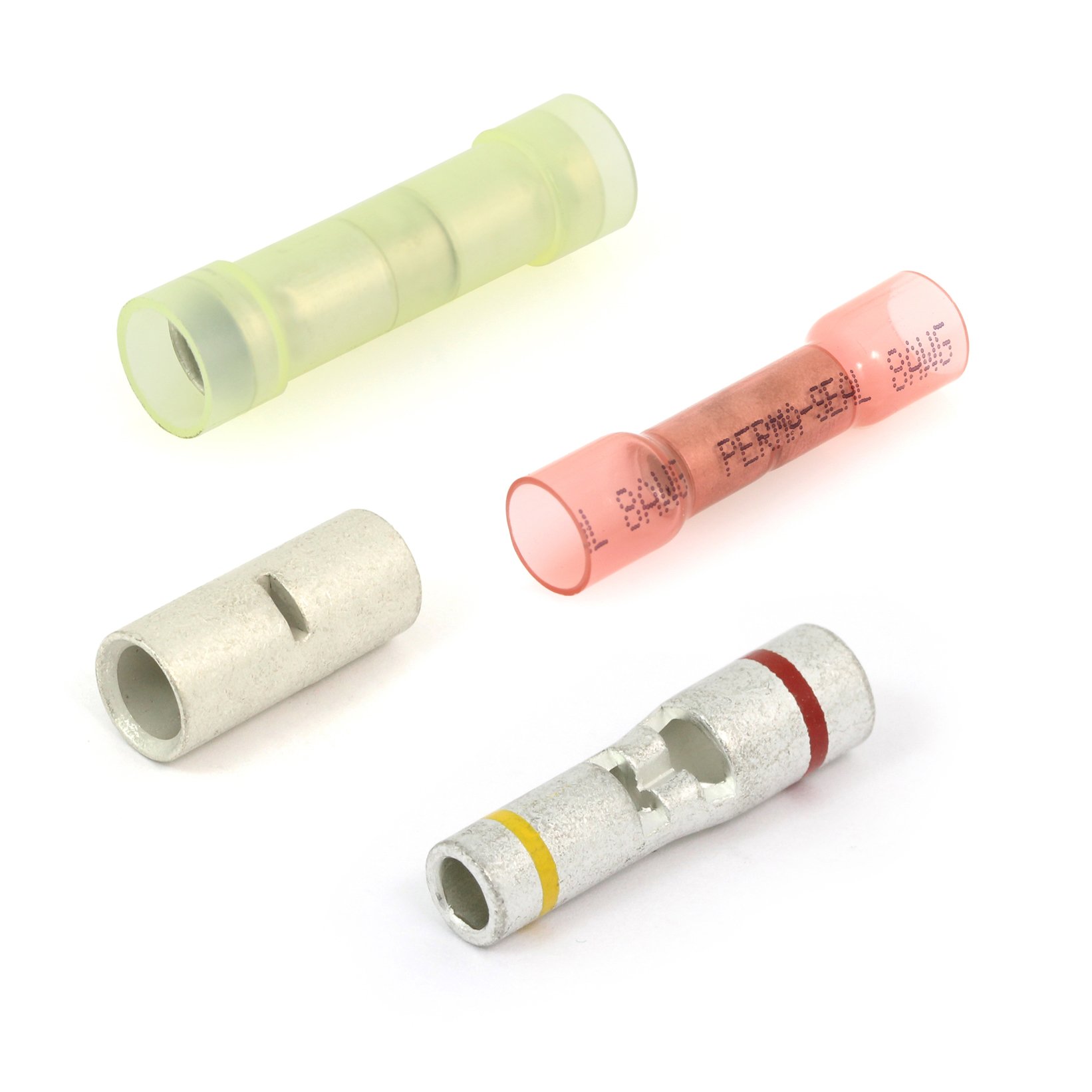 Splice connectors—also commonly known as butt connectors, butt splices, or crimp connectors—have been in use for decades and remain an important component in 12-volt electrical systems. Here are some basics to help you select and use them.
What Is a Butt Connector?
At its most basic, a butt splice is a fast, effective way of connecting and securing the ends of two wires without having to solder them. While soldering has its advantages, the time and cost involved can be prohibitive. In addition, the high heat used in soldering introduces the risk of injury. A butt connector is simpler, faster, and arguably safer to use. Even mechanics and technicians new on the job can quickly and easily fit both wire ends into each end of a butt connector and crimp for a secure connection.
Conductive Materials
Butt connectors come with different types of conductors, most commonly copper or steel.
Tin plated copper is the standard conductive material used in a wide range of splice connectors. Relatively inexpensive, tin plated copper works well for many applications. It is highly conductive, easily crimpable, and anti-corrosive.
Nickel plated steel, a more expensive and less malleable material, is the preferred conductor for high-temperature applications.
Insulated and Non-Insulated
Many butt connectors come without an insulating jacket and are a cost-effective way to complete a wide range of automotive electrical wiring projects. Others are available in various types of insulating jackets such as vinyl and nylon.
Vinyl is the low-cost insulation standard, appropriate for use in many applications and in high and low humidity environments. However, it tends to harden or crack at high or low temperatures.
Nylon is more expensive but has certain advantages: It is a stronger material, more durable in high and low temperature extremes, and more flexible and pliable for crimping. It also typically comes in in transparent or semi-transparent form, which allows for easy inspection of the wire connection once terminated. 
Barrel Construction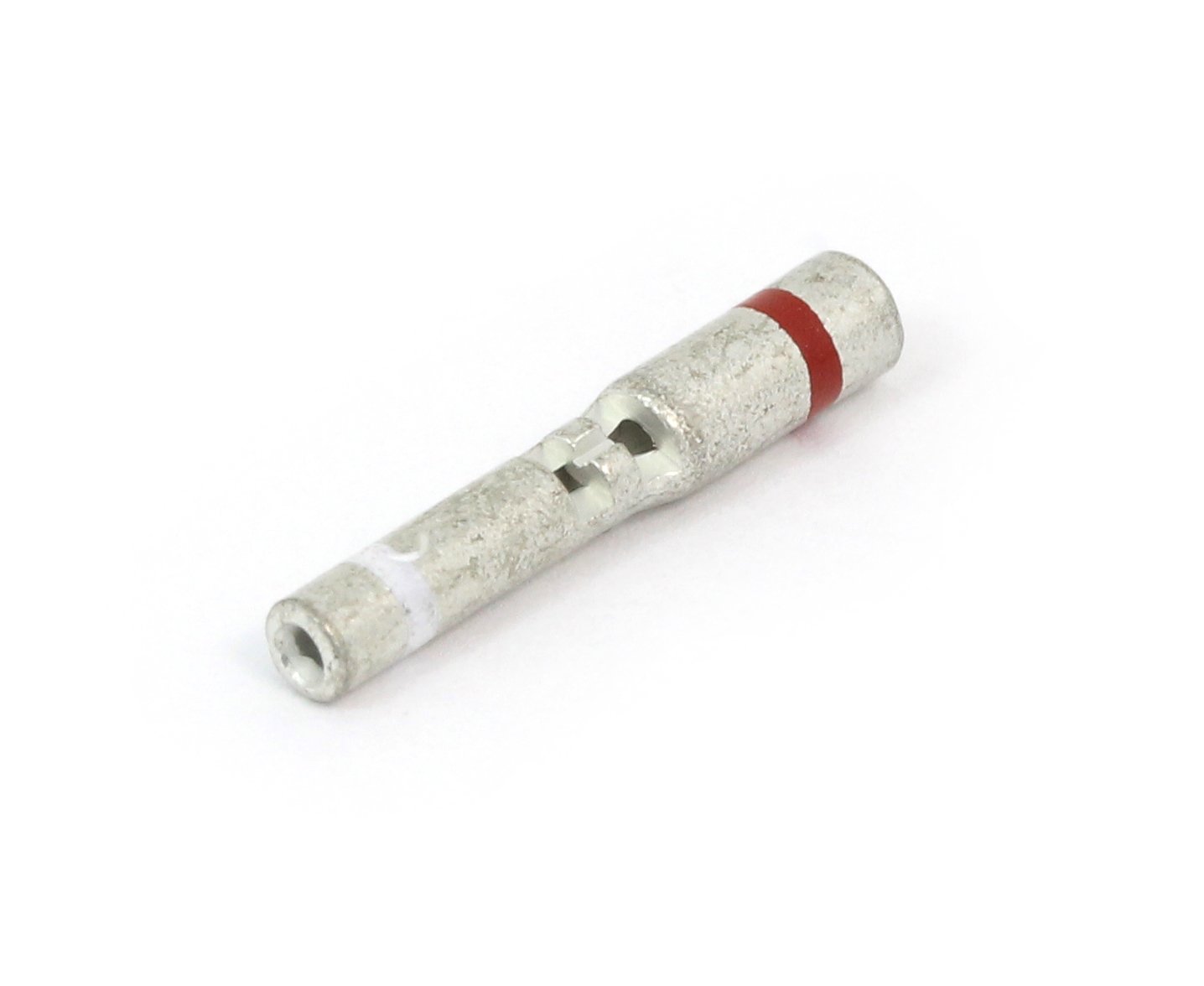 Most non-insulated barrel connectors provide a window for a visual inspection of your mechanical crimp (as shown at right).
Another aspect to consider is the seam of the connector, specifically whether it is butted or brazed.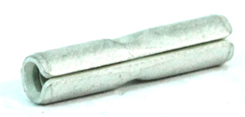 Relatively inexpensive, butted seam connectors are formed when metal is stamped, rolled, and butted to create the connector barrel. These connectors are designed for use with stranded wire and must be crimped in the proper place to avoid opening the seam.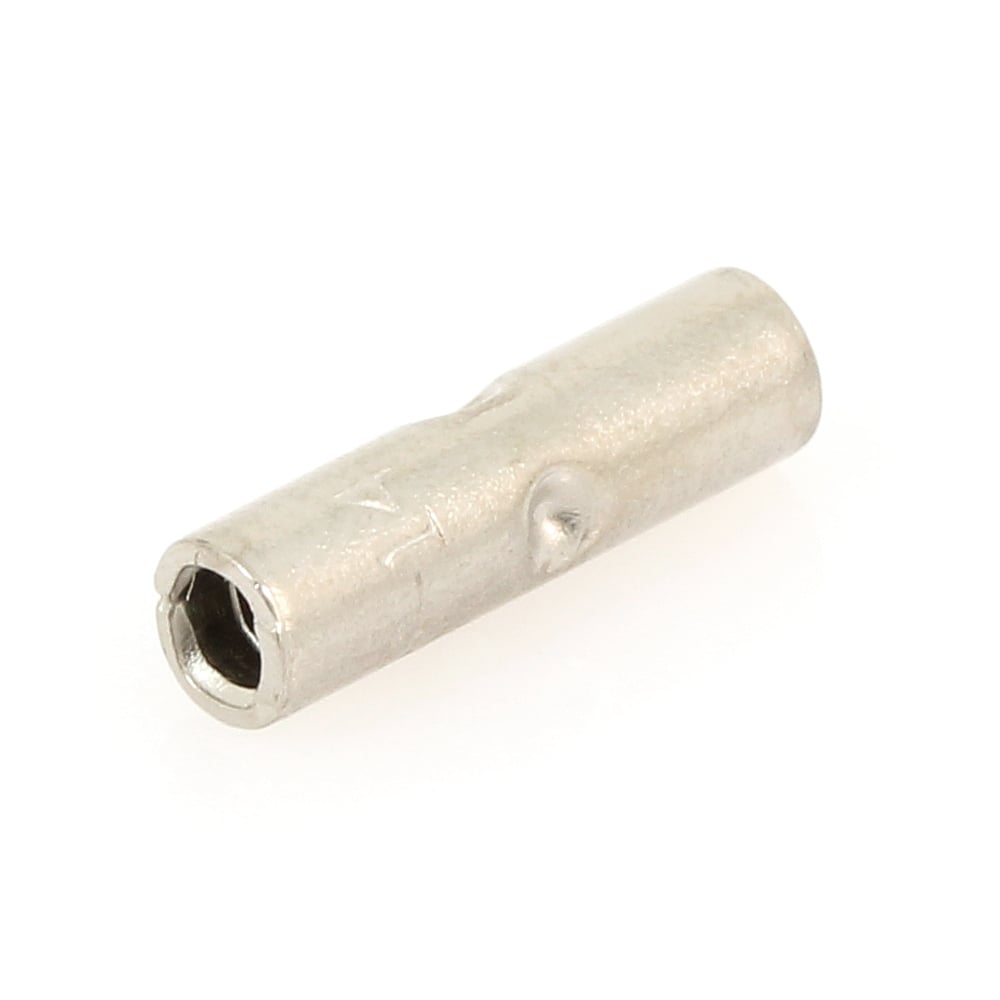 Brazed seam connectors (see example at right) provide a strong, reliable termination  enabling them to be used with solid or stranded wire. Once crimped, brazed seams offer a more secure connection than butted seam connectors. Typically only non-insulated butt connectors are offered in a brazed configuration.
Specialty Connectors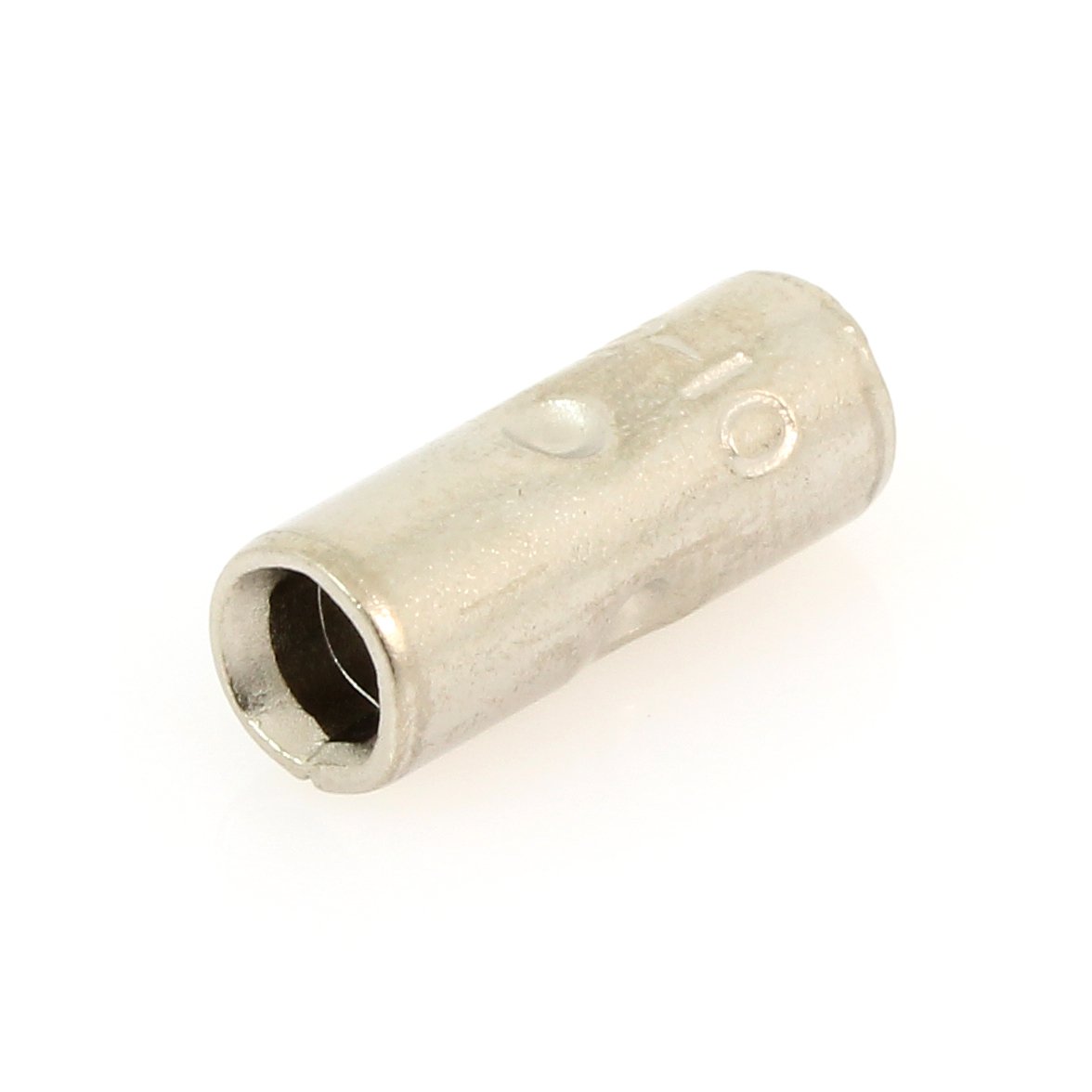 For applications with specific needs, there are a number of specialty butt connector options available.
For motors or other high-heat applications, high-temperature butt connectors can be trusted not to melt or warp. For example, 3M™ high temperature terminals (shown here) are made with nickel plated steel and are rated up to 900° F. 
For rugged outdoor applications where water is an issue, there are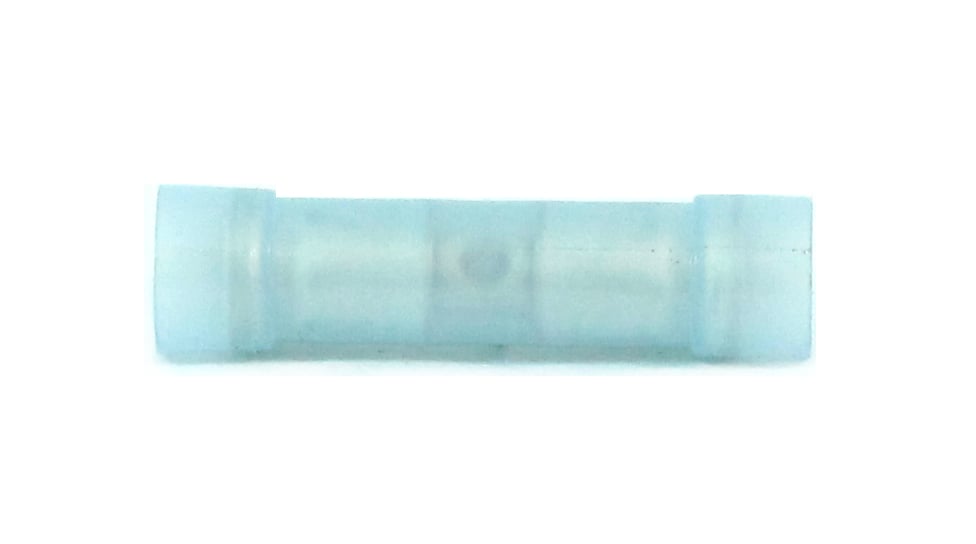 several options. Specialty moisture-resistant butt connectors (like the nylon insulated connector from 3M, pictured right) are filled with a silicone material to help keep moisture, dust, and other debris out of the connection.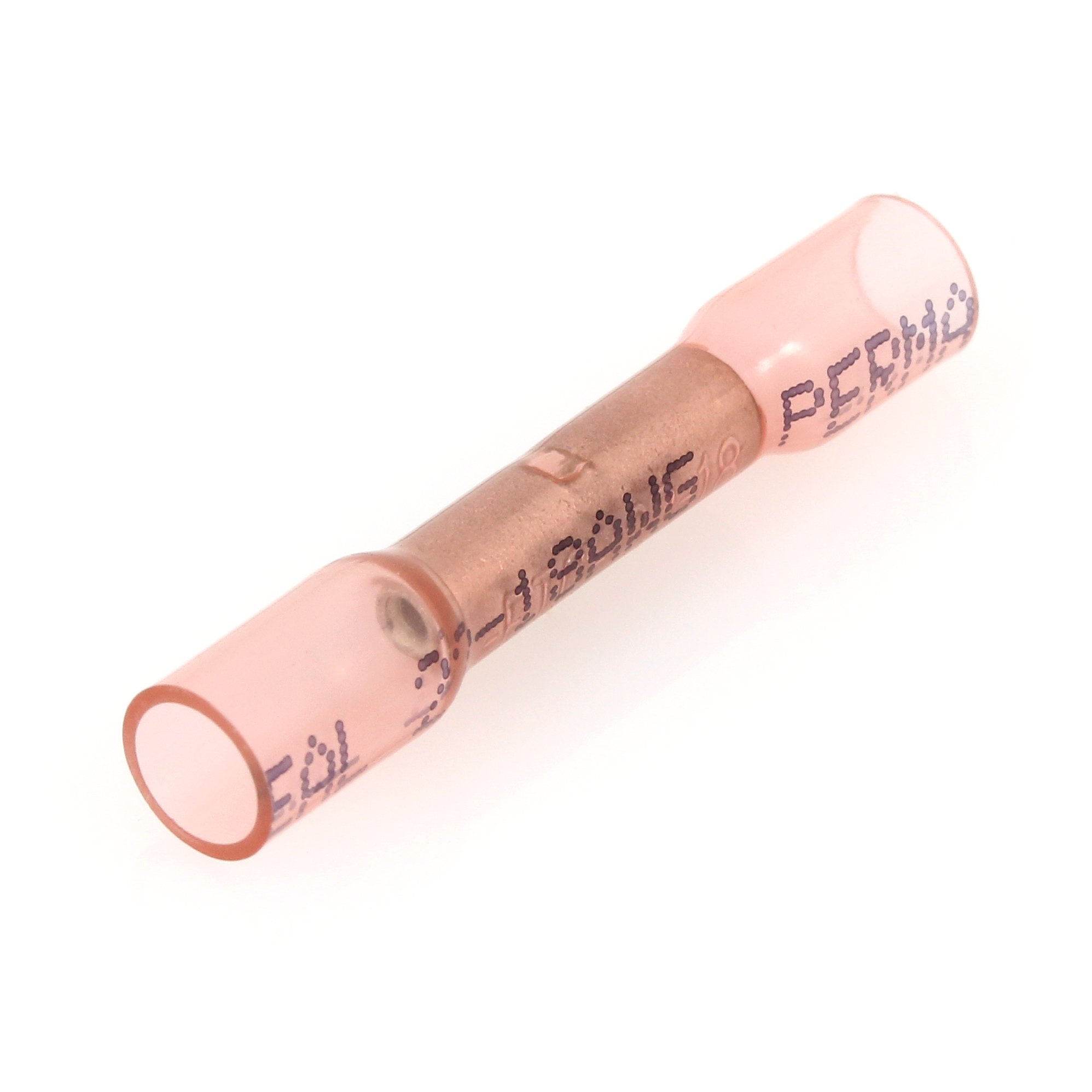 Heat shrink butt connectors (example at left from Molex) also offer moisture protection along with better strain relief properties than nylon or vinyl connectors. Heat shrink butt connectors contain a "melt liner" which, when heated, turns into a glue-like substance that seals out moisture and dust and provides an extremely strong adhesive to hold the wire into the connector.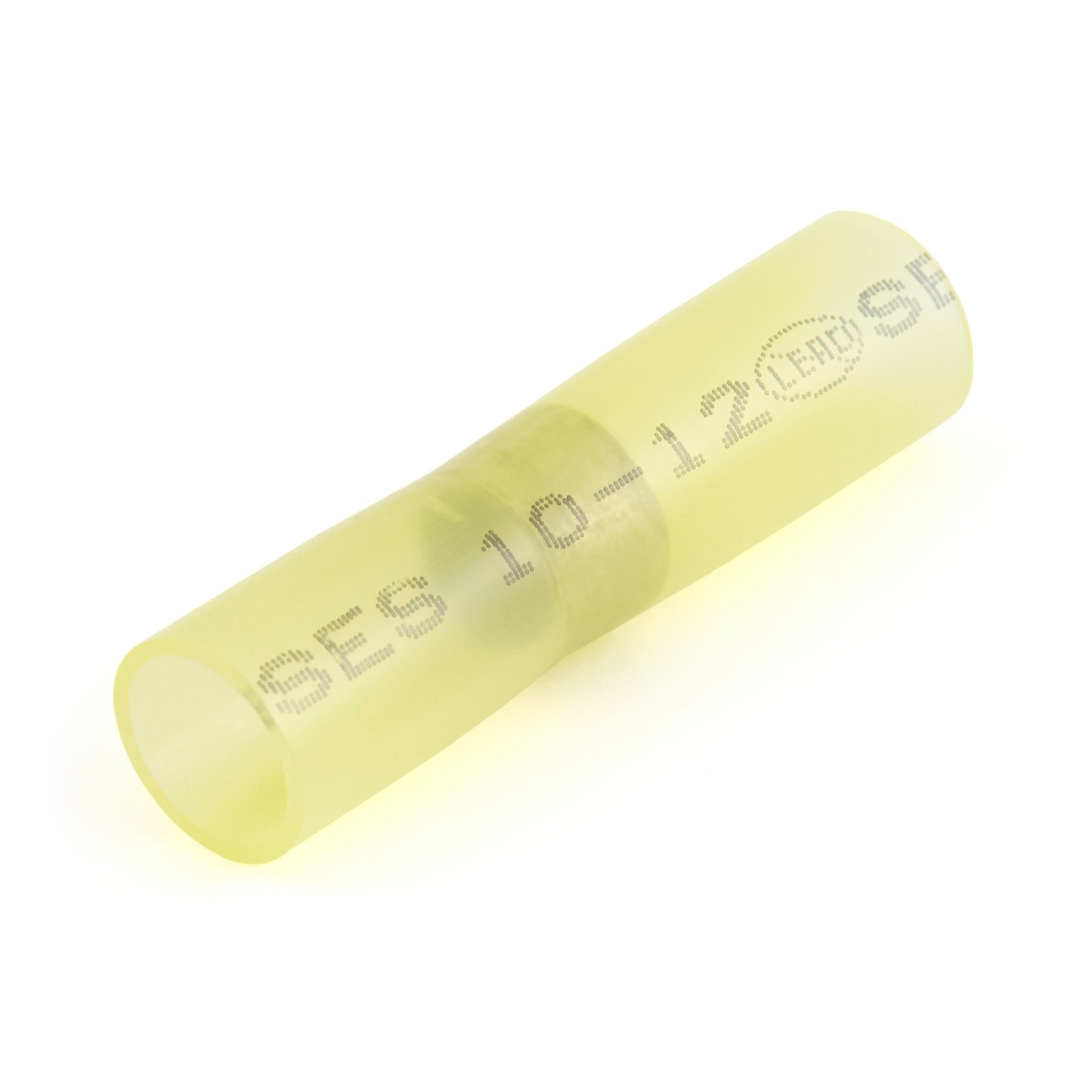 Another option for rugged applications is a solder splice connector, which is a butt connector that incorporates heat shrink and low-melt solder in its construction with protection glands for a sealed connection. Simply crimp, then heat to seal.
The Importance of Proper Crimping
To successfully use butt splices, it's important to know how to properly crimp them and which crimp tools to use for particular materials. A good crimp can ensure a mechanically sound connection that resists corrosion, gas and liquids. A bad crimp, no matter what type of connector you use, can lead to equipment failures. For more information, see our article How to Crimp Wires. 
Choosing Your Splice Connector
Butt splices can be a useful, efficient and affordable choice for many applications. Once you know how your team intends to use splice connectors, you can choose the most effective option. Click here to view the full assortment of butt connectors available at Waytek.
You can also browse more specific categories including vinyl insulated, nylon insulated, heat shrink, step-down butt splices, and parallel connectors.
Subscribe Now
Subscribe and be the first to know when new articles are published.