How to Handle Battery Switching and Circuit Protection at the Same Time
Posted on Feb 23, 2021 by Steve Green
For the first time, a rotary battery switch and a resettable circuit breaker have been combined into a single product, the Series 53 Branch Disconnect Circuit Breaker from Mechanical Products.
Ideal for use in the marine, RV, truck and heavy equipment industries, the MP Series 53 brings the advantages of a smaller footprint, quicker installation, lower cost, and user convenience. It promises to become a go-to solution for OEMs and upfitters seeking more efficient ways to disconnect and protect primary current and heavy duty mobile electrical equipment.
---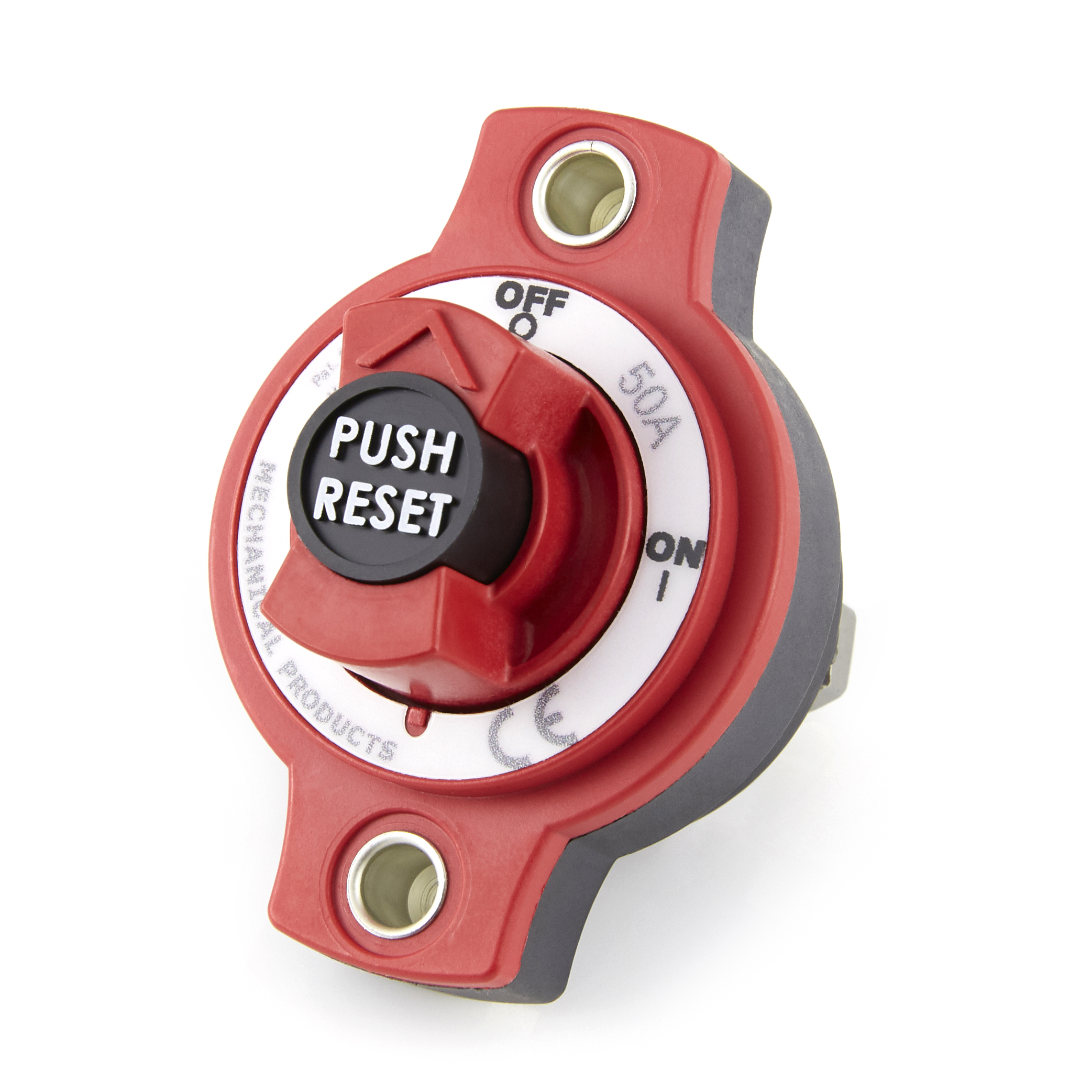 Benefits for OEMs and Installers
By incorporating traditional battery disconnect switching (non-engine) and circuit protection into a single device, the Series 53 provides cost savings for OEMs by eliminating the added components, material and labor of a separate battery switch and circuit breaker/fuse. It also provides installation flexibility by virtue of its compact size (2.5" H x 1.75" W), accommodating the growing number of circuits required in specialty vehicles.
Convenience for End Users
For end users and maintenance personnel, the Series 53 provides a quick means to disconnect traditional downstream circuits, prevent parasitic battery draw, and disconnect battery power during storage and maintenance.
Simple, Elegant Design
The Series 53 brings together two traditionally separated products (breaker and switch) into a single device that occupies minimal space in electrical buildouts. Easily identifiable by its bright red color, the series 53 features a rotary style on-off switch for battery disconnection, with a circuit breaker push/reset button in the center.
Dual Functionality, High Performance
The MP Series 53 combines key attributes required of ABYC circuit breakers (UL 1077 and SAE J1428) and Marine Power switching standards (UL1107). It is available in range of models rated from 10-60 amps, all providing circuit protection up to 3,000 amperes for branch house circuits.
Series 53 Branch Disconnect Circuit Breakers are made in the U.S. with long-lasting, high-quality components and are ignition protected to meet requirements of ISO 8846, USCG, ABYC, UL 1107, UL 1500 and SAE J1171. With an operating temperature range of -40° F to 185° F and an IP67 rating, they are a perfect addition to any build that needs to withstand harsh environments.
More Information
To learn more about MP Series 53 Branch Disconnect Circuit Breakers, available and in stock at Waytek, click here.
Subscribe Now
Subscribe and be the first to know when new articles are published.