Hold It! A Quick Guide to Automotive Electrical Clamps
Posted on Oct 26, 2022 by Robert Iversrud
We recently discussed how cable ties can help you keep your automotive wiring organized by bundling wire or cabling together. Now let's take it one step further and examine the use of clamps to keep wiring fastened down and secured, preventing movement, wear and damage.
Hose Clamps
Standard steel hose clamps are an all-purpose choice for electrical wiring, tubing, and fitting. Because of their strength and resistance to high temperatures and corrosion, they are ideal for marine use and other situations involving exposure to heat or the elements.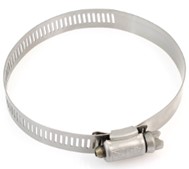 Shown at right: Standard hose clamps from Ideal Tridon are made completely of stainless steel— including the built-in screw for tightening and releasing the clamp.
A variation on the traditional hose clamp is the Nylon Glass Filled Snapper Hose and Cable Clamp from HellermannTyton. Made with a combination of heavy-duty nylon 6/6 material and glass, it is also adjustable, with a ratchet-style closure that prevents excessive tightening and can be easily re-opened with use of a corresponding tool.
Below: A Snapper Hose Clamp and Clamp Tool from HellermannTyton. 
Cable and Wire Clamps
Cable clamps (also known as hose clamps) are perhaps the most common form of automotive electrical clamp. They are strong yet flexible – you simply run the cable through the clamp, push the two clamp ends together, and bolt them down into a panel or other stable surface.
Cable clamps made of nylon are an inexpensive way to secure a hose or bundle of cables. The latest models of nylon clamps feature a molded-in saddle washer, ensuring a self-aligning fit when the top end is screwed down.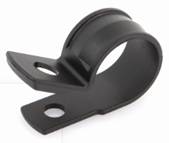 Right: A Self-Aligning Nylon Cable Clamp from ACT.
Cable clamps are also available in corrosion-resistant steel, a material that can withstand extremely high temperatures—in some cases up to 400°F (204°C). Many steel cable clamps come in fully or partially cushioned varieties, providing the strength and flexibility of the base material along with a layer of cushioning to provide electrical insulation and protect the cabling from wear due to friction and vibration.
Below: A Metal Cable Clamp from UMPCO, Inc. and, right, a Fully Cushioned Metal Clamp featuring general-purpose synthetic rubber coating around the plated steel clamp. The coating is permanently bonded to the steel.
Adjustable and Releasable Clamps
Clamps that can be adjusted or released add a heightened layer of functionality compared to basic cable clamps. Adjustable and releasable clamps can be fastened to a surface in advance, then adjusted to accommodate varying diameters of wires or bundles. They are ideal for use in prototyping or other situations that call for temporary securing of bundles, with the option to adjust or release them later.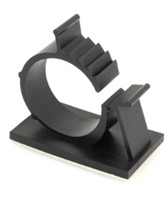 Adhesive-backed wire clamps from Essentra, for example (shown at right) are available with an adjustable mount that allows you to squeeze the clamp into place, tightening it until you have a snug grip around the wire bundle. Each clamp model can accommodate a range of bundle diameters, making them easy to use on the fly.
For even more flexibility, take a look at In-Line Ratchet P-Clamps. These types of clamps are adjustable and releasable. In-Line Ratchet P-Clamps from HellermanTyton, for example, feature a one-piece rachet closure with an easy-release feature.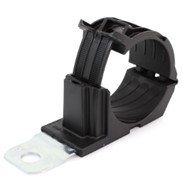 Right: An In-Line Ratchet P-Clamp from HellermannTyton, which can be easily adjusted by hand and re-opened via a screwdriver release. The stainless steel mounting plate tolerates high-torque mounting.
Conclusion
For optimal wiring protection—whether you're working with bundles of wire, cables, or tubing—cable clamps provide many options. To learn more about the clamps described above—and many more—be sure to visit the Wire Clamps and Electrical Clips section of the Waytek website.
Subscribe Now
Subscribe and be the first to know when new articles are published.
style
content