Trailer Wiring and Connector Basics
Posted on Jun 28, 2022 by Robert Iversrud
Pull-behind trailers come in a variety of sizes, weight classes and features. Whether you're using a lightweight trailer to haul a few personal items, or pulling a livestock trailer, a boat trailer, or camper, it's important that the trailer has been wired correctly.
Using the right wiring and connectors will help ensure the safe and reliable operation of lights, batteries, brakes, turn signals, and other trailer functions such as interior lighting, entertainment systems and refrigeration. The more complex your trailer's wiring, the more likely you will need to consider specialized connectors that are built to handle multiple pins and are resistant to corrosion.
Color Codes for Trailer Wiring
A good place to start is by getting to know the industry-standard color codes for trailer wires. Green is for the right turn signal. Yellow is for left turn signal. White is ground, and brown is for the trailer's taillights. These four types of wires together constitute what is known as "four-way wiring." Four-way wiring is quite common and is suitable for most light-duty trailers and boat trailers.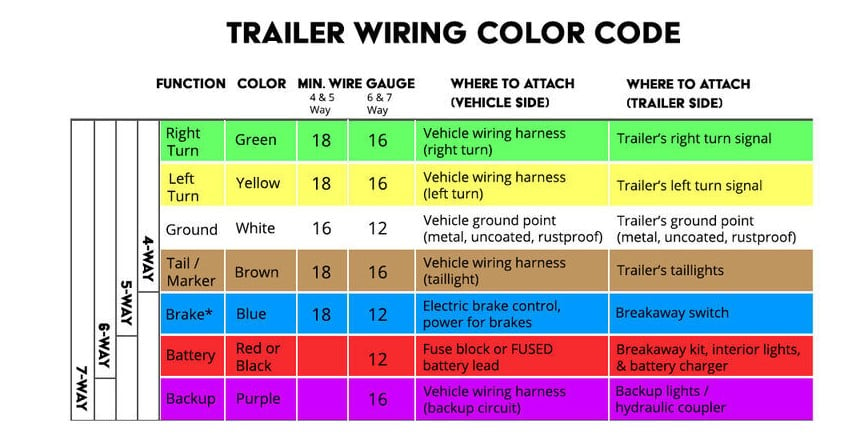 Right: A chart showing typical trailer wiring configurations and wire colors. Chart courtesy of East Penn  Manufacturing.
Five-way wiring, the next level, includes the four wires for the turn lights, ground, and taillights, as well as a fifth wire (colored blue) for an additional function – typically for surge brakes built into a trailer or camper. The fifth wire will typically be tapped into your vehicle brake light to ensure that when you activate your vehicle brakes, the trailer brake lights also light up. The wire is also tapped into the backup lights to trigger the disengagement of the trailer's braking system.
Six-way wiring includes a sixth wire (typically red) that is used for a fuse block or fused battery lead. This wire will typically run to a fuse block breakaway kit, trailer interior lights or a battery charger. It can also be used for electric brakes. Six-wire configurations are commonly found on horse trailers, for example to run a fan.
Finally, seven-way wiring (purple) provides yet another wire for hooking up things like hydraulic couplers.
Connectors for Trailer Wiring
Typically, a trailer or camper will come off the assembly line with the wires and corresponding connectors built in. However, some end users may choose to add battery power or brakes to trailers after purchase. In any case, trailer wires and connectors are subject to wear and tear over time, so it's important to know the basics of selecting them.
Molded connectors such as this standard molded series available at Waytek are often used by manufacturers as a quick, easy way to hook up trailer wiring.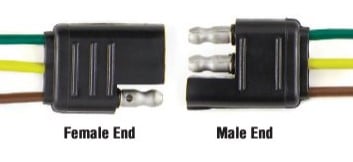 The example above is a three-wire connector; however molded connectors are available with up to six terminals and wires, as shown in the chart below. Molded connectors come pre-wired. All you have to do is cut the wire to the length needed, then snap the two connector pieces together.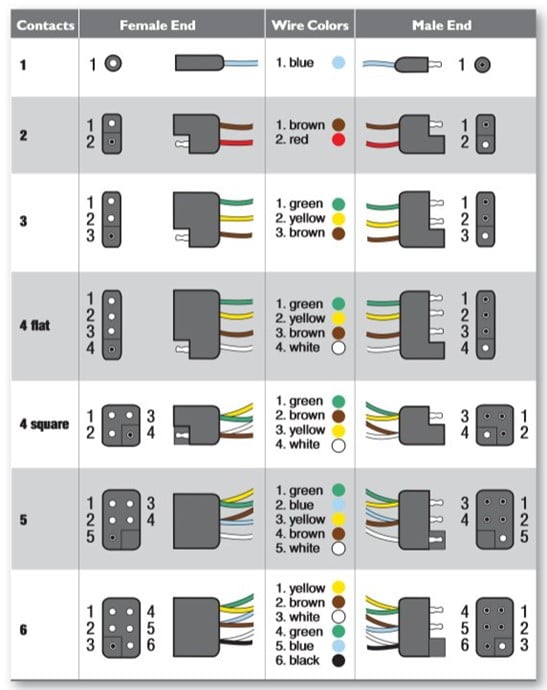 Another product popular among OEMs is the Pollak Trailer Adapter Kit (shown at right) which is built to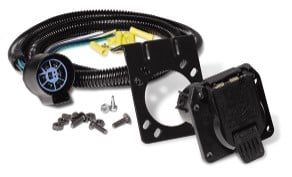 withstand exposure under the rear bumper of a sport utility, Ford style pickup truck, or other OEM  applications.
Other Connector Options
For advanced wiring configurations—and when replacing any corroded or broken connector—it's important to consider not only how many wires you need to connect, but how well the connector is built to withstand shock, vibration, and exposure to the elements.
The Pollak 7-Way Trailer Connector Plug with SAE approved wiring (shown at right) is a popular and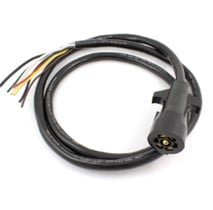 rugged connector, providing plenty of wire connections for most trailer wiring needs, and is built to last. This connector has flat pins, which are typically used with trailer connections, as opposed to connectors with round pins, which are used for RVs (as shown in the product below).
Other trailer connectors come with add-on springs to provide additional strain relief to protect against wire fraying, and boots for an added measure of seal protection. These features are helpful when connectors are subjected to repeated plugging and unplugging, for example with work trailers that are attached and removed from vehicles frequently.
Below: A 7-Way trailer connector socket and plug, with spring and boot options, from Pollak.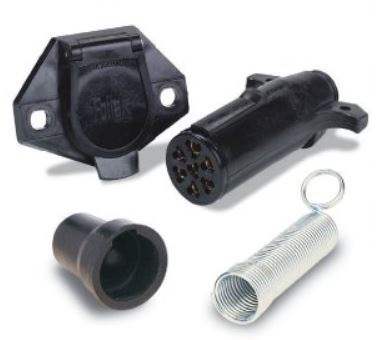 Connectors with solid brass housings (such as the Pollak Heavy-Duty Connectors shown at right) also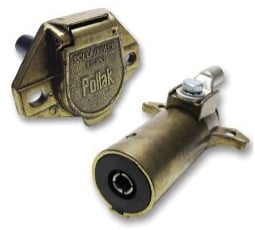 provide a high measure of protection against the elements and are built to withstand considerable shock and vibration.
Shown below: A Trailer Connector from Cole Hersee, a Littelfuse Brand. This 13-way connector, with solid brass contacts to ensure proper contact and minimal voltage drop, provides wiring options for large and complex trailer systems such as RVs.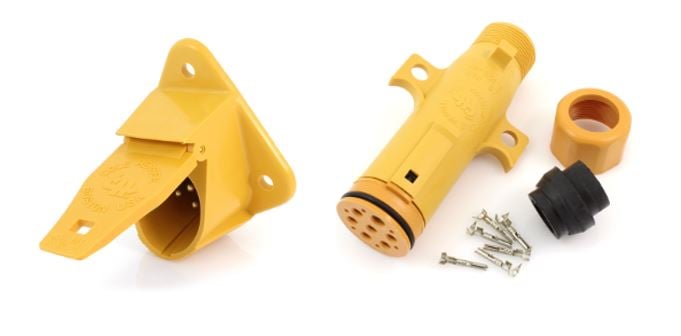 Plug-In Power Options for Job Site Trailers
Job site trailers typically need a source of power to connect tools or equipment while on site. For that, the Noco Company Port Plug and the Leviton Straight Blade Connector can come in handy. These two-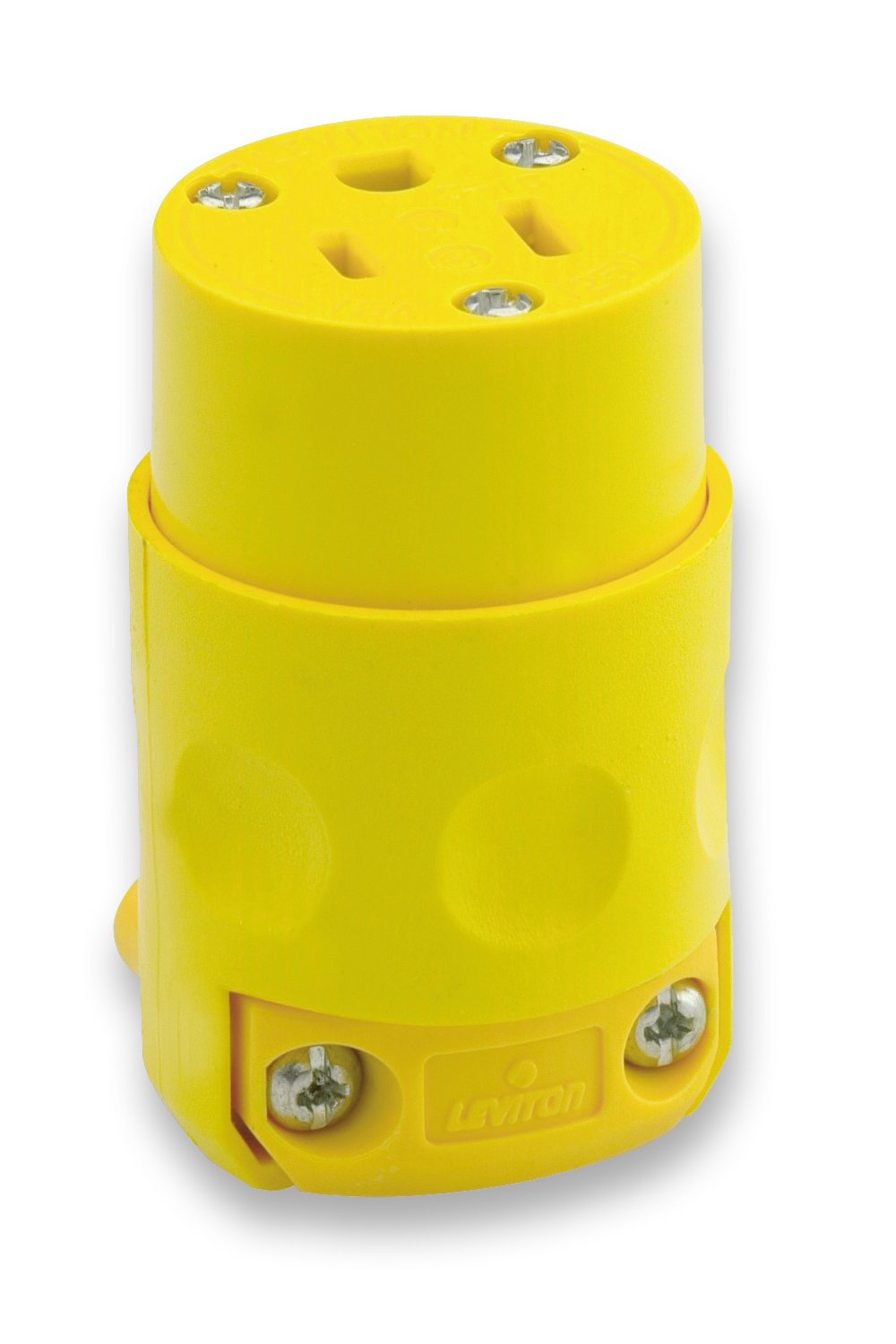 pronged, industry rated (NEMA rated) ports are ideal for special purposes and heavy-duty power applications.
Right: The Leviton 51CV Straight Blade Connector, featuring an outlet for running power tools and other devices.
Below: The Noco Company GCP1EX AC Port Plug Extension Cable, which can be mounted on a trailer to provide auxiliary power.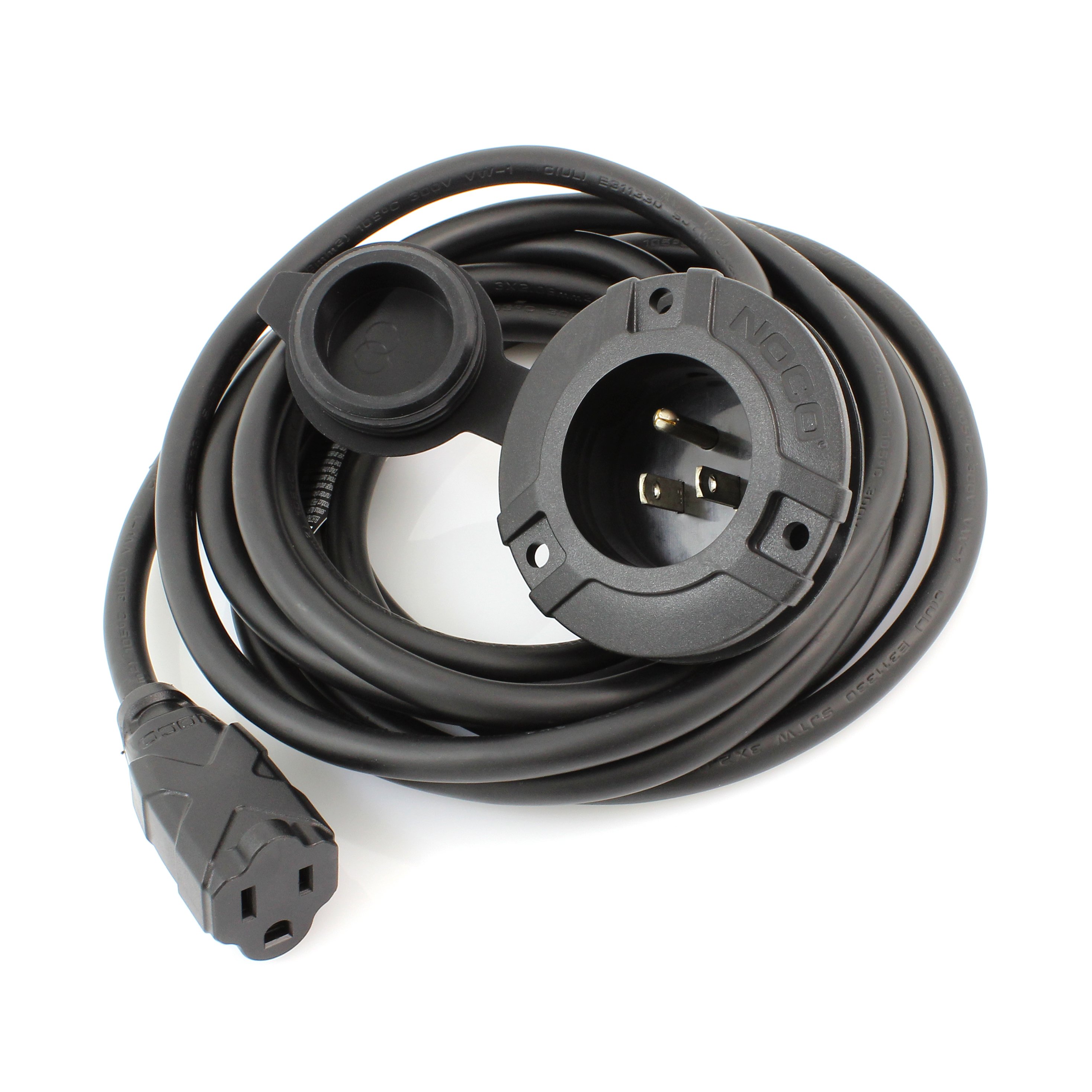 For more information about trailer connectors and accessories available at Waytek, visit our Trailer Connectors Web Page.
Subscribe Now
Subscribe and be the first to know when new articles are published.