Six Important Hand Tools for Automotive Wiring
Posted on Jul 24, 2023 by Robert Iversrud
If your work involves automotive wiring, you know how important tools are for getting the job done efficiently and safely. The right tools can make all the difference in the quality of your finished product and the safety of your staff and customers. But with so many types of hand tools available, it can be difficult to know which ones are the most important to have on-hand. Here's a look at six key types of tools. 
Wire strippers are used to remove the insulation from the ends of electrical wires, allowing you to make connections and splices. Quality wire strippers should be able to strip various types of wires and have adjustable jaws for different gauge wires.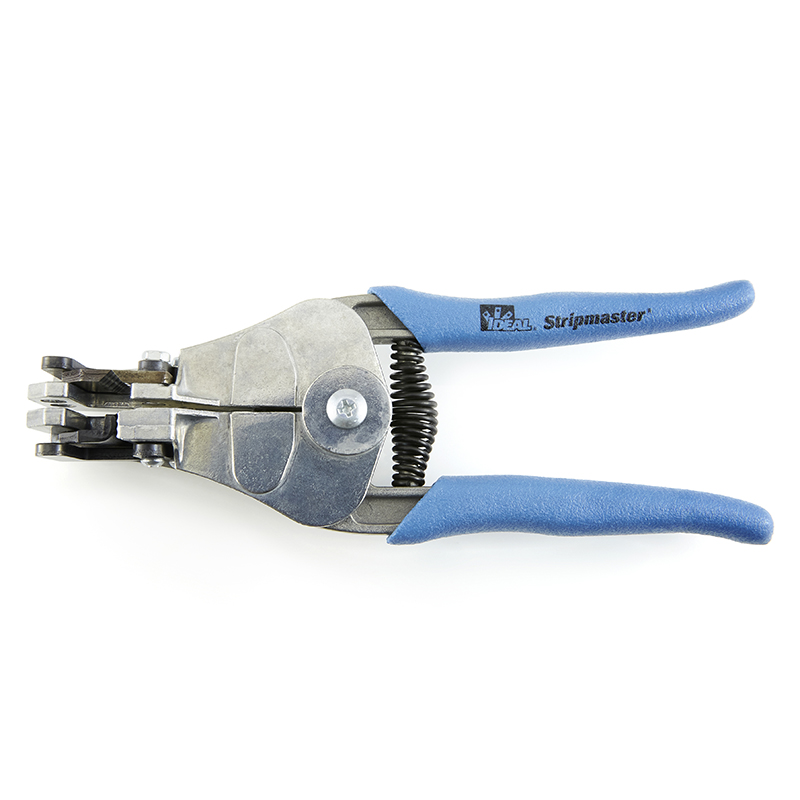 One example is the Stripmaster Wire Stripper from Ideal Industries (shown at right) which can cleanly strip up to 7/8" sections on wires ranging from 22-10 gauge in diameter, providing precise results and streamlining your wiring tasks. 
Another is the Pressmaster Self-Adjusting Wire Stripper & Cutter (shown below) a versatile tool that is a favorite among professionals for its ease of use and clean wire cuts. It can handle wires ranging from 34-8 gauge, making it a valuable addition to your toolkit.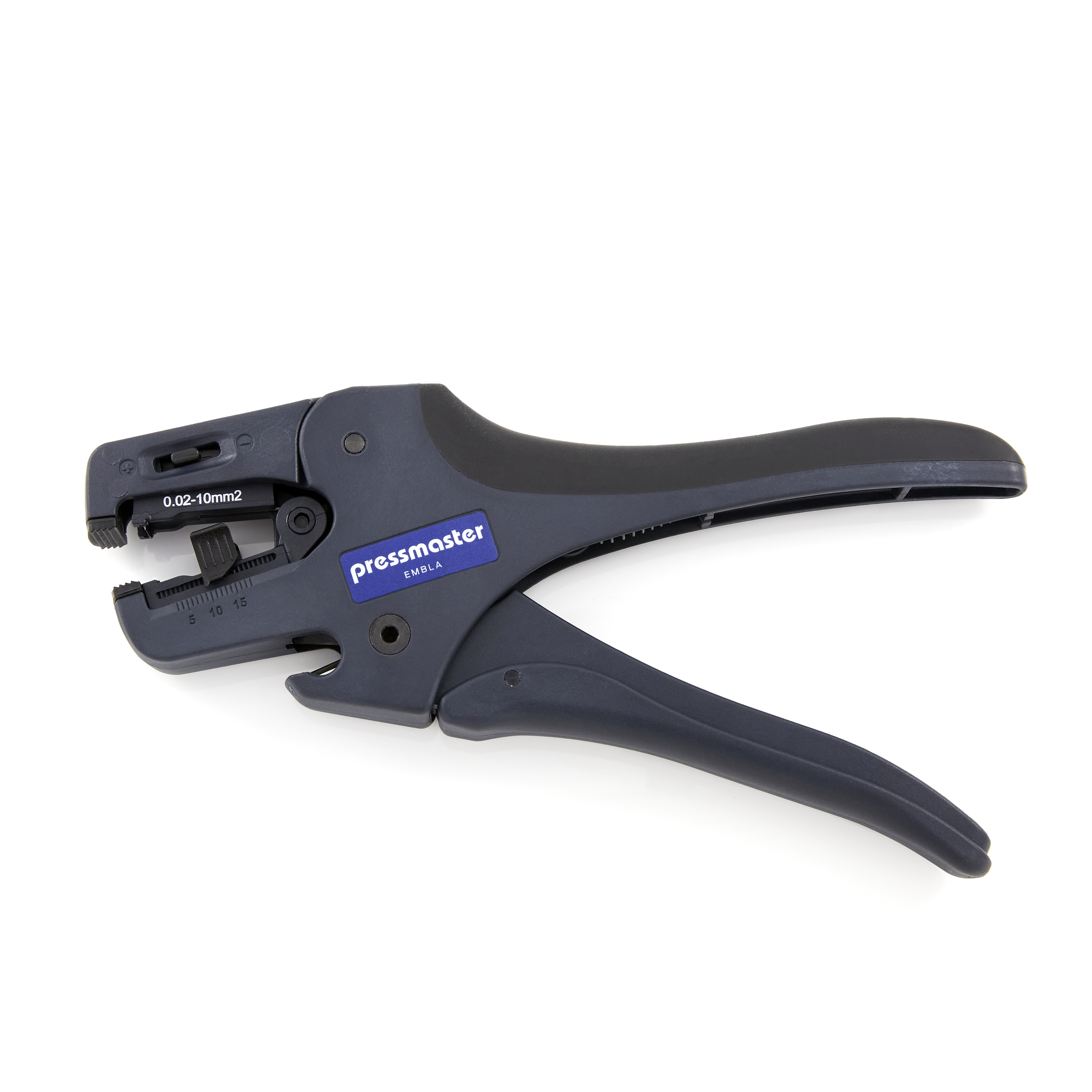 Crimpers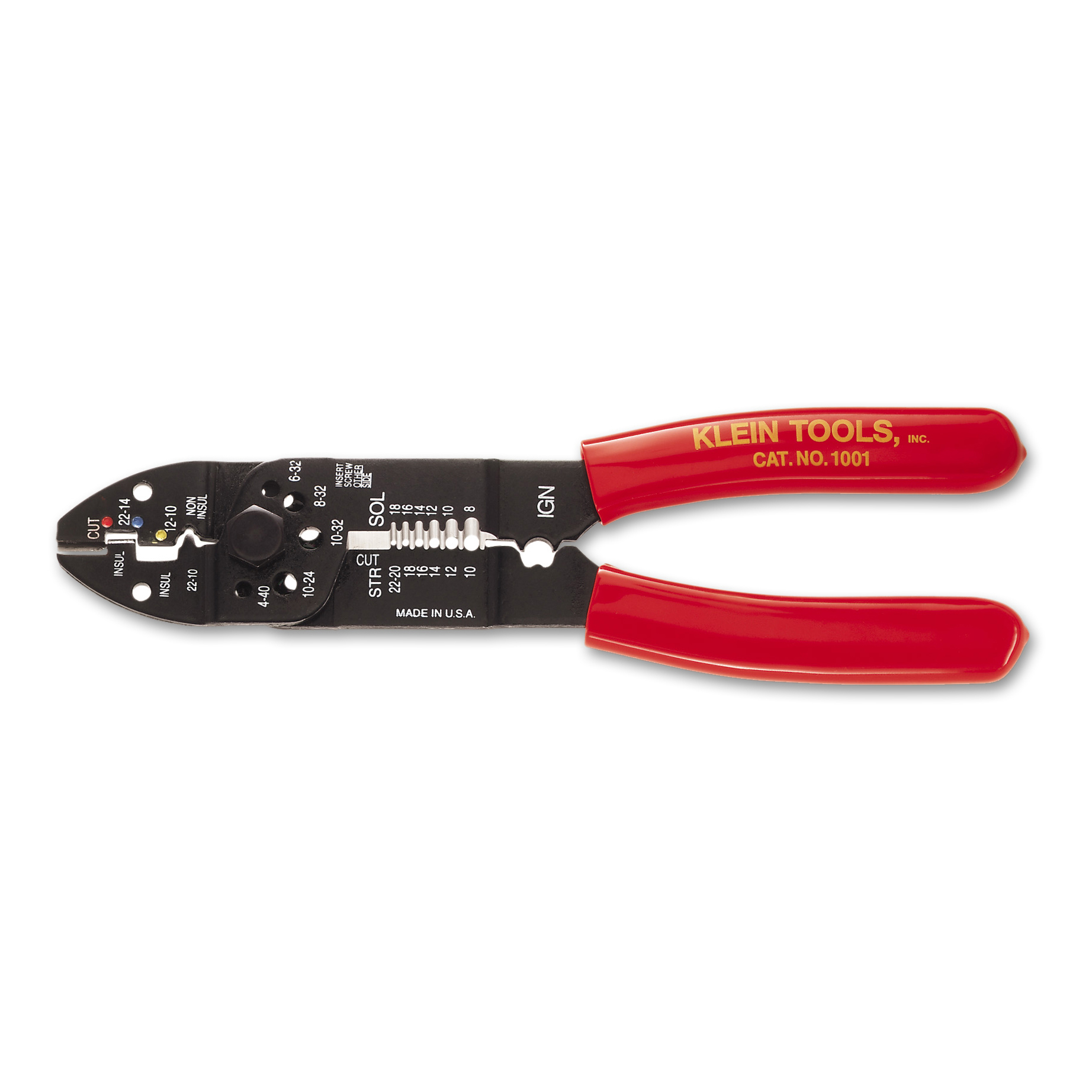 Crimpers are used to secure connections between electrical wires and terminals. They are also used to secure wires to connectors and other terminals.  Quality crimping tools should be able to crimp a wide range of wire types and terminals, as well as having adjustable jaws for different gauge wires.
Right: A Klein Tools Multi-Purpose Electrician's Tool, an economical crimper that can be used on 22-8 gauge solid wire and 26-10 gauge stranded wire. In addition to crimping, this flexible tool can also cut and strip wires. 
There are a wide variety of crimping tools for automotive use, including mobile crimping tool kits, economical all-in-one crimpers, premium crimpers with ergonomic features, and crimpers that are made for use with specific brands of terminals.
For an in-depth look at how to choose from the many available crimping tools based on crimping volume, wire gauge,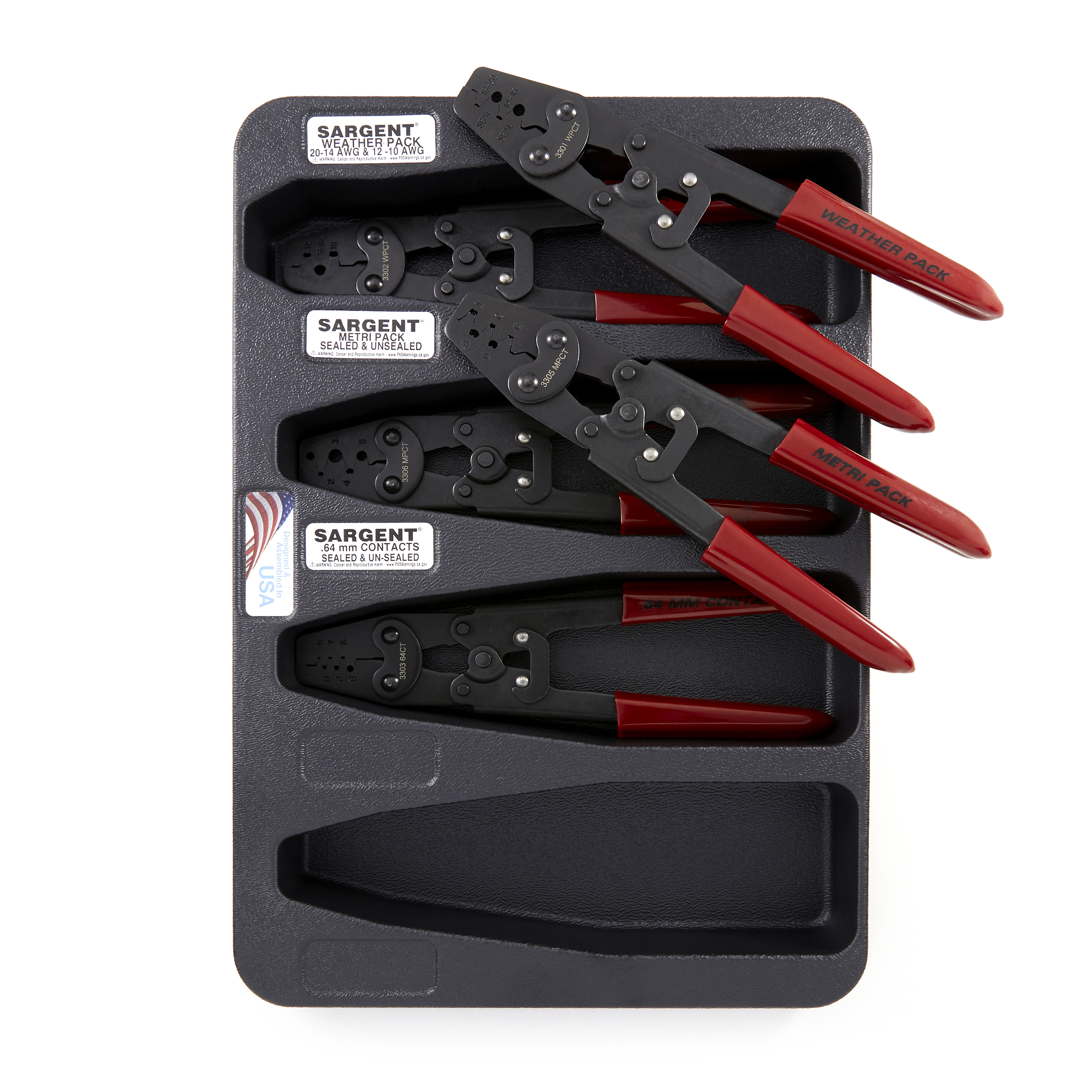 terminal material, desired crimp profile, and other key factors, see the article How to Choose the Right Crimping Tools. 
Right: A set of crimping tools by Sargent that are designed specifically for use with Aptiv Weather-Pack and Metri-Pack terminals. It includes multiple dies so you can customize the tools to be used with differing terminals.
Wire Cutters
A third type of hand tool that's essential for automotive use is a wire cutter. Wire cutters are used to cut electrical wires to the needed length. Quality wire cutters should be able to cut many types of wires, as well as having adjustable blades for various gauge wires. One popular example is the Journeyman High-Leverage Diagonal Cutting Pliers from Klein Tools, shown below.

Some wire cutters can also be used as wire-strippers, such as the Klein Tools Klein-Kurve Wire Stripper/Cutter shown below.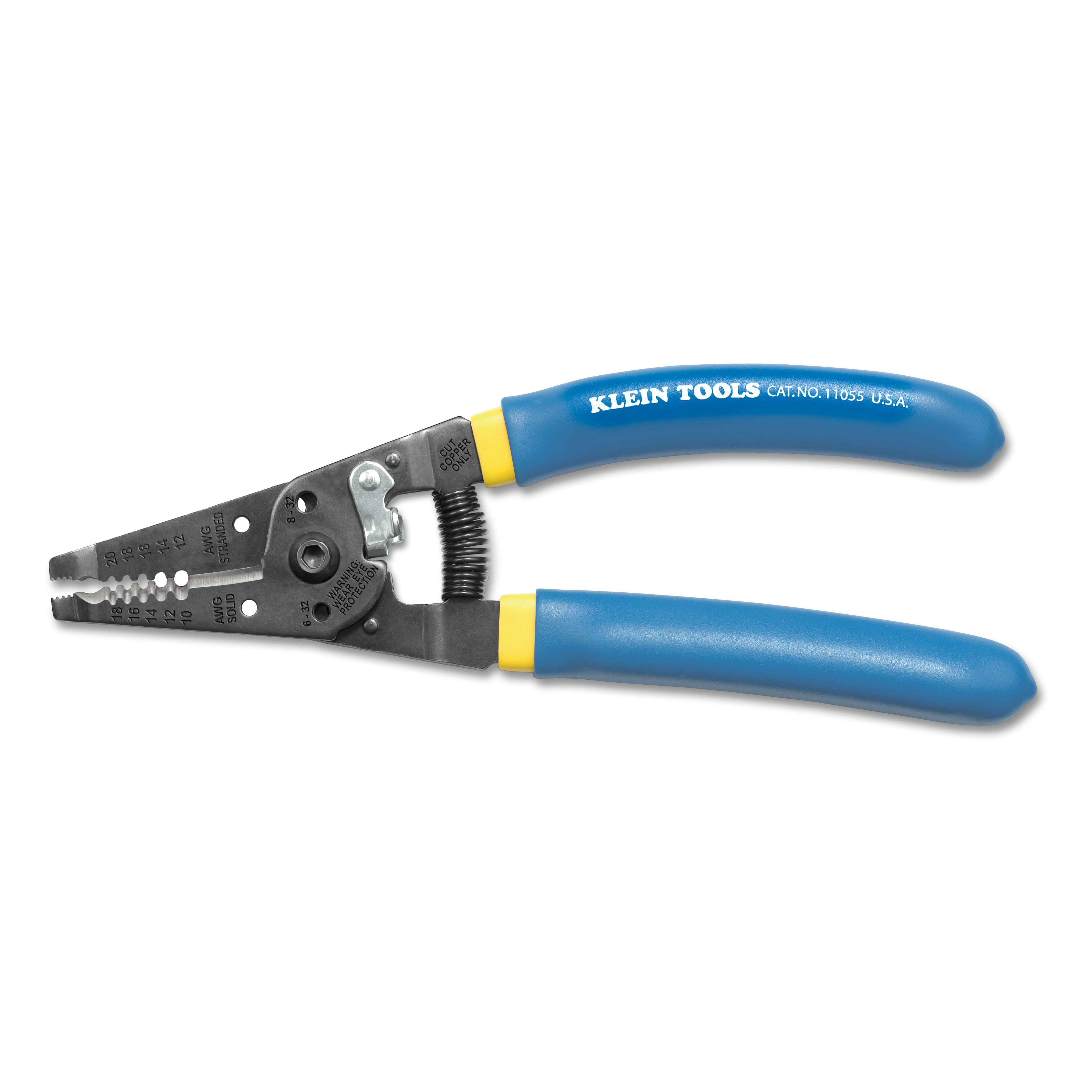 For more combination cutter/strippers, see the Waytek website. 
Heat Guns
A fourth type of hand tool that's essential for automotive wiring use is a heat gun. Heat guns are used to shrink heat-shrink tubing over connections and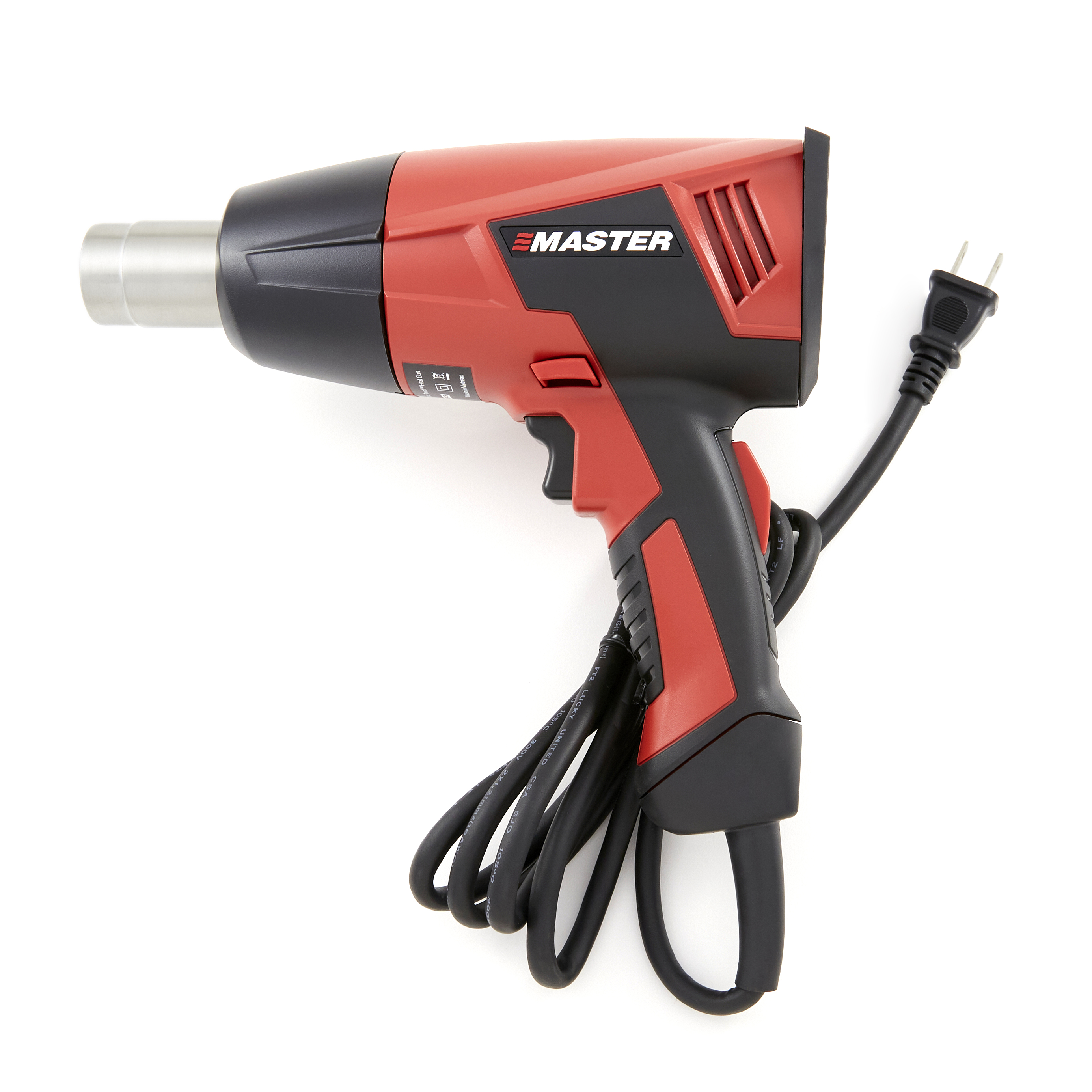 splices. Quality heat guns should be able to shrink different types of heat-shrink tubing and have adjustable temperature settings. 
Right: A Proheat A-Series Quick Touch Professional Heat Gun from Master Appliance, featuring three heat settings for activating heat shrink, bending plastics, drying filler material and more. 
Cable Tie Tools
Cable tie tools are a fifth category of tools that come in handy with automotive wiring projects. Cable tie installation tools and guns provide for proper tension and clean cutting of cable ties, which are typically used to secure bundles of wires. And cable tie removal tools make it easy to cut and remove cable ties without damaging the bundled items. 
HellermannTyton's EVO cable tie tools are designed to perform repeatable cable tie applications.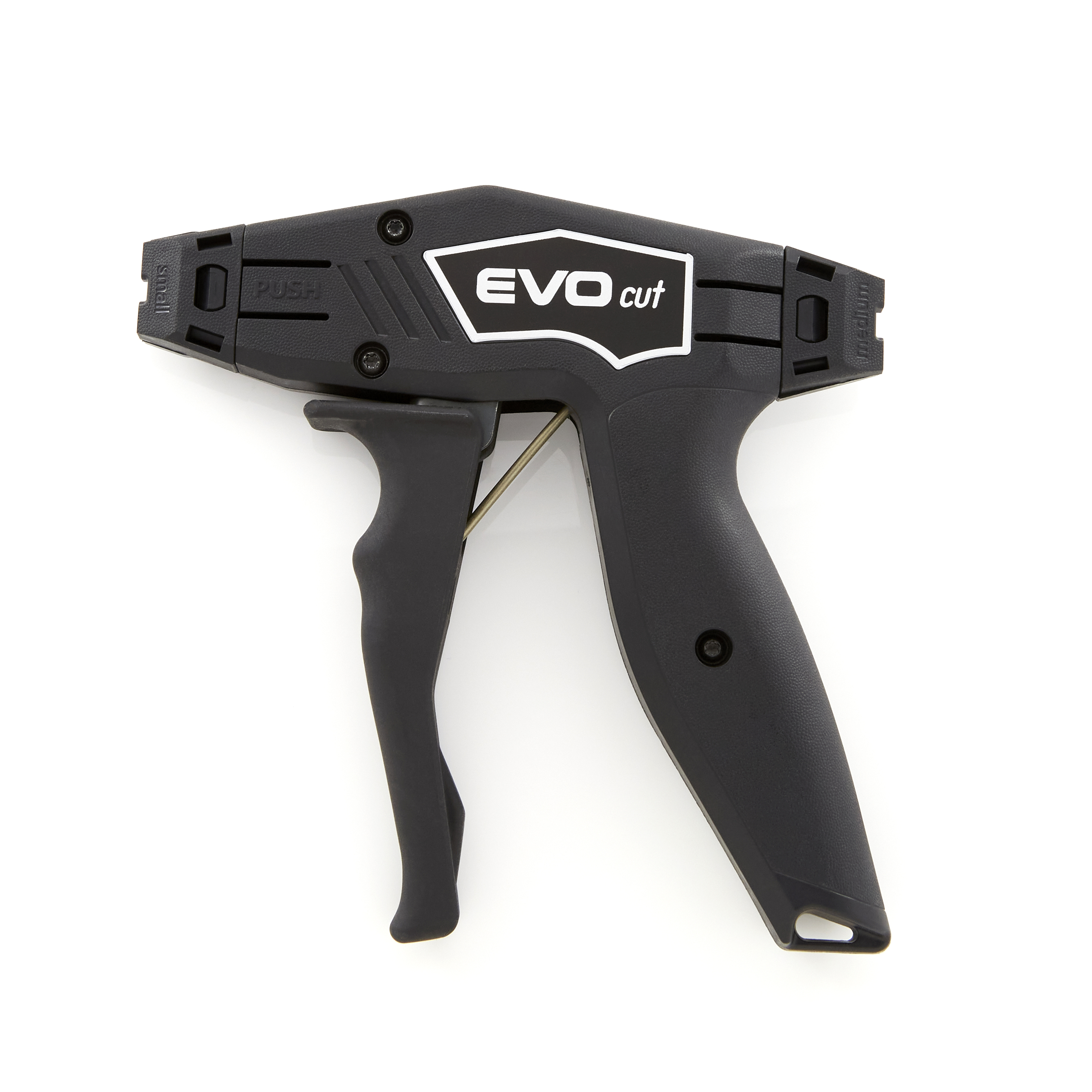 Shown at right: The EVO Cut cable tie cutting tool, which features interchangeable nosepieces that ensure cable ties are removed without damaging the cable insulation.
Below: An MG-1300 cable tie removal tool from ACT, which can be used to safely cut cable ties with widths of up to 2.35 inches.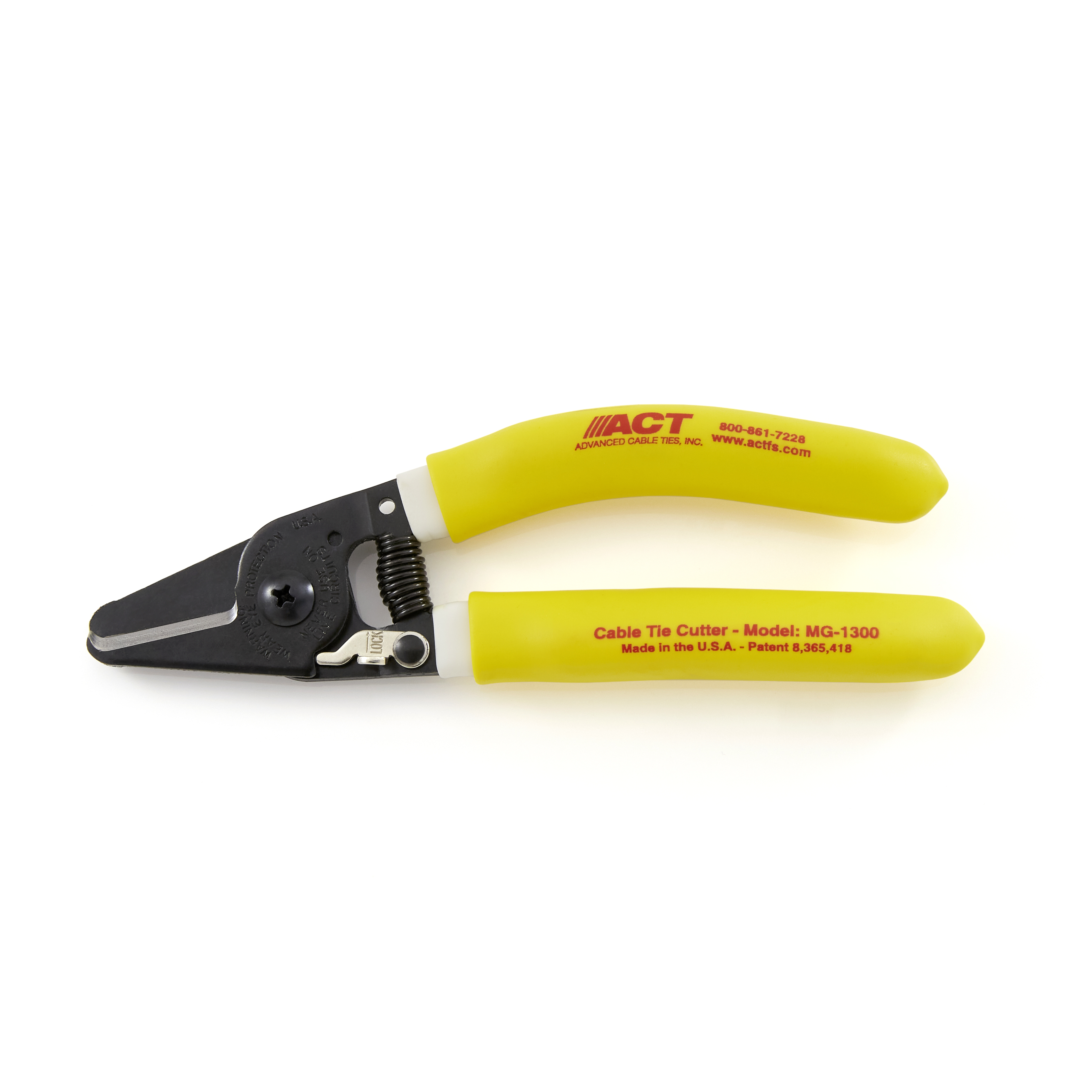 Terminal Removal Tools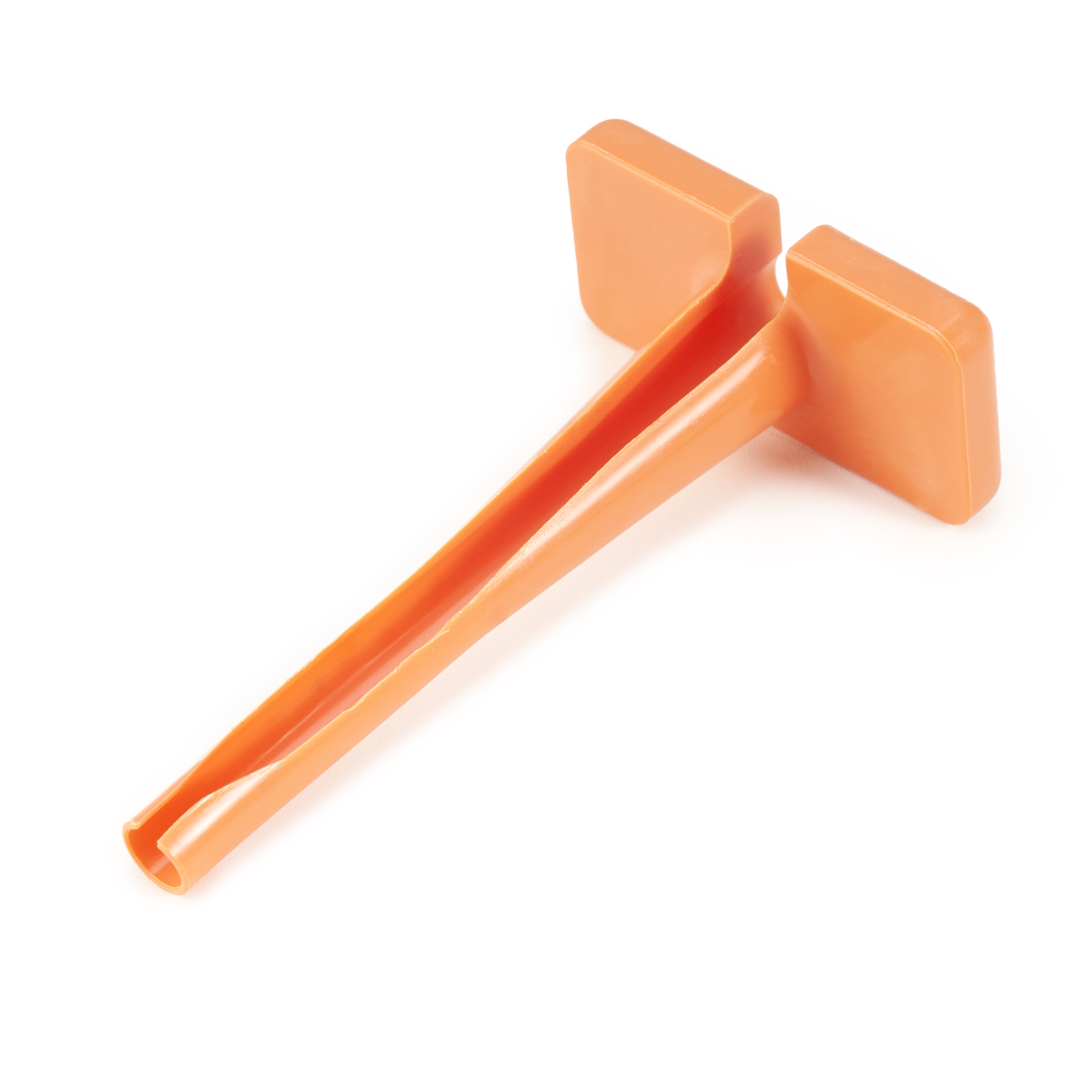 Terminal removal tools are another important category of automotive wiring tools. Many removal tools are made for use with specific terminals from  manufacturers such as Amphenol Sine Systems, Aptiv, Carling, and Deutsch. Inexpensive removal tools, such as the one shown at right (for removing contacts by Amphenol Sine Systems) are ideal for short-term use.  
For longer-term use, you will want to consider using removal tools made of more durable materials, such as the Aptiv Metri-Pack Removal Tool shown below.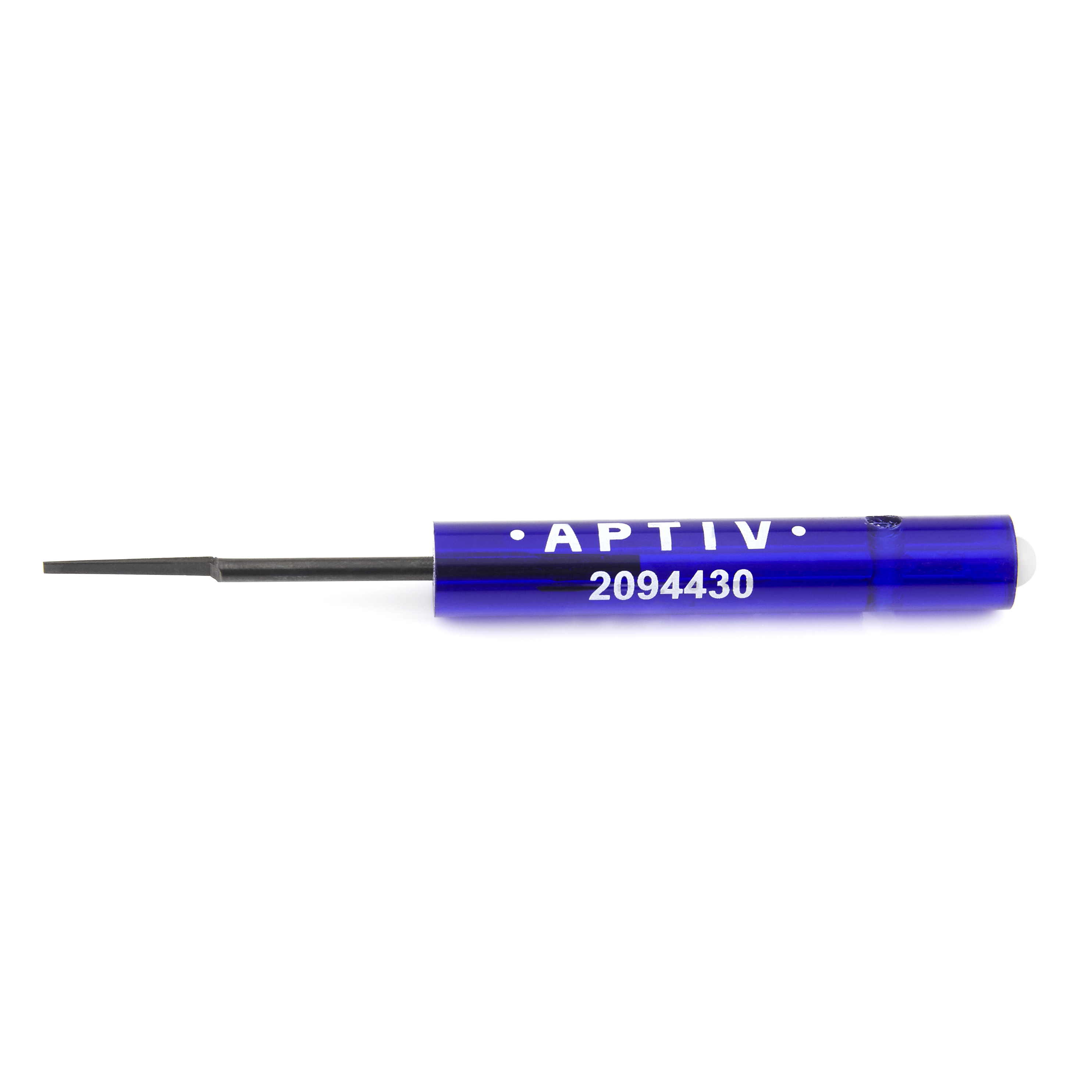 Conclusion
To sum up, the most important types of hand tools for automotive wire applications include wire strippers, crimpers, wire cutters, heat guns, cable tie tools, and terminal removal tools. When purchasing hand tools for your business, make sure to invest in quality tools that will last through years of extended use and provide the best performance. 
Others tools you might also find of interest include electrical testers, fuse pullers, loom and conduit tools, hot knife cutters, and clamp tools. You can learn more about all these and other automotive wiring tools on the Waytek website.
Subscribe Now
Subscribe and be the first to know when new articles are published.
style
content