Developments in Vehicle CAN Bus Wiring
Posted on Jan 26, 2023 by Robert Iversrud
CAN (Controller Area Network) technology has grown in importance as heavy-duty vehicles adopt an increasing array of electronic features that require signal routing and control. Let's take a look at some of the more recent developments related to CAN bus.
CAN Bus Basics
"CAN bus" simply means the digital serial bus used in industrial and automotive CAN applications. The CAN bus enables the communication between microcontrollers and devices, referred to as "nodes" or "electronic control units" (often abbreviated as ECUs). A set of rules known as CAN bus protocol governs how the nodes communicate with each other. For heavy-duty vehicles, J1939 is the set of standards that define how ECUs communicate via the CAN bus.
The cable used in CAN bus consists of a pair of wires twisted together to prevent electromagnetic interference and ensure optimal signal transfer. One wire is known as CAN high (usually 2.5V to 3.75V); the other is CAN low (1.25V to 2.5V). The maximum cable length for a CAN bus depends on the baud rate and the type of cable used.
Can bus cable comes in shielded or unshielded form. If your application has few connections or short wire runs, unshielded cable (corresponding to the "15" in the J1939/15 standard) may be suitable. However, if your vehicle is packed with critical electronic systems, you will want to use shielded cable such as EXRAD® CAN bus shielded cable from Champlain Cable. Shielded cable (which corresponds to the "11" in J1939/11) is jacketed with material that acts as a shield against static interference.
PDMs to Manage Wiring Complexity
As vehicle electronic systems grow more complex, the amount of CAN bus wiring grows too, with its related requirements for grounding, switching, circuit protection, and maintenance. Power distribution modules (also known as PDMs) designed specifically for CAN bus can be a great help in reducing the system footprint and managing wiring complexity.
A prime example is the Littelfuse CAN-FLEC Power Distribution Module, which is ideal for complex J1939 CAN bus management and circuit protection in work trucks, construction vehicles, marine applications and more. This PDM has the capacity for 35 fuses and 21 relays and boasts an IP67 rating for protection against moisture and dirt intrusion. Closed and open views are shown below: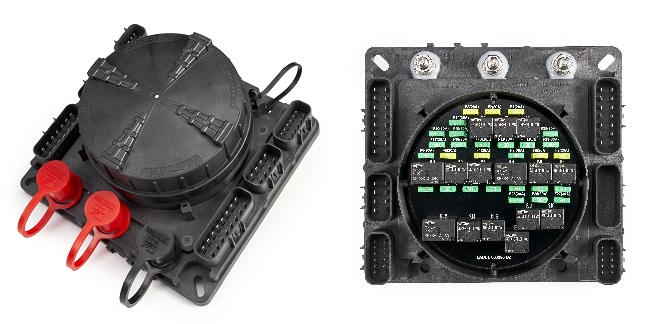 Other high-performing PDMs for CAN bus include Eaton's mRFRM J1939 Multiplex Module, (below left) and Multiplex Vehicle Electrical Center/mVEC (below, right), both of which have a long and successful track record in supporting vehicle CAN bus integration.  
Power Splitters 
Another way to reduce CAN bus complexity is with power splitters, an innovative type of connector for CAN signal wiring. Power splitters enable the breaking out of multiple CAN signals using one connector.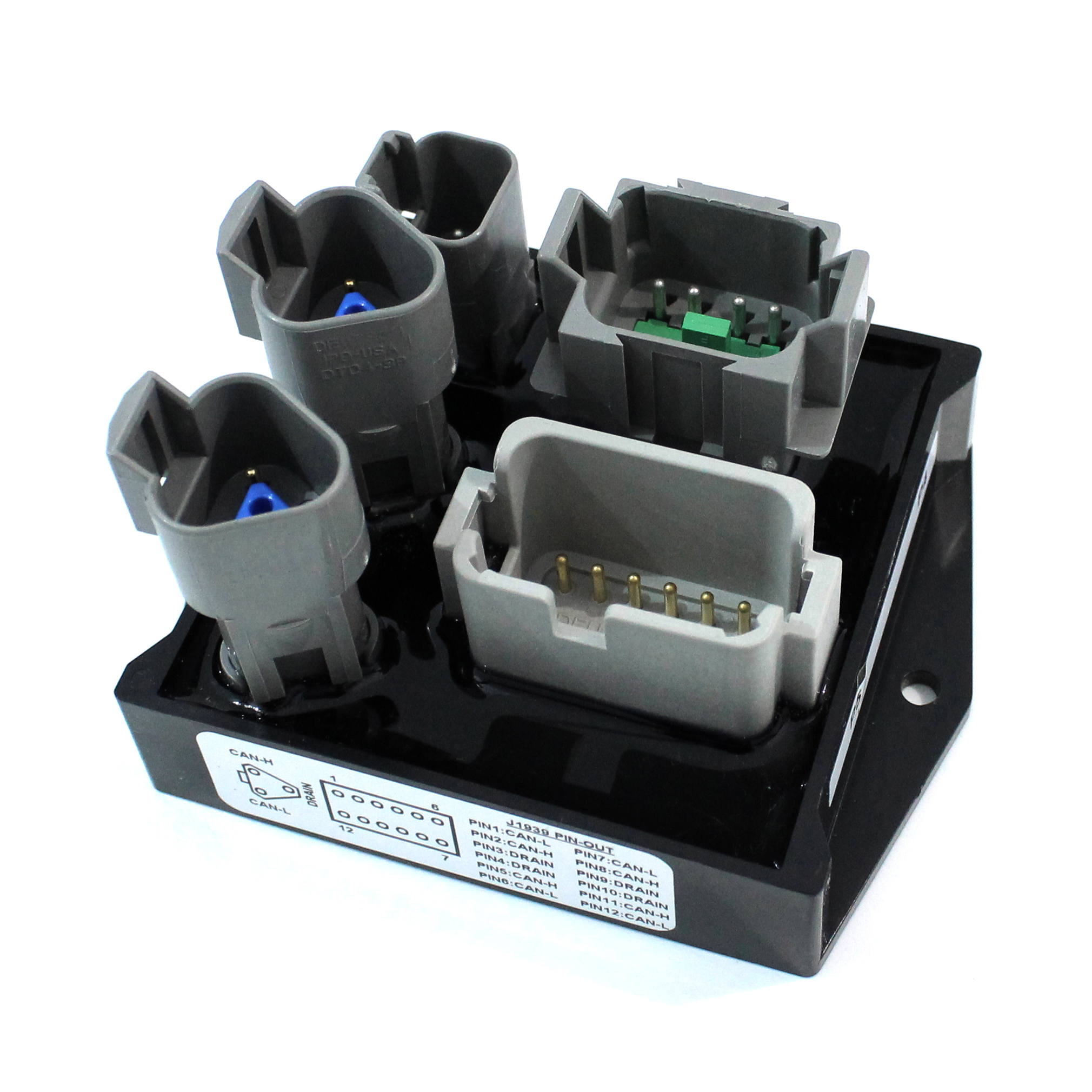 One example is Standard Motor Product's line of Trombetta Can Bus Power Splitters and Control Modules (Right), which can accommodate both signal wiring and power wiring. The Trombetta power splitters recently won Waytek's Product of the Year Award for theirhigh quality and effectiveness in reducing the need for multiple plugs, wires, and harnesses.
Another example is the AT04 3-Pin Splitter from Amphenol Sine Systems (below right), which eliminates the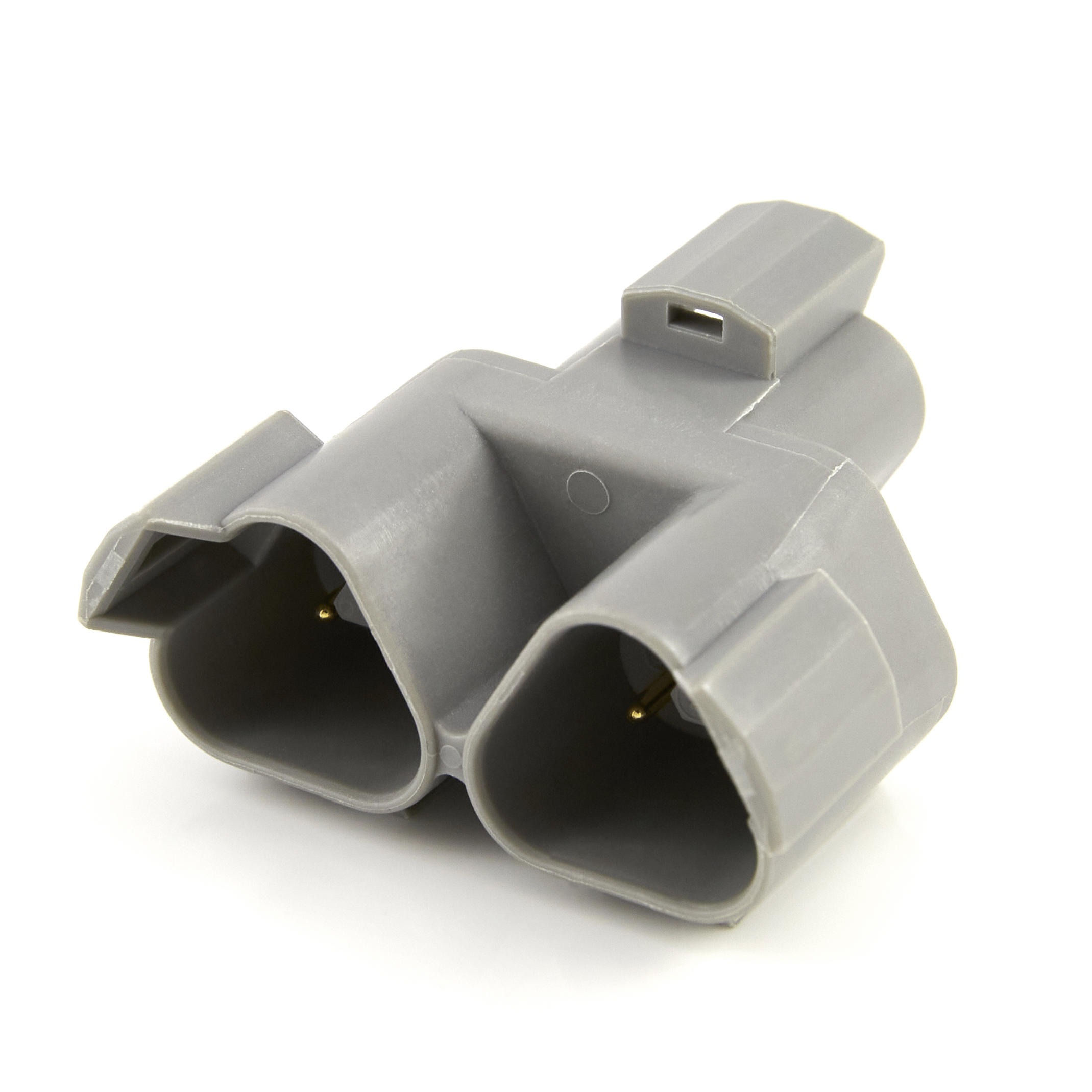 need for Y adapters and extra harnesses that have traditionally been needed to provide multiple CAN bus connections.
More Connector Options
In addition to power splitters, several other connectors are made specifically for CAN Bus. Over the years they have steadily improved in capabilities and features. Examples include Amphenol Sine AT Series™ Integrated Connectors (below, left) for SAE 3-position CAN network requirements, Aptiv GT 150 Series Connectors (center) with an integrated 121 Ohm resistor, and Amphenol Sine AHD Series™ Type 1 & 2 Data Connectors (right), which have found wide usage in the diesel engine industry.
Other Considerations
If a CAN bus cable gets damaged, it can compromise the CAN system or shut it down completely. If you are running CAN bus cable around a sharp edge or an area subject to extreme heat or vibration, it's a good idea to protect the cable with woven wrap sleeving.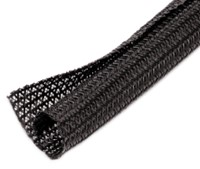 TechFlex's Flexo® F6® Braided Split Sleeving (shown at right) is ideal for wire harnesses that include CAN bus cable. The sleeving features braided construction and wide expandability that enables it to be easily installed over large connectors and long cable runs.
Also note that CAN Bus cable needs to be terminated at both ends by resistors built to the characteristic impedance of the communication protocol, which is typically 60 or 121 Ohms. Most connectors designed for CAN bus will have the proper termination resistors built in, but double-check to be sure.
Visit Waytek online to learn more about our offerings of CAN bus cable, PDMs and connectors.
Subscribe Now
Subscribe and be the first to know when new articles are published.